Colour…
The touring element of this project will comprise of recent works by artist, art educator and founder of Flying Arts Alliance, Mervyn Moriarty. Colour II: Merv Moriarty, in the Field will travel to five Queensland Regional Galleries: Bundaberg Regional Gallery, Gladstone Regional Art Gallery and Museum, Roma on Bungil Gallery, Texas Regional Art Gallery, and Gallery 107 @Dalby in 2019 and 2020. 
and Response
At each gallery on the tour schedule, there will be a locally curated exhibition responding to Moriarty's touring works and the impact of his art teaching.  The regional Response exhibitions will showcase works from artists in their community as well as pieces from local private and public collections that demonstrate the impact of Moriarty's legacy.
Colour and Response was developed following the success of Moriarty's retrospective exhibition Colour: Mervyn Moriarty, A Retrospective Exhibition which was held in Brisbane in 2016 to commemorate Flying Arts Alliance's 45th Anniversary. The exhibition and its associated public programs captured many stories of artists' careers that have been inspired and developed as a direct result of Moriarty's legacy. Colour and Response allows us to put the spotlight on the regions to unearth more of these stories.
Flying Arts has been successful in receiving funding for this project from Arts Queensland through the Playing Queensland Fund. This has enabled us to support the development of the regional Response exhibitions with a curatorial mentorship program and a planned suite of public programs. The public programs will enable us to bring Merv out to each tour stop to attend the launch and facilitate his Colour Masterclass.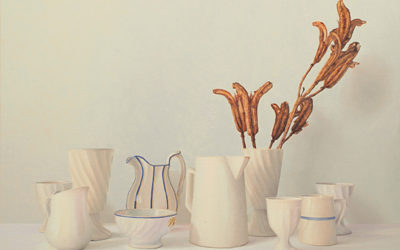 The Colour and Response tour and exhibition project was showcased at Bundaberg Regional Art Gallery from 2 July – 11 August 2019, displaying Colour II: Merv Moriarty, In The Field and a local 'response' exhibition Out of The Allamanda.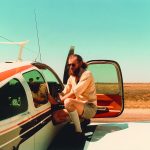 BACKGROUND
Mervyn Moriarty was a prominent artist and art teacher in Brisbane in the 1960s through to the 1980s. He had a major influence on the development of the visual arts throughout the state, establishing both the Brisbane Institute of Arts and The Flying Arts School (formerly EastAus Art School, now Flying Arts Alliance Inc.).  Both organisations continue to operate successfully today, continuing his legacy of supporting the arts. Read More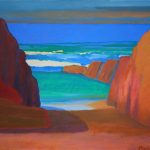 The 2016 Wallagoot Paintings
The artist describes his way of working as "sketching in the field first using watercolours or acrylics, with final works exploring the flexibility of modern acrylic paints of canvas". The process of working from life rather than from a photograph is an important part of Moriarty's process and he notes that, " I am constantly striving to reveal, not imitate reality." Read More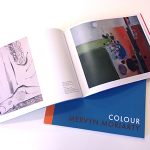 COLOUR: Mervyn Moriarty, A Retrospective Exhibition
48 page colour catalogue | IBSN 978-0-9946214-0-5
"Affectionately known as the 'Flying Artist', Merv Moriarty has remained committed to teaching and creating art for more than five decades. COLOUR: Mervyn Moriarty, A Retrospective Exhibition aims to honour Merv's substantial art career and to recognise his particular cultural contribution to regional Queensland…" Sarah Barron, Exhibition Curator
$20 including postage & handling or $15 pick up only from the office. Purchase your Copy