The Flying Arts fully interactive web TV platform can connect directly with your audience (and guests) via chat, audio, and video. Additional features include Powerpoint, application sharing and video streaming. The studio service is available for hire to like minded cultural and social service organisations at very reasonable rates.
Services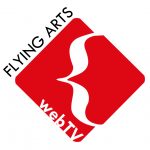 Like minded social and cultural organisations that are looking for a very cost effective way to connect with their constituents around the state and country can hire this facility for:
Conference
Webinar and networking
Distance training activities
Unlimited places are available during any Web TV session from anywhere in the state (or intestate or overseas) to anyone with access to a computer and an internet connection (microphone and webcam optional).
Interested organisations can access the interactive web services from the Brisbane studio or set up a network event from anywhere in the state.The web studio is fully equipped with lights, audio, video and high speed broadband. It can be used for a range of studio applications.
For more information about the Web TV Studio or web based network services please contact Paul on 3216 1322 or email admin@nullflyingarts.org.au.