The Regional Arts Fund is an ongoing program that provides approximately 3.6 million dollars per year to support artists and communities in regional and remote areas. The Regional Arts Fund is part of the Australian Government's Arts and Cultural Development Program that supports participation in, and access to, Australia's arts and culture through developing and supporting cultural expression.
The Regional Arts Fund is managed by Regional Arts Australia on behalf of the Australian Government and administrated by Flying Arts in Queensland. To learn more, visit the Flying Arts Website here.
Art and culture are Everywhere. In regions, towns, and cities, in remote communities, across landscapes and geographies. In town halls, on streets, in parks, community centres, libraries, schools and hospitals. In galleries, museums and concert halls. On stages and on screen, in music and media, in print and online.
Art and culture are Essential in the creation of livable regions and are central to thriving, healthy communities and sustainable social and economic growth.
We have been working with our colleagues to create messaging that is cross art form, cross geographies and unifies the Arts and Creative industries messaging and election asks. The concept is to provide messaging that supports a 'whole of sector' approach.
We ask that you please consider joining Regional Arts Australia, Flying Arts Alliance and our sector colleagues in this Art & Culture Messaging Campaign to increase visibility and demonstrate unity in our broad sector in the lead up to the Federal election. This is just one small piece of a larger campaign to push for a commitment to a National Cultural Plan, which will provide a framework for greater support for every artist and organisation in our sector.
You can start by sharing messaging images and tagging socials. Access an Election Toolkit with downloadable posters, templates and files for your social media. View here
Please tag all posts with:
#ArtAndCultureAreEverywhere #ArtAndCultureAreEssential #VoteForArt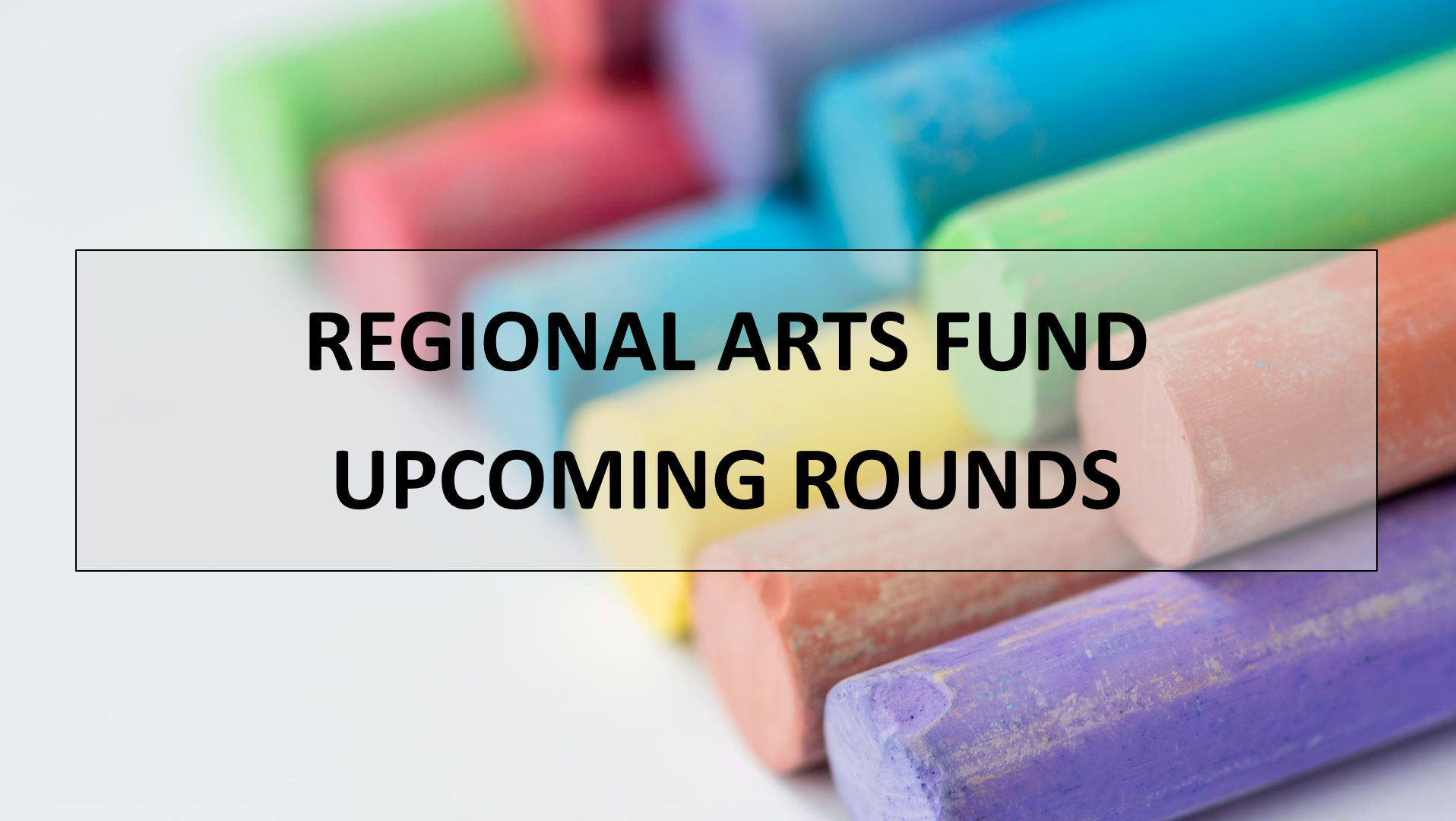 Regional Arts Fund Quick Response Grants - April Round
Quick Response Grants are intended to assist regional artists, arts organisations, and communities to take up professional or skills development, or small project opportunities, and aim to support small arts or cultural projects that cannot be funded by other means because of their nature or timing.
The April Quick Response Grant round is now open for applications and closes midnight 30 April 2022. All applicants will be notified of decisions by 6 May 2022.
Successful Quick Response Grant recipients from the February 2022 rounds can be found here.
Regional Arts Fund Project Grants
The Project Grants stream supports applications which benefit the community, increase access and participation, and/or provide direct benefits to artists/arts workers. Project Grants provide major funding for high-quality arts projects benefiting regional or remote artists, arts workers, audiences, and communities.
Round 1 of the 2022 RAF Project Grants is now closed.
Regional Arts Fund Support Materials and Resources
Regional Arts Fund resources including Guidelines, Eligibility Notes, Frequently Asked Questions and Application Resources can be accessed here.
To see a list of past recipients of the Regional Arts Fund, click here.
If you have any questions about Regional Arts Fund grants, please contact the Flying Arts RAF Team on (07) 3216 1322, or email Nate at raflead@flyingarts.org.au.
Case Study: Regional Arts Fund Project Grant
The Aboriginal Art footpath mural at Theodore Early Childhood Centre Association Inc. | Artist: Wayne Martin | Image credit: Ngurambang Cultural Education and Aboriginal Art.
In 2021, the Theodore Early Childhood Centre (TECCA) successfully received support from the Regional Arts Fund to employ an artist to paint a mural at the TECCA entrance. Local Aboriginal artist Wayne Martin created and painted a culturally embracing mural along an existing cement entrance footpath.
The mural encourages viewers to learn more about Australia's Indigenous stories, art, history and culture while providing a vibrant and educational artwork to engage children in their early learning years.
TECCA stated "We wanted something to demonstrate that we are a culturally inclusive centre and respect the Aboriginal heritage of the land our centre is located on. We, both the organisation and Wayne Martin (artist), believe this project will greatly encourage the development of such skills, and provide the connectedness required to further implement these learning outcomes for the children and families of our community."
This case study meets the following RAF criteria to a high degree: "encourage and support sustainable, social and cultural outcomes in regional communities" & "increase employment and professional development opportunities for, and raise the profile of regional and remote artists".
RASN Providers Announced

Four new Queensland-based service providers will lead the way in delivering local arts services across the state through the Regional Arts Services Network (RASN) 2022 - 2025, boosting opportunities for regional communities to access high quality arts and cultural engagement.

Other Funding Opportunities

A list of national and state funding opportunities for individuals, artists, arts workers, and organisations.
Local Giants Regional Producers Platform participants announced

Regional Arts Australia is thrilled to announce the 2022 Local Giants cohort taking part in the Regional Producers Platform, a skills development program led by Performing Lines that takes participants through a practical, industry-led capacity-building program in producing, culminating in an in-person gathering at APAX 2022. The national cohort was chosen from a list of 76 applicants, demonstrating the necessity for investment in regional arts infrastructure.

Flying Arts Alliance presents:

Connecting Art with LGBTQI+ Safe Spaces

28 April, 3:30 pm to 4:45 pm, Your computer

Celebrated artist Shannon Novak aims to use his socially engaged and collaborative practice to build spaces that acknowledge, celebrate, and support diversity and inclusion. In this webinar, Shannon will discuss the importance of LGBTQI+ friendly spaces in schools and what tools visual art can offer to create a welcoming environment.
Flying Arts Alliance presents:

Artist Essentials Program

30 April - 01 May, 10 am to 4 pm, TAFE QLD Southbank Campus

Join Dr Louise R Mayhew in this 2-day intensive program designed for early-career artists and arts workers. In this program you will connect with peers to collaboratively resolve a creative 'toolkit'. In addition to this, Louise will talk you through key networking, pitching and collaboration skills, essential for any contemporary artist.

Flying Arts Alliance presents:

Copyright for Creatives

5 May, 12 pm to 1pm, your computer

Copyright is a way for artists to protect their creativity, however can be a challenge to navigate. This challenge is complicated further by contracts, artwork commissions, collaborative art pieces, online material and considerations for Aboriginal and Torres Strait Islander artists.
Celebrate creative community and join the Flying Arts Crew!

Flying Arts members are an important part of our community.  Members not only join a network of people keenly interested in celebrating arts and culture, but also receive benefits like discounts and rebates on professional development workshops and courses, voting rights at our AGM, discounts with retail partners and more! 

We additionally offer Accredited Membership which includes general liability insurance for artists and artworkers engaged in professional practice.

Apply for a policy covering your practice activity:

Visual artists, designers, craft practitioners, curators and registrars

Installers and conservators

Arts administrators and arts project coordinators

Writers

Musicians

Multidisciplinary practitioners

Visit our website or contact our team at members@flyingarts.org.au to find out more!

Support Flying Arts!

For 50 years we have made a big difference delivering art experiences and supporting creative communities all over Queensland.

Help us raise $50,000 to celebrate half a century of Flying Arts Alliance, so we can be here for Queensland communities for the next 50 years.

To make a donation, please click here
Flying Arts Alliance is listed in the Registration of Cultural Organisations, and has Deductible Gift Recipient and Tax Charity Concession status.

All donation above two dollars are tax deductible and will directly support programs and activities in schools and communities in regional and remote areas.
Flying Arts Alliance acknowledges the traditional custodians of the lands and seas on which we work, live and create. We pay our respects to Elders past, present and emerging.
Flying Arts Alliance is honoured to acknowledge the Governor of Queensland, Her Excellency, the Honourable Dr Jeanette Young PSM as our Patron. We also acknowledge Mr Tim Fairfax AC and Mrs Gina Fairfax as our Cultural Patrons.

Flying Arts is a not-for-profit organisation inspiring the appreciation, practice and professional development of the visual and media arts as a lifetime interest or career throughout regional and remote Queensland, supported by the Queensland Government through Arts Queensland, the Tim Fairfax Family Foundation and corporate partners and benefactors.

Flying Arts is the administrator in Queensland of the Regional Arts Fund (RAF), an Australian Government program provided through Regional Arts Australia.
To manage your email newsletter subscriptions and opt out if needed:
[!CampaignMember.Unsubscribe_Link__c]