The Regional Arts Fund is an ongoing program that provides approximately 3.6 million dollars per year to support artists and communities in regional and remote areas. The Regional Arts Fund is part of the Australian Government's Arts and Cultural Development Program that supports participation in, and access to, Australia's arts and culture through developing and supporting cultural expression.
The Regional Arts Fund is managed by Regional Arts Australia on behalf of the Australian Government and administrated by Flying Arts in Queensland. To learn more, visit the Flying Arts Website here.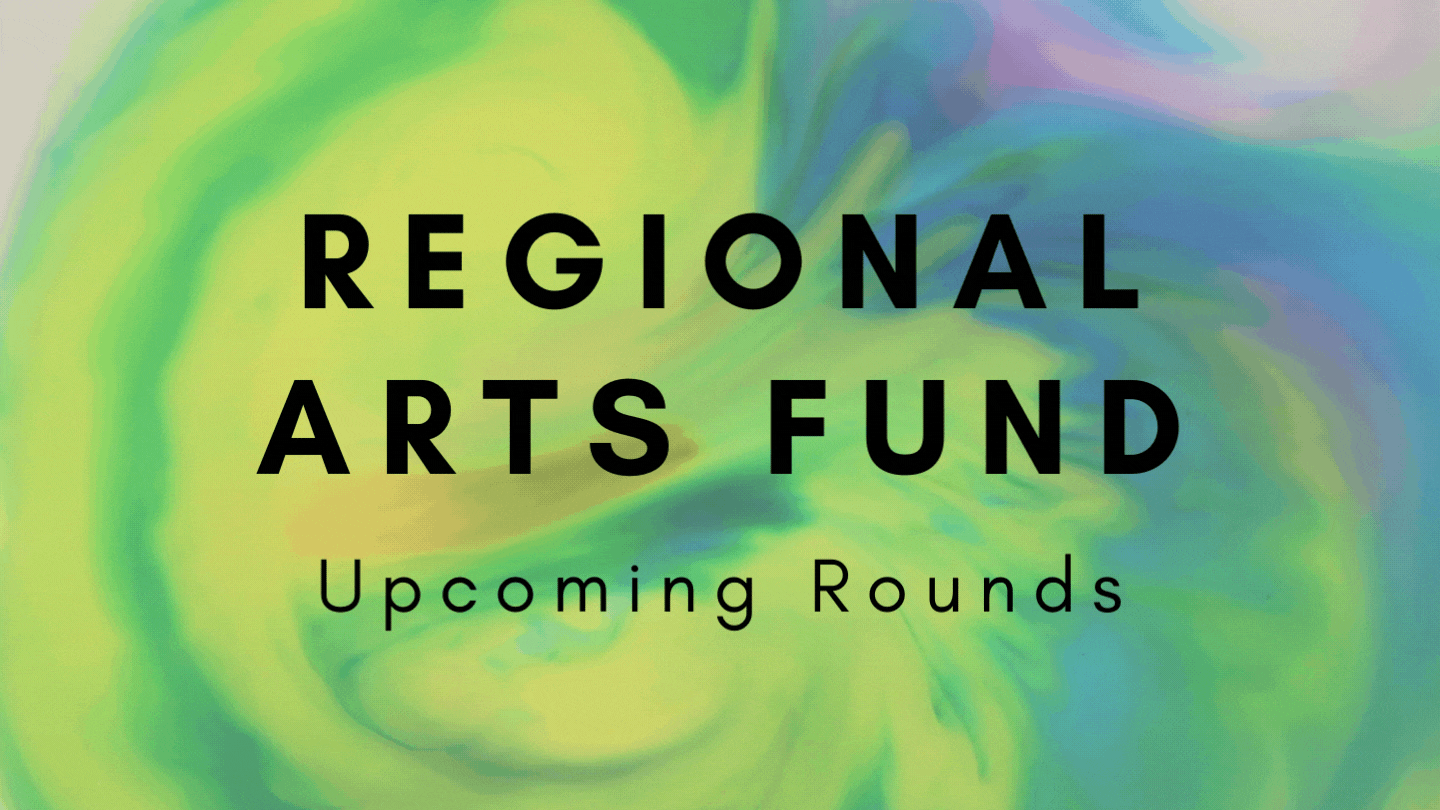 Regional Arts Fund Quick Response Grants - June Round
Quick Response Grants are intended to assist regional artists, arts organisations, and communities to take up professional or skills development, or small project opportunities, and aim to support small arts or cultural projects that cannot be funded by other means because of their nature or timing.
The June Quick Response Grant round is now open for applications and closes 11:59pm 30 June 2022. All applicants will be notified of decisions by 7 July 2022.
Successful Quick Response Grant recipients from the April 2022 round can be found here.
Regional Arts Fund Project Grants
The Project Grants stream supports applications which benefit the community, increase access and participation, and/or provide direct benefits to artists/arts workers. Project Grants provide major funding for high-quality arts projects benefiting regional or remote artists, arts workers, audiences, and communities.
Round 2 of the 2022 RAF Project Grants
Round open dates to be announced soon! For projects starting from 1 January 2023
Regional Arts Fund Support Materials and Resources
Regional Arts Fund resources including Guidelines, Eligibility Notes, Frequently Asked Questions and Application Resources can be accessed here.
To see a list of past recipients of the Regional Arts Fund, click here.
If you have any questions about Regional Arts Fund grants, please contact the Flying Arts RAF Team on (07) 3216 1322, or email Nate at raf@flyingarts.org.au
Case Study: Regional Arts Fund Quick Response Grant
Red Ridge Interior QLD
Image credits: Red Ridge Interior QLD
Date: December 2021 to March 2022
Location: Brisbane, QLD
Quick Response Grant Round: October 2021
Amount Awarded: $5,000
Outback Art City Pop-up (presented by Red Ridge Interior) showcased the work of local remote artists to new metropolitan audiences in Brisbane, Queensland. With support from the Regional Arts Fund Quick Response Grant fund,six artists were provided with a valuable opportunity to exhibit and sell their works. Participating artists included the Anpanuwa (Joyce Crombie) and Aulpunda (Jean Barr-Crombie), exhibiting as Two Sisters Talking, Quilpie artist Lyn Barnes, Des Harry, and contemporary artists Ruth Chaplin and Janine Canty.
Displayed works included traditional landscapes, indigenous artworks, contemporary works, and mixed media. The Pop-up gallery provided direct economic benefits for the artists via the sale of their artwork as audiences were able to purchase works through the QR codes. Information on each of the presented works, and artist profiles were made accessible via QR codes which linked viewers directly the Red Ridge Interior website.
Artists based in these remote locations possess a wealth of artistic inspiration and knowledge however, there are limited opportunities to create and extend networks and develop their understanding of the arts industry within their local regions. The greatest challenge faced when sharing the work of remote artists is the distance to market, necessitating funding support to make it happen. This short-term cultural activation allowed artists to develop strong connections and new networks while enabling them to break into new and larger markets through exposure in a metropolitan space
This Project meets the following RAF Criteria: Develop audiences and broaden community engagement with the arts and increase employment and professional development opportunities for, and raise the profile of, regional and remote artists.
Our annual Queensland Regional Art Awards (QRAA) returns for 2022 debuting a new logo to identify the awards! We are excited to announce a prize pool worth over $36,000, offered across 8 prize categories.
About the QRAA
The Queensland Regional Art Awards (QRAA) is Flying Arts' signature annual art award for established and emerging artists living in regional and remote Queensland. The award aims to showcase artwork whilst providing a platform for artists to further professional development and opportunities.
In 2022, the QRAA is an invitation to explore the concept of 'Reframe', calling artists to enter work which draws upon experiences and observations, reflecting upon the past year or two and responding to our changing world.

'Reframe' is an opportunity to see our current situation from a different perspective, to inspire problem solving and decision making and apply learning, whilst constructively responding, shifting and evolving.

The Flying Arts' QRAA is looking for stimulating entries that address this broad concept through the visual arts.
Key Dates
23 May - Entries open at 12pm
25 July - Entries close at 12pm
15 August - People's Choice Voting opens
12 September - People's Choice Voting closes
TBC October - Award Winners Announced
Prizes (view all)
'Art for Life' Award
$10,000 non-acquisitive cash prize thanks to Holding Redlich.
$10,000+ in-kind print and digital editorial opportunity thanks to Artist Profile. All entries eligible.
The Annie Tan Memorial Watercolour Award
$3,000 non-acquisitive cash prize thanks to The Booth Memorial Fund of Annie Tan (Yuh Siew) and the Geoff Booth Foundation.
Art Educator Award
$2,500 non-acquisitive cash prize thanks to Queensland College of Art, Griffith University.

Environmental Art Award
$2,000 non-acquisitive cash prize thanks to Turner Family Foundation.
First Nations Art Award
$2,000 non-acquisitive cash prize thanks to Mitchell Fine Art.
Take Flight Award
$1,000 non-acquisitive cash prize. thanks to Onespace Gallery
$1,000 in-kind career development opportunities, including editorial promotions and a career consultation with Onespace Gallery Director, John Stafford.
For artists aged 15 - 25 years.
Textile Art Award
$1,600 non-acquisitive cash prize thanks to an 'Art for Life' donor.

Remote Artist Award
$1,600 non-acquisitive cash prize thanks to Woolloongabba Art Gallery.
People's Choice Award
$1,250 non-acquisitive cash prize thanks to TAFE Queensland.
$750 non-acquisitive cash prize thanks to TAFE Queensland.
2022 Western Downs Regional Artists' Exhibition: Kaleidoscope

With the theme of 'Kaleidoscope' the 2022 Western Downs Regional Artists' Exhibition takes a playful approach to observing the vicissitudes of life and invites artists to respond with their own unique and colourful perspective.

The Western Downs Regional Artists' Exhibition is an annual exhibition proudly presented by Western Downs Regional Council, supported by the Western Downs Galleries Committee represented by Lapunyah art Gallery, Gallery 107 @ Dalby, Dogwood Crossing, Miles.

Applications close 23 August 2022.

2024 Adelaide Biennial of Australian Art

Curator Call Out

Known for its risk taking and expansive vision, each iteration of the Adelaide Biennial responds to a different theme or premise. Featuring the latest works of art by leading contemporary artists from all corners of the country, the Adelaide Biennial is defined by experimentation and innovation, and is known for its role in accelerating the careers and profiles of Australian artists.

AGSA is seeking Exhibition Proposals for the 2024 Adelaide Biennial of Australian Art (March to June 2024). Please note curators and artists must be based in Australia. Deadline for submissions is 20 June 2022. Applicants will be informed on the status of the proposal by 29 July 2022.
Art on Show Awards 2022

The Mackay Show Association is proud to introduce the Art on Show Awards, non-acquisitive art competition and exhibition. The prestigious Art on Show Awards event was established by the Mackay Show Association in 2006, and now celebrates sixteen years of competition and Arts excellence. From humble beginnings in 2006 this event has matured into one of Queensland's prominent high profile arts events, previously held in conjunction with the annual Mackay Regional Show. 2022 presented as a stand-alone cultural event, with entries received from renowned and up and coming artists Australia wide.

Applications close 24 June 2022

Basil Sellers Art Prize - Entries Open

The Basil Sellers Art Prize is a biennial competition celebrating and awarding artistic excellence and creative practice and offers a prize pool of over $30,000.

In 2022 the prize is poised to become a nationwide prize with a new direction for the latest evolution and an increased major prize of $25,000. The prize will champion 2D artworks in traditional medium and will call for entries from across Australia. The Eurobodalla award will continue to support local artists, ensuring their important place within the prize is safeguarded, while showcasing our local talent on a national stage.

Entries close 29 July 2022
NAIDOC WEEK

3 - 10 July 2022

NAIDOC Week celebrations are held across Australia in the first week of July each year (Sunday to Sunday), to celebrate and recognise the history, culture and achievements of Aboriginal and Torres Strait Islander peoples. NAIDOC Week is an opportunity for all Australians to learn about First Nations cultures and histories and participate in celebrations of the oldest, continuous living cultures on earth.

Get Up! Stand Up! Show Up!

Arts QLD - Queensland Arts Showcase Program

The Queensland Arts Showcase Program (QASP) supports vibrant and accessible arts and cultural experiences for Queensland by individuals, organisations or collectives. The QASP program is delivered through three streams Arts Accelerate, Arts Activate and Arts Advantage.

Applications Close 17 June 2022
Creative Business Champions 2022

Queensland artists and arts workers can boost their careers and reach new goals with the 2022 Creative Business Champions (CBC) program - now open.

The CBC program is a free online professional guidance service that assisted hundreds of artists in 2021, and will continue to help build Queensland's arts sector knowledge and capacity.

Regional Arts Fund Application Resources Kit

This document contains links to helpful grant writing resources.
Get the Grant

10 June, 12pm to 1pm, your computer

In this webinar Flying Arts' Regional Arts Fund (RAF) team will discuss the national cultural funding landscape of 2022, answering your Frequently Asked Questions about the RAF Community Project Grant and Quick Response Grant schemes.

Nate and Nigel will speak to the context of the fund, what RAF aims to support and strategies for navigating competitive arts funding in 2022. We encourage you to ask questions prior to the webinar, to be answered during the presentation.

Articulate Your Creative Concept

13 June, 12 pm to 1pm, your computer

Struggling to find the words to articulate your art practice? Trying to tackle art speak? Fiddling with exhibition labels, statements and artist bios? Fear not!

In this webinar, Hamish Sawyer, Brisbane-based independent curator and writer, will impart practical skills for finding the right words to communicate your creative concept to audiences of all types.
Exhibition Development Program

18 - 19 June, 10 am to 4 pm, TAFE QLD Southbank Campus

Master the art of developing your own exhibition and how to pitch your proposal to galleries. This is a weekend intensive will help you design, plan and manage your solo or group exhibition. Participants will receive course study materials prior to the workshop and will have the chance to gain feedback on completed proposals following the intensive.

Tax & Money Matters

21 July, 12 pm - 1 pm, Your computer

Matthew Tucker joins us for our annual session on tax and money matters for artists and creatives. This webinar will focus on how to maximise your return when running a creative business. Join this webinar to take control of your tax return and for some great financial advice for artists, arts workers and arts professionals.
Chance to join a Creative Membership Network

Flying Arts Membership is a creative network offering the chance to connect with like-minded supporters of community, arts and culture. Currently our membership includes discounted access to Professional Development Programs and Workshops, retail partners, voting rights at the AGM and more!

The Accredited Membership option includes access to an affordable general liability insurance policy for individual artists and artworkers emerging their professional practice.

Apply for a policy covering your practice activity:

Visual artists, designers, craft practitioners, curators and registrars

Installers and conservators

Arts administrators and arts project coordinators

Writers

Musicians

Multidisciplinary practitioners

Visit our website or contact our team at members@flyingarts.org.au to find out more!

Support Flying Arts!

For 50 years we have made a big difference delivering art experiences and supporting creative communities all over Queensland.

Help us raise $50,000 to celebrate half a century of Flying Arts Alliance, so we can be here for Queensland communities for the next 50 years.

To make a donation, please click here
Flying Arts Alliance is listed in the Registration of Cultural Organisations, and has Deductible Gift Recipient and Tax Charity Concession status.

All donation above two dollars are tax deductible and will directly support programs and activities in schools and communities in regional and remote areas.
Flying Arts Alliance acknowledges the traditional custodians of the lands and seas on which we work, live and create. We pay our respects to Elders past, present and emerging.
Flying Arts Alliance is honoured to acknowledge the Governor of Queensland, Her Excellency, the Honourable Dr Jeanette Young PSM as our Patron. We also acknowledge Mr Tim Fairfax AC and Mrs Gina Fairfax as our Cultural Patrons.

Flying Arts is a not-for-profit organisation inspiring the appreciation, practice and professional development of the visual and media arts as a lifetime interest or career throughout regional and remote Queensland, supported by the Queensland Government through Arts Queensland, the Tim Fairfax Family Foundation and corporate partners and benefactors.

Flying Arts is the administrator in Queensland of the Regional Arts Fund (RAF), an Australian Government program provided through Regional Arts Australia.
To manage your email newsletter subscriptions and opt out if needed:
[!CampaignMember.Unsubscribe_Link__c]