The Regional Arts Fund is an ongoing program that provides approximately 3.6 million dollars per year to support artists and communities in regional and remote areas. The Regional Arts Fund is part of the Australian Government's Arts and Cultural Development Program that supports participation in, and access to, Australia's arts and culture through developing and supporting cultural expression.
The Regional Arts Fund is managed by Regional Arts Australia on behalf of the Australian Government and administrated by Flying Arts in Queensland. To learn more, visit the Flying Arts Website here.
SUCCESSFUL CULTURAL TOURISM GRANTS ANNOUNCED FOR QUEENSLAND
58 regional Queensland arts and cultural organisations and local councils are sharing a total of 65 Cultural Tourism Accelerator grants for activity between April and October 2022 worth almost $600,000, funded by the Australian Government.
The successfully funded projects include:
profile raising for Cooper, Australia's largest discovered dinosaur, in Eromanga, the town further from the sea than any other settlement in the country;

multi-disciplinary creative Scott Maxwell to be the Artist-In-Residence for the Desert Daze Festival at Lake Dunn, Barcaldine;

Delta Yarns, a dynamic two-part arts project that comprises creative storytelling workshops, a vintage shop window spectacle and an intimate performance by Kate Miller-Heidke in the world-renowned Mt Alma wetlands in the Burdekin;

All Fired Up, a time-travelling rock cabaret featuring numerous hits from the 1980's sung by Cairns local music legend Roz Pappalardo, in Mareeba; and

development of Mugul Mountain Retreat as a cultural tourism hotspot for the Gladstone region through a partnership with the Traditional Owners, the Gooreng Gooreng people.
The Cultural Tourism Accelerator Program is a $5 million targeted measure announced in July 2021 by the Australian Government as part of the Regional Arts Tourism package, enabling arts organisations to promote and develop cultural events for tourists across regional Australia. The program is designed to increase tourism visitation in regional, rural and remote communities across Australia by providing financial support for arts and cultural activity.
The Cultural Tourism Accelerator Fund is aimed at increasing visitation to existing arts and cultural venues, events and programs through four complementary grant streams, and full details can be found here. To view the official media release click here.
Art and culture are Everywhere. In regions, towns, and cities, in remote communities, across landscapes and geographies. In town halls, on streets, in parks, community centres, libraries, schools and hospitals. In galleries, museums and concert halls. On stages and on screen, in music and media, in print and online.
Art and culture are Essential in the creation of livable regions and are central to thriving, healthy communities and sustainable social and economic growth.
We have been working with our colleagues to create messaging that is cross art form, cross geographies and unifies the Arts and Creative industries messaging and election asks. The concept is to provide messaging that supports a 'whole of sector' approach.
We ask that you please consider joining Regional Arts Australia, Flying Arts Alliance and our sector colleagues in this Art & Culture Messaging Campaign to increase visibility and demonstrate unity in our broad sector in the lead up to the Federal election. This is just one small piece of a larger campaign to push for a commitment to a National Cultural Plan, which will provide a framework for greater support for every artist and organisation in our sector.
You can start by sharing messaging images and tagging socials. Access an Election Toolkit with downloadable posters, templates and files for your social media. View here
Please tag all posts with:
#ArtAndCultureAreEverywhere #ArtAndCultureAreEssential #VoteForArt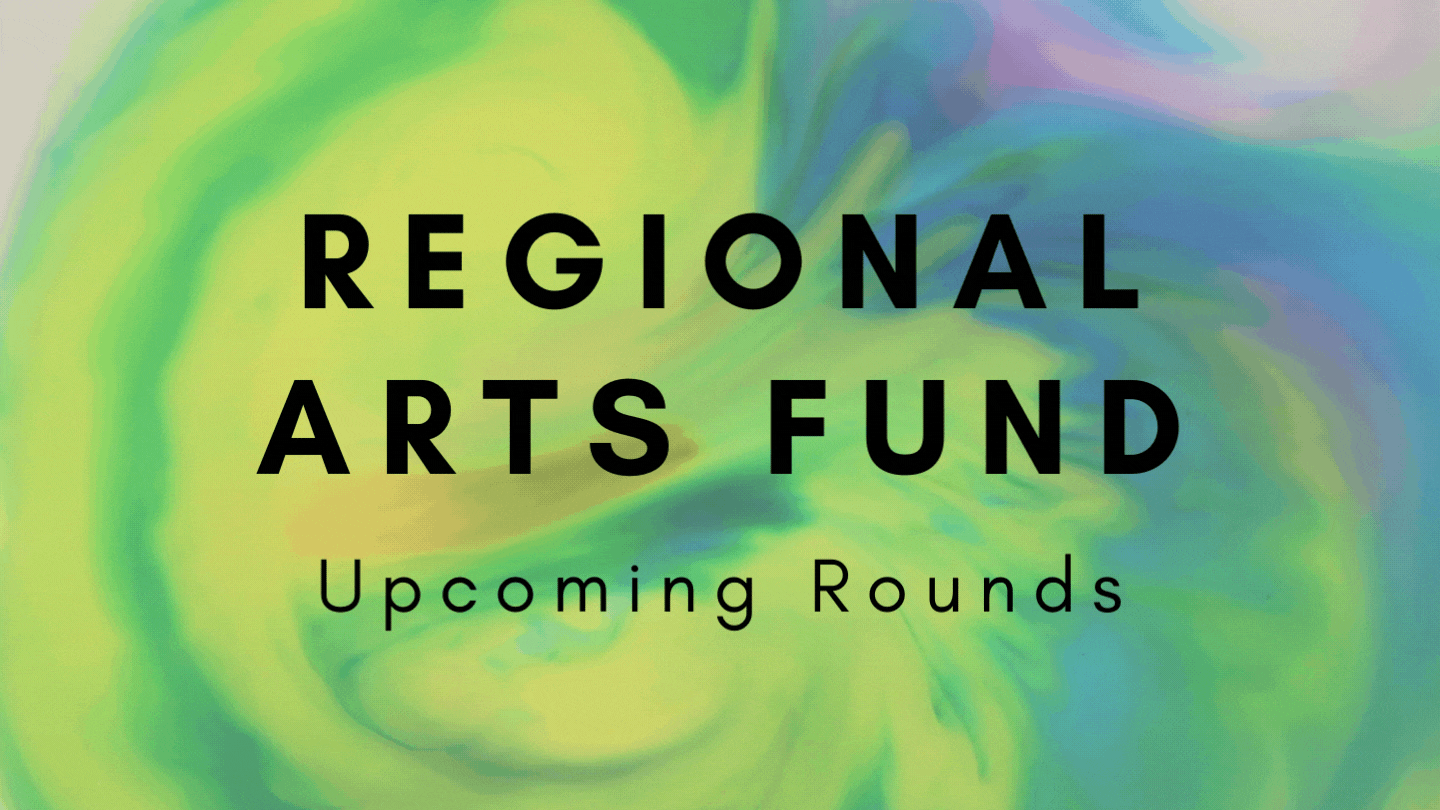 Regional Arts Fund Quick Response Grants - May Round
Quick Response Grants are intended to assist regional artists, arts organisations, and communities to take up professional or skills development, or small project opportunities, and aim to support small arts or cultural projects that cannot be funded by other means because of their nature or timing.
The May Quick Response Grant round is now open for applications and closes 11:59pm 31 May 2022. All applicants will be notified of decisions by 9 June 2022.
Successful Quick Response Grant recipients from the March 2022 round can be found here.
Regional Arts Fund Project Grants
The Project Grants stream supports applications which benefit the community, increase access and participation, and/or provide direct benefits to artists/arts workers. Project Grants provide major funding for high-quality arts projects benefiting regional or remote artists, arts workers, audiences, and communities.
Round 1 of the 2022 RAF Project Grants is now closed.
Round 2 of the 2022 RAF Project Grants dates to be announced soon.
Regional Arts Fund Support Materials and Resources
Regional Arts Fund resources including Guidelines, Eligibility Notes, Frequently Asked Questions and Application Resources can be accessed here.
To see a list of past recipients of the Regional Arts Fund, click here.
If you have any questions about Regional Arts Fund grants, please contact the Flying Arts RAF Team on (07) 3216 1322, or email Nate at raflead@flyingarts.org.au
Case Study: Regional Arts Fund Quick Response Grant
Asplenium | Artist Julie McEnerny | Image credit Julie McEnerny
Date: January, 2022
Location: Cairns 4870
Quick Response Grant Round: November 2021
Amount Awarded: $2,900
Epiphytes: from sea level to cloud forest was an eight-week creative development project undertaken and lead by Cairns based artist Julie McEnerny. With assistance from the Regional Arts Fund, McEnerny was able to purchase materials and conduct field studies within local Mangrove and Melaleuca swamps to photograph and sketch native Epiphytes found in these fragile ecosystems to create a series of works for exhibition at NorthSite Gallery in Cairns.
As part of the creative development project, McEnerny created a series of preliminary drawings and completed two works in preparation for a final exhibition which will comprise watercolor and graphite botanical artistic works of the Far North Queensland Epiphytes found in the fragile ecosystems of mangrove forests and higher altitude mountaintops.
Epiphytes are plants that grow on host trees, surviving on decomposing plant matter and airborne nutrients while contributing to the micro climate of the surrounding ecosystem. They include orchids, ferns, ant plants and mosses. The project also allowed McEnerny to work closely with the Australian Tropical Herbarium who assisted with the research, identification, and access to specimens. This project consolidates the foundations of a new body of work for a solo exhibition at Northsite Gallery in 2023.
This case study meets the following RAF criteria to a high degree: Support quality and viability of artistic and cultural activity
National Reconciliation Week 2022

27 May to 3 June

The National Reconciliation Week 2022 theme, "Be Brave. Make Change." is a challenge to all Australians— individuals, families, communities, organisations and government—to Be Brave and tackle the unfinished business of reconciliation so we can Make Change for the benefit of all Australians.

Artists to political candidates: 'Inspire us'

Speaking at the recent Federal Arts and Culture Policy Forum, Esther Anatolitis called on our politicians to offer policies that invigorate and engage.

Article by Esther Anatolitis, ArtsHub

Image: Canva
Image Credit: Jessica Maurer

The Big Reach

26, 27, 28 May

Presented by The Big Anxiety, Australia's first mental health and arts festival, the two-day event is designed for those looking to make a creative change in mental health and suicide prevention and offers generous concessions with a free Community Open Day on Saturday 28th May.

The Big Reach welcomes creative thinkers, artists, mental health workers, people with lived experience and anyone interested in practical steps to social justice and emotional wellbeing. The intensive program will explore how arts-based experiences – from high-tech interactive environments to innovative conversation formats – can help us work through trauma, suicidality, anxiety or stress, creating the connections we need for better psychosocial health.
Art as Code: Symbols for Storytelling

10 am - 4 pm | 22 May | QLD College of Art

Dylan Sarra is a Taribelang/Gooreng Gooreng artist who resides in Brisbane. With a focus on exploring identity and place, Dylan uses a range of disciplines such as print, digital works and sculpture to gently persuade an audience into humanising the Indigenous experience prior to colonisation. Dylan turns his indigenous art into a written language, using traditional symbols and modern colours that, in turn, tell important stories.

In this workshop you will work with Dylan to explore how visual language, symbol systems and art conventions can express ideas and feelings in images, objects and experiences. This workshop is relevant to arts educators, artists and arts workers. It also includes direct links to the Visual Arts Senior Syllabus, providing teachers with ideas and scaffolding for delivering Unit 2, Art as Code.

Image: Dylan Sarra, Petroglyph IV lithograph (2021)

Get the Grant

10 June, 12pm to 1pm, your computer

In this webinar Flying Arts' Regional Arts Fund (RAF) team will discuss the national cultural funding landscape of 2022, answering your Frequently Asked Questions about the RAF Community Project Grant and Quick Response Grant schemes.

Nate and Nigel will speak to the context of the fund, what RAF aims to support and strategies for navigating competitive arts funding in 2022. We encourage you to ask questions prior to the webinar, to be answered during the presentation.
Articulate Your Creative Concept

13 June, 12 pm to 1pm, your computer

Struggling to find the words to articulate your art practice? Trying to tackle art speak? Fiddling with exhibition labels, statements and artist bios? Fear not!

In this webinar, Hamish Sawyer, Brisbane-based independent curator and writer, will impart practical skills for finding the right words to communicate your creative concept to audiences of all types.

Regional Arts Fund Application Resources Kit

This document contains links to helpful grant writing resources.
Celebrate creative community and join the Flying Arts Crew!

Flying Arts members are an important part of our community.  Members not only join a network of people keenly interested in celebrating arts and culture, but also receive benefits like discounts and rebates on professional development workshops and courses, voting rights at our AGM, discounts with retail partners and more! 

We additionally offer Accredited Membership which includes general liability insurance for artists and artworkers engaged in professional practice.

Apply for a policy covering your practice activity:

Visual artists, designers, craft practitioners, curators and registrars

Installers and conservators

Arts administrators and arts project coordinators

Writers

Musicians

Multidisciplinary practitioners

Visit our website or contact our team at members@flyingarts.org.au to find out more!

Support Flying Arts!

For 50 years we have made a big difference delivering art experiences and supporting creative communities all over Queensland.

Help us raise $50,000 to celebrate half a century of Flying Arts Alliance, so we can be here for Queensland communities for the next 50 years.

To make a donation, please click here
Flying Arts Alliance is listed in the Registration of Cultural Organisations, and has Deductible Gift Recipient and Tax Charity Concession status.

All donation above two dollars are tax deductible and will directly support programs and activities in schools and communities in regional and remote areas.
Flying Arts Alliance acknowledges the traditional custodians of the lands and seas on which we work, live and create. We pay our respects to Elders past, present and emerging.
Flying Arts Alliance is honoured to acknowledge the Governor of Queensland, Her Excellency, the Honourable Dr Jeanette Young PSM as our Patron. We also acknowledge Mr Tim Fairfax AC and Mrs Gina Fairfax as our Cultural Patrons.

Flying Arts is a not-for-profit organisation inspiring the appreciation, practice and professional development of the visual and media arts as a lifetime interest or career throughout regional and remote Queensland, supported by the Queensland Government through Arts Queensland, the Tim Fairfax Family Foundation and corporate partners and benefactors.

Flying Arts is the administrator in Queensland of the Regional Arts Fund (RAF), an Australian Government program provided through Regional Arts Australia.
To manage your email newsletter subscriptions and opt out if needed:
[!CampaignMember.Unsubscribe_Link__c]