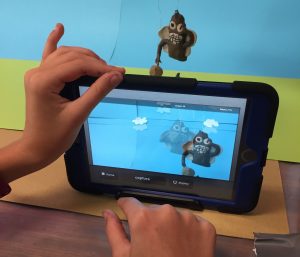 What happens when you put an experienced artist in a room with four motivated teenagers, a pile of art-making materials, and a couple of cameras? Stop motion movie magic!
Flying Arts artist Sue Loveday recently travelled to the Gladstone Regional Art Gallery & Museum to deliver a three day course on stop motion animation as part of Sunfest 2018! Sunfest is held in January for two weeks during the summer school holidays each year.
Hi Sue! Can you tell us a bit more about the short course you taught?
The Gladstone Regional Art Gallery & Museum is one of the most friendly workplaces I have been to! It was a pleasure to be there and work with the young people. I was very encouraged by the way both the teens and gallery were excited about the course and passed on feedback from the parents.
It was a pleasure to work so closely with these young people for the three days. I got to know their personalities and encouraged them to add their unique perspectives into their process and allow it to influence the end result.
The young artists really developed self-confidence from the process – from doing something fun and finishing it. The group of four had the opportunity to show their finished movies at the SunFest Showcase which was a highlight for them. Their creativity reached the large crowd that attended the event.
Check out the finished animations below! Aren't they great?