Based in Proserpine, multi-disciplinary artist Denise Vanderlugt chose to share her personal ethics in the form of three handmade artist books.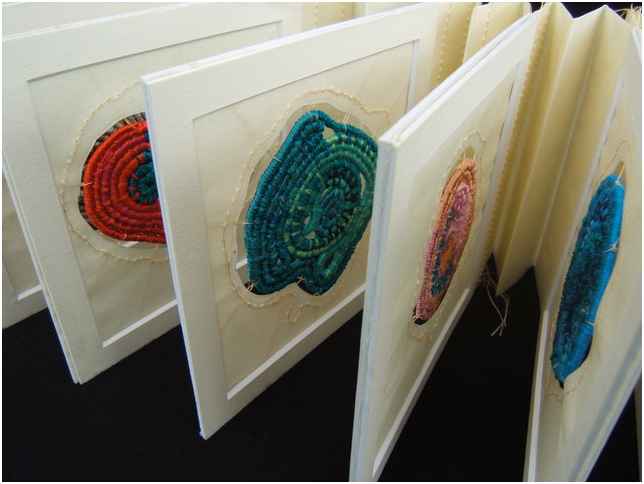 As a designer and maker of large entirely hand stitched quilts, Denise finds various sections of this work repetitive and time consuming, providing time for creative thinking. In this meditative state, she explains, ideas emerge for artist books. Their execution does not interfere in the big projects, only adds to the richness of being able to express herself using different disciplines. As a stitcher, bookbinding and making artist books gives Denise great joy.
In curating work to present for this exhibition, Denise chose her small artist books. Their common feature is that they are all 10 cm high. It is a constant challenge to work at this size especially as the thought and message being communicated is different in each work.  Their common height draws them together visually and Denise hopes that this will highlight to visitors that these pieces are all made by the same pair of hands.
In her personal practice, Denise continues her passion for sustainability and recycling by making baskets out of waste materials. She particularly enjoys a traditional coiling technique which uses a recycled plastic core wrapped with fabric. Her award-winning children's story book 'Where Rainbows Live' is based on the making of a large colourful basket using three years of kitchen waste plastic. "I have not thrown out a bread bag in 25 years," Denise says, "I am absolutely thrilled that the governing bodies of this country are finally addressing this huge problem." In response to overwhelmingly positive feedback, she is also working on a follow-up book and has developed a performance around reading it with props. In addition to her literary crafts, Denise is also working on a commission for a hand-stitched wall quilt. "The term for this way of working is now called 'slow stitching'," she explains. "There is always a lot to do as the result of a busy mind."
In addition, Denise has been shortlisted for 'Libris Awards 2018' at Artspace Mackay, an initiative of Mackay Regional Council that seeks to develop awareness of council's significant collection of artists books, and to develop the  collection further through the acquisition of new works by leading Australian artists working in this field. Congratulations, Denise!
Denise Vanderlugt's Artist Books will be on display at the Judith Wright Centre until 25 May 2018  Flying Arts Featured Artists – Autumn Exhibition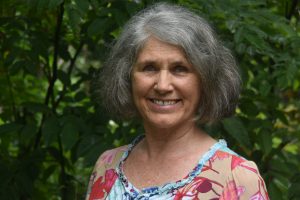 Denise Vanderlugt is a full time artist based in Proserpine.
Since 1982 she has worked with a range of disciplines including quilting, basketry, painting, collage, printmaking, book binding and artist books.
Denise has exhibited and taught in Australia and overseas and has been featured in various publications, and recognised with awards. She has written and illustrated a self published children's storybook, 'Where Rainbows Live', which received two international awards. She is currently working on her second children's story with illustrations.