Ruben Ambrym is a featured artist in Jabu Birriny (land + sea), an exhibition developed by State Library of Queensland (SLQ) in partnership with Yarrabah Arts and Cultural Precinct and toured by Flying Arts Alliance from 2019 to 2021.
---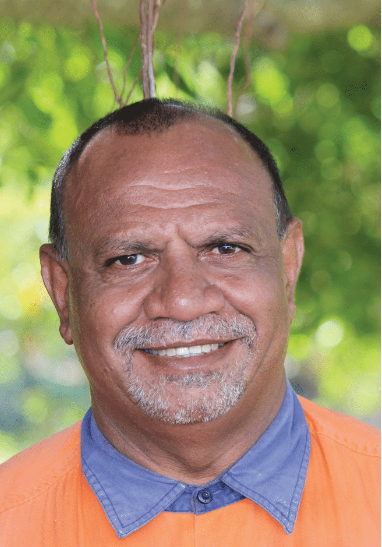 Ruben Ambrym is of Kuku Yalanji and South Sea Islander heritage and has lived in Yarrabah all of his life. He is married to Edna Ambrym and is the father of Valmai Pollard – both practising artists at Yarrabah Art Centre.
Ruben spends most of his days at the Yarrabah Arts and Cultural Precinct, in both his role as the carer for the grounds and as an emerging artist. When he is not at work, he is outdoors enjoying the scenery of Yarrabah, spending time with family and fishing and hunting at his favoured spots.
The influence from his creative family and employment as the groundsmen introduced him to art making when he undertook an etching workshop at the Art Centre over 3 years ago. Since then, he has continued to develop his creative practice in the mediums of lino printing, etching, painting, pottery and textiles. Ruben's work embodies the diversity of food sources from the land and sea and celebrates the uniqueness of the Yarrabah lifestyle and environment.
See Ruben's Interview with the State Library of Queensland
---

Flying Arts Alliance acknowledges the traditional custodians of the lands and seas on which we work, live and create. We pay our respects to Elders past and present.