Emerging Cairns musician Greta Stanley was invited to showcase at BIGSOUND 2018,  Australia's leading new music festival and industry conference held annually in Brisbane's Fortitude Valley.
Out of over 1133 applicants, only 139 acts were selected to perform in front of delegates including labels, agents, publishers, and festival representatives. Thanks to a Regional Arts Fund Quick Response Grant, Greta's full band and manager were able to accompany her for this exciting opportunity. Read Greta's insight about the experience below. 
---
"Being a regional artist,  I believe that  it is extremely important for our region and place to be represented in the current music industry. I am very proud of where I come from and I often write about it in my music. I believe that having been a showcasing artist at BIGSOUND 2018 I have put myself in front of the audiences I need to be exposed to in order take my career to the next level.
"I think I capitalised on this amazing opportunity that I would not otherwise have been able to afford by connecting well with not only the industry in the audience but general admission ticket holders at both of my showcases and I hope that this whole experience of being selected in 2018 will help build my audience across many levels including live and through radio play.
I was actually invited to perform at the BIGSOUND VIP event in front of state officials and high profile industry professionals – it was held on a river boat as the official launch of the entire event. This was an extra bonus to being selected as a showcasing artist and I believe increased my exposure at the event.
"Being selected in the top 139 acts to showcase allowed me to meet and perform in front of many important radio programmers and bookers – the Monday following BIGSOUND, my latest single 'Come Undone' was added to spot rotation on Triple J, the leading national youth broadcaster. My manager and I also met with a number of high profile publishers, radio promoters, and labels. This will help me in the future when I need to call on people for advice as well being a current name as one to watch in the industry and hopefully being in the forefront of people's minds as they develop their connections and business plans. The opportunity was particularly beneficial to me as a regional artist as face to face access to industry is often limited by distance and costs.
"I am always very supportive of like minded aspiring musicians who are also emerging from my home region and I will be able to share with them my experiences through my online platforms, personal relationships and also in the future if I am called upon to help through industry programs and workshops – many of which I have attended in the past which have helped me to get to this point in my career. I hope that if I am successful in my endeavours to have a sustainable career as an artist through many years of perseverance, planning and hard work that it might help to raise the artistic profile of my region and in turn encourage others from regional places to do the same.
"I am very satisfied with the Regional Arts Fund Quick Response Grants. I would have really struggled to manage this project without the financial assistance of this grant and I am extremely grateful for this support as a regional artist. I feel encouraged by the incredible resources from organisations like Flying Arts and QMusic and Arts QLD as the support I have received has been career defining in many ways. I believe I am incredibly lucky to be a Queenslander and have access to such an amazing support network that fosters young talent and allows us to thrive in this sometimes difficult industry."
---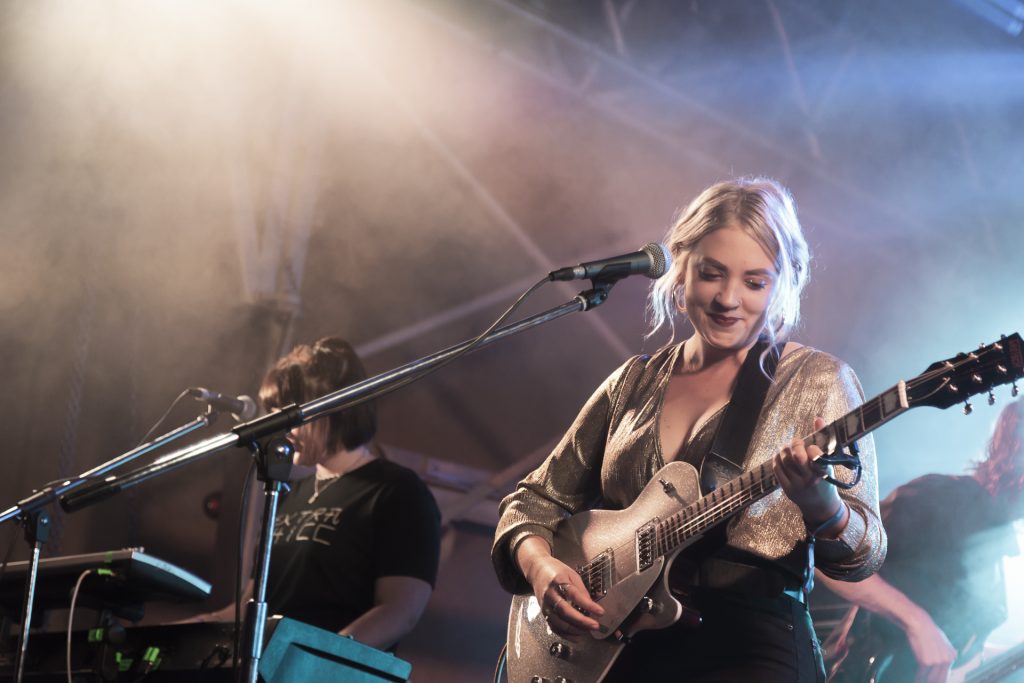 After a hectic three years touring, writing and releasing music, 23 year-old Greta Stanley has secured herself as one to watch on the Australian music scene in the months to come.

Her Debut EP 'Bedroom City' and her LP 'Full Grown' (both produced by Mark Myers ex The Middle East) have received widespread acclaim and radio play. Greta's live shows have included opening for the likes of The Rubens, Boy & Bear, Mia Dyson, Sarah Blasko and Didirri, along with appearing at Groovin' The Moo Townsville, The Grass is Greener Festivals, Australian Music Week, Grampians Music Festival, The Planting and  The Big Pineapple Festival in May 2018.
The Regional Arts Fund (RAF) is an Australian Government program designed to benefit regional and remote arts practitioners, arts workers, audiences and communities. The fund is provided through Regional Arts Australia and is administered in Queensland by Flying Arts Alliance.