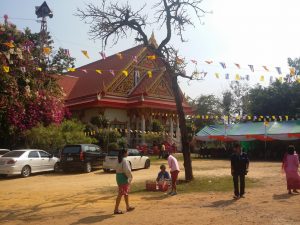 In January and February 2016, Queensland's Flying Arts Alliance is undertaking a cultural exchange and artist residency in Sam Rit Region in North Eastern Thailand, supported by the Australian government through the former Australia-Thailand Institute, now merged into the Australia-ASEAN Council, and part of the Department of Foreign Affairs and Trade.
The 8 week residency will involve Queensland artist Mary Elizabeth Barron working with local women in the Sam Rit district to recycle waste materials into arts and crafts products using a range of traditional and contemporary weaving and hand crafting techniques.
In addition to promoting understanding of each other's culture, values and traditions, this project will raise awareness of the potential of recycling waste products into arts and crafts products; support and enhance traditional artisan skills; and lay the foundation for future social enterprise.
Flying Arts Alliance is an arts and cultural development organisation which has been delivering visual arts projects and services to regional and remote Queensland for 45 years. Since 1971 the Association has played a significant role in inspiring artists and communities, as well as helping to overcome the impacts of regional isolation and remote living.
Flying Arts Executive Officer, Kerryanne Farrer says, "Flying Arts is proud to extend our vision of inspiring the practice of visual arts as a career in an international exchange context in Thailand."
Artist, Mary Elizabeth Barron is excited to have this opportunity to extend her practice internationally. "This experience will afford incredible learning experiences on both personal and professional levels and a unique opportunity to become immersed in Thai culture. I am thrilled to be able to share my skills and knowledge in the field of using recycled materials to produce art/craft items and to learn new techniques and gain new ideas and insights from the local Thai ladies."
The project participants will work towards producing a range of arts and craft products which will culminate in an exhibition of their work in the local community.
For more information contact Kerryanne Farrer at Flying Arts on Ph. 07 3216 1322 or email ceo@nullflyingarts.org.au