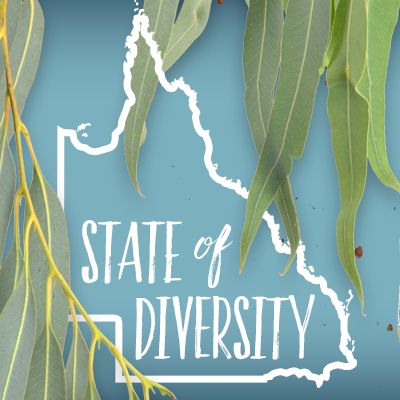 Expressions of Interest (EOIs) are now open for galleries in regional and rural Queensland to host State of Diversity in the 2020 – 2021 exhibition touring schedule. 
State of Diversity is the exhibition outcome of the 2019 Queensland Regional Art Awards (QRAA) and will be the third QRAA exhibition to tour state-wide. 
The QRAA is an annual visual arts prize and exhibition for established and emerging artists living in regional and remote Queensland. The program aims to provide a platform for further professional development and, importantly, provides an opportunity for regional audiences to see and experience the artwork created by their regional peers. 
Following on from the booked-out tour program for the 2018 QRAA exhibition Wanderlust, State of Diversity will continue to enrich the program offerings of galleries in regional centers. 
The exhibition will reflect upon the theme of it's title, uncovering the diverse ecosystems, wildlife, places, people and personalities that make up the communities and locations of Queensland. 
The exhibition's tour kit includes a suite of marketing and exhibition collateral along with options for public programming. See the full exhibition specifications here. 
Submit your formal EOI to secure a spot in the exhibition touring schedule. For further information contact Flying Arts on 3216 1322 or email Exhibitions Lead.
Check out the event details for Wanderlust's official launch in Winton below: