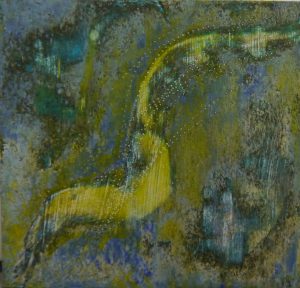 I rose at 5am and was on the road by 6.30am to arrive in Brisbane by 8.30am. Sunday April 26 was a beautiful sunny morning with the chill of autumn in the air. I always have a heightened sense of expectation and excitement before I deliver one of my workshops. One of the best things about delivering workshops is meeting fellow artists. We shared information and encourage each other. We took turns boosting each other to the next level. We texturized, layered, scratched back and collaged our works throughout the day. It always amazes me how much they all achieve in such a short time. I hope the seeds have been planted for further exploration. As the day came to a close and all the packing up was done, we critiqued the work; every participant had produced some beautiful cold wax painting and declared that they would continue with this luscious, sensual art form. I encouraged them to value what they do and aim high, others will see that in their work and respect them and value the art too. I think I have made many new friends this week.
---
1 – Day PD for Artists & Educators: 'Make your Mark' – Cold Wax (Encaustic) Mixed Media Workshop
BIA – Windsor
26 April 2015
Cheryl McGannon – Flying Arts Artist
Flying Arts' Touring Artist Journal is brought to you monthly thanks to Art Shed Brisbane.