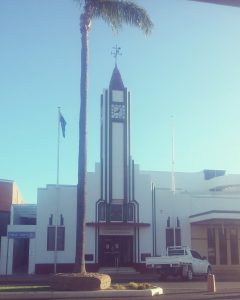 This workshop took place in the newly opened Goondiwindi Regional Art Gallery. Opening in December 2015, the gallery is situated in the recently refurbished, historic council building on the main street.
Before the workshop began I was taken on a tour of this beautiful building by the workshop organiser David Hayward, and I was impressed by renovations, which included a restored art deco cinema, a modern library, tourism information centre and historic displays. David is a Community Development Officer with the local council and experienced gallery volunteer at the Texas Regional Gallery.
While not as many attendees came as was hoped, those who were able to attend were highly engaged, most being from the neighbouring town of Texas. Attendees included the Library Manager, and now also Gallery Manager for the Goondiwindi Regional Art Gallery. The Gallery Director and the Secretary at the Texas Regional Art Gallery, which is an entirely volunteer run space, also attended. It was particularly nice to meet Barbara in person, the gallery Director for Texas, having communicated with her via phone and email many times in the past!
The workshop was Gallery Volunteer Training and Development, focusing on key aspects of back of house and front of house skills within the regional gallery. The experience levels of the group varied considerably from no gallery experience to a high level of gallery experience from the Texas team.
As an intimate group, it was great to take a conversational approach to the workshop, engage in some hands on examples, and share knowledge and experiences. For the Texas gallery volunteers, the workshop served to reaffirm their knowledge and capability, particularly when it comes to correct artwork handling and installation procedures, which was exemplary. New knowledge was also obtained.
I thought it was fantastic that one of the attendees was a Councillor whose motivation for attendance was to increase her understanding of the work that goes into running an art gallery, and to allow her to assist their regional galleries better. She came away with an enhanced appreciation of the level of involvement and work required to run a successful gallery, and the great work currently being achieved by the volunteer team.
As always it was enjoyable to hit the road and visit a new place and inspiring to see that despite the challenges facing small regional galleries, this group was all very committed to their important role their gallery plays within the community.
---
Workshop – Gallery Volunteer Training and Development
Goondiwindi
13 February 2016
Sarah Barron – Flying Arts Artist
Flying Arts' Touring Artist Journal is brought to you monthly thanks to Art Shed Brisbane.