Brisbane artist Yuki Crawford challenged her professional practice in creating a new work for the Autumn Plinth Exhibition. She chose to explore a new theme in the hopes of gaining exposure for her work.
Having a one year old baby, moving house, and going back to work all proved interesting challenges for Yuki, who describes herself as "thrilled" to be featured.  As an artist working in predominantly two-dimensional media, creating a work suitable for display on a plinth motivated Yuki to think of alternatives: "I needed my artwork to stand up – so I thought of the folding screen, and then a folding book that stands upright and can be seen from all angles," she explained.
In her artistic practice, Yuki is currently working on creating new, bigger works for art awards, and exploring the mixing of various mediums – weaving, stitching, cut paper, collage, craft, painting and drawing.
What Doesn't Change, is that it will Always Change will be on display at the Judith Wright Centre until 25 May 2018  Flying Arts Featured Artists – Autumn Exhibition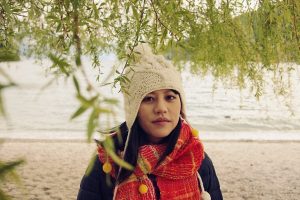 Yuki Crawford is a Japanese artist based in Brisbane, Australia who works in visual arts and crafts. Her inspirations are drawn from colourful surroundings of the subtropical life, and she enjoys a mixture of new and traditional media to create bold, bright art. You can find out more about Yuki on Facebook and Instagram.