Elysha Rei is the Flying Arts Program Coordinator, and has been instrumental in getting the Sam Rit Residency and Cultural Exchange off of the ground. Here she gives some background on the area in which Flying Artist Mary Barron will be spending her eight week residency. Read her first journal article.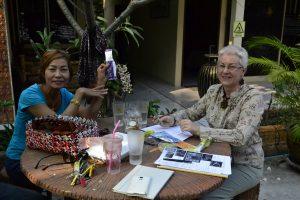 Stepping into a new cultural realm is like forcing yourself to grow a little more; all senses heighten with the assault of smells, sights, sounds and tastes never before contemplated. It is this disorientation that triggers new survival skills and accommodates personal growth in ways we never imagined.  The first few days of this project certainly allowed for a new suite of experiences.  Even the first pit-stop to the residency from the airport included a Thai style toilet – complete with no toilet paper and a hand-held bucket for your own flushing convenience! 
In the village, other cultural experiences included local culinary delights – from deep-fried river snails, banana flower soup, and sticky rice created and served inside a piece of bamboo.  The residency plays host to interesting creatures including giant geckos known as 'tukkei' as well as yellow frogs, pigeons, sparrows and even a snake on the second day!  This truly is a rural setting complete with unexpected nature as well as the friendly smiles of village locals walking their cows to the next field or serving up hot noodle soup on the side of the road.  Shanty houses constructed with corrugated iron are fanned with TV antennae's, and adjacent to shiny new concrete homes.  Nothing ever comes to a complete stop in Thailand; there is always people and food available somewhere.  It feels alive and energising to be immersed in it all.
Rubbish management in the village is independently looked after in each household. There is no government waste service in this village, only private services which many cannot afford to use.  Cans, bottles and certain plastic items are recycled to a local vendor who then sells them off to a larger recycled plant after meticulously cleaning each item and removing labels.  Food scraps are generously left out on the street for the unkempt dogs who seem to survive quite well on rice and chicken bones.  All other items such as plastic bags, packaging and aluminium are systematically burnt in people's backyards.  Wafts of these fumes are especially potent late in the afternoon, contributing  to the purple haze from the end of harvest rice field burn-offs.  It is hoped that this project will reduce this level of toxic burn offs, allowing local women to see the potential in a plastic bag as a useful material for constructing beautiful vessels and other items. 

In January and February 2016, Queensland's Flying Arts Alliance is undertaking a cultural exchange and artist residency in Sam Rit Region in North Eastern Thailand, supported by the Australia Government through the former Australia-Thailand Institute, now merged into the Australia-ASEAN Council, and part of the Department of Foreign Affairs and Trade.