Want to receive Flying Arts updates in your inbox each month? Sign up to our eNewsletters
---
How are you doing? We are certainly thinking of everyone impacted in the 11 LGAs currently affected by lockdown restrictions, and all the ripple effects this is having throughout the state, and to our arts and cultural community and colleagues in other states around Australia. In case you didn't receive our update on Monday, the Flying arts team will continue to work from home until restrictions are eased.

For prompt response during this time, please email Flying Arts staff directly via email using the contact details on our About Page. If you wish to receive a call back, please include your best contact number and a member of our team will be in touch.

Our professional development programs within the South East Queensland lockdown period will be running online.

Regional Arts Fund (RAF) Community Workshops in Central and Far North Queensland will also be delivered digitally. Anyone interested in learning more about RAF is welcome to join in for a one hour online session from wherever you are in Queensland. More details on this below.

Here at Flying Arts Alliance, the health, wellbeing and safety of our staff, clients and community are our number one priority. We are carefully monitoring restrictions and will be in touch with program participants, By Request partners and exhibition hosts as the situation evolves.
---

The entries are in! Soon it's your chance to have a say
Thank you to all the entrants of this year's Queensland Regional Art Awards! We received many high calibre artworks responding to the theme 'Paint the Town.' While the judges deliberate their award winning and finalist selection, it'll be your turn to vote for your favourite entries.

By voting in the People's Choice Awards, your favourite adult and youth category entry will receive cash prizes thanks to our award partner TAFE Queensland. Voting opens soon on 16 August. Learn more
---
Mark your calendar, Flying Arts is turning 50!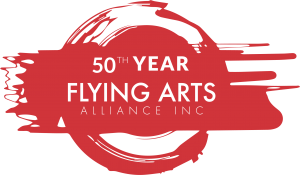 2021 is the year that Flying Arts Alliance turns 50. Help us celebrate by celebrating you! Save the date for the launch of our 50th Anniversary with a digital event on the evening of Thursday 7 October. Gather your friends, family or art group for a watch party as we announce the winners of the Queensland Regional Art Awards 2021 and launch a very special anniversary project. Together let's Paint the Town all across Queensland!
---
Program Highlights
We've got a host of webinars happening for artists and educators! For the teachers, hear new case studies for the cross-curricular priority of Sustainability in Connecting Art with Ecosystems. Current urban planning trends are about creating 20-minute neighbourhoods, or 20-minute cities. Thinking Locally will explore how artists can take advantage of this trend in public art and placemaking. Secure your spot
---
Professional Development Opportunities (view all)
For Artists and Artsworkers (view all)

For Teachers and Educators (view all)

---

Art Innovation: Sign up now for the September program!
29 Sep – 01 Oct, 9:00 am – 5:00 pm, State Library, The Edge
Participants will experiment with the latest technologies at The Edge exploring contemporary approaches to art making and digital media such as laser cutting, 3D printing, electronics and more! Participants will get the opportunity to make objects to take home, take part in a make-a-thon and be featured in a public exhibition project involving communities from around the State.
---

---
Regional Arts Fund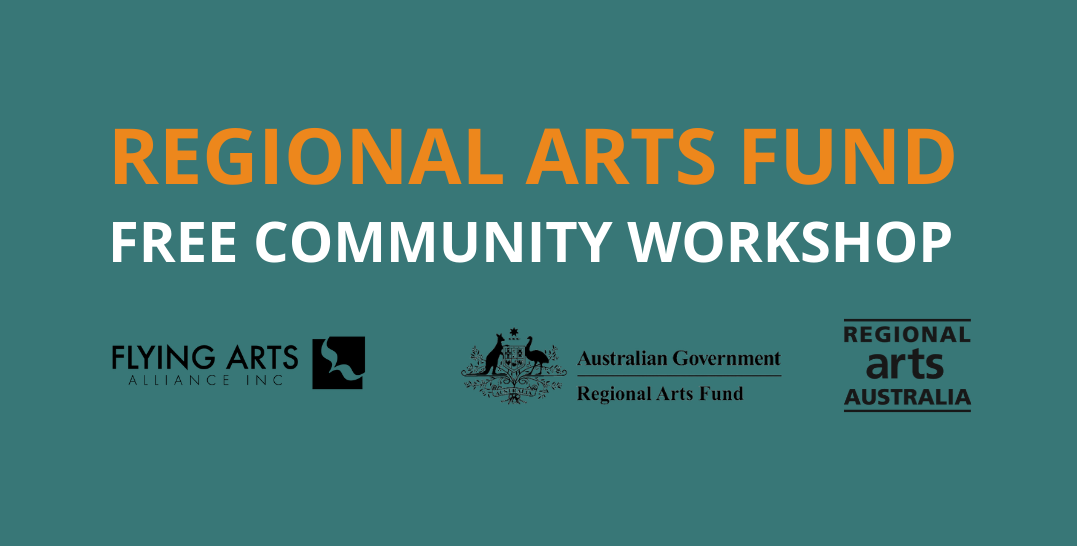 Look out Central and Far North Queensland, we're coming your way (well, digitally!)
Flying Arts RAF Lead, Nigel Lavender will be presenting free RAF workshops covering all the essentials for applying to the fund. These workshops will be delivered online due to lockdown restrictions.

If you're in the area, we invite you to attend at your local event location and listen to Nigel present via video call. If you're located elsewhere or aren't comfortable to attend in person, we'd love for you to join us online. Learn more
---
Current Funding Rounds
August 2021 round for Quick Response Grants are now open until 31 August. Under the new Guidelines, Quick Response grants are now batched into monthly competitive rounds. Learn more

Applications for Project Grants Round 2, 2021 close on 16 August. Project Grants provide substantial funding for high-quality arts projects benefitting regional or remote artists, arts workers, audiences and communities. Learn more
The Regional Arts Fund (RAF) is an Australian Government program designed to benefit regional and remote arts practitioners, arts workers, audiences and communities. The fund is provided through Regional Arts Australia and is administered in Queensland by Flying Arts Alliance.
---
For Schools and Communities
Recently, Flying Arts' By Request Program delivered 6 workshops with Sue Loveday and Casselle Mountford for St Mary's Ipswich MADD DAYS Festival, a celebratory day for the arts: Music, Art, Drama and Dance. This engaged a number of students, with participants aiming to try something new and work creatively.

Do you want to bring an artist to visit your school or community? Ask us about how we can organise bespoke workshops online or in-person anywhere in the state. Enquire Now
---
Exhibitions on the Road
---
Need insurance for your project or practice?
Get tailored General Liability and Personal Accident Insurance Package with Flying Arts Accredited Membership. We also offer Standard Membership with full range of benefits including rebate vouchers, discount vouchers, and ability to submit members news. Learn More