Our Founder – Mervyn Moriarty
Flying Arts' founder, Mervyn Moriarty OAM, is a legendary figure in the Queensland arts community. His is an iconic story – a respected artist and passionate and dedicated arts teacher and educator, in 1970, he used prize money from an art award to learn to fly so he could teach art in outback communities where there was no access to the arts.
He made his first flight in 1971, a 6,000 km round journey, setting up the 'art school' that is now Flying Arts. As the principal tutor from 1971 to 1983, he flew to an average of 26 centres four times a year, making over 1,250 trips and flying over 400,000 km. As a result of his endeavours, a generation of artists, educators and communities gained exposure to contemporary visual arts practice, many for the first time. In 2022, his services to the visual arts in Queensland was recognised in the Australia Day Honours Awards.
During these years, the organisation was credited as being a catalyst for social regeneration for hundreds of artists living on rural properties and regional towns throughout Queensland. This legacy lives on today in the work of Flying Arts Alliance, as the organisation became known in 1994, and the many art groups which formed across the state thanks to Merv's tutelage.
Our 50th Anniversary
2021 was the year that Flying Arts Alliance turned 50! From October 2021 until October 2022 we celebrated our Flying Arts community all across regional and remote Queensland, getting together to 'Paint the Town'!
Paint the Town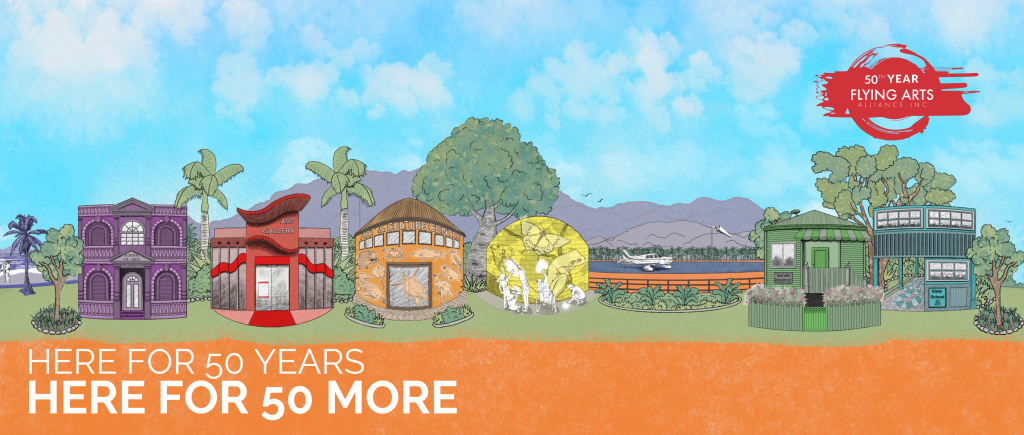 In celebration of our 50th year, Flying Arts launched a special Anniversary project celebrating our vibrant community, which was delivered through an XR experience, rolling out in six experiences across the year,

'Here for 50 years, Here for 50 More' profiled the depth of talent and commitment that exists in all corners of Queensland, featuring talented artists, enterprising arts workers, dedicated teachers and educators as well as emerging young artists.
The project focused on Flying Arts' many creative communities thriving throughout all locations of Queensland. Our community of visual arts in the regions celebrated the past, present and future.

'Here for 50 years, Here for 50 More' gave Flying Arts the opportunity to 'Paint the Town' and became a tribute to the legacy of the last 50 years, while soaring to new heights!
---