In 1971, Mervyn Moriarty made his very first Flying Arts flight. He flew solo out of Archerfield airport in Brisbane on a 6000km round journey to meet with regional representatives across the state to assist him in establishing Flying Arts, then known as the EastAus Art School.
Merv remained the principal tutor from 1971 to 1983, flying to an average of 26 centres four times a year, with extra trips made to organise exhibitions and other special events. During this time, he totalled over 1250 trips and flew well over 400,000km.
During these years, the organisation was credited as being a catalyst for social regeneration for hundreds of artists living on rural properties and regional towns throughout Queensland. This legacy lives on today in the work of Flying Arts Alliance, as the organisation became known in 1994, and the many art groups which formed across the state thanks to Merv's tutelage.
Honouring Mervyn Moriarty's legacy, in 2021 Flying Arts offered the inaugural Mervyn Moriarty Landscape Award as a category of the Queensland Regional Art Awards (QRAA), an annual visual arts prize and exhibition for established and emerging artists living in regional and remote Queensland.
The Mervyn Moriarty Landscape Award is open to landscape artwork in any medium, in homage to Mervyn's penchant for 'en plein air' landscape painting.
The winner and finalists of The Mervyn Moriarty Landscape Award was exhibited in the offices of award partner Consolidated Properties Group (CPG) in Brisbane for 12 months.
---
Judging Panel
Chris Stannard – Curator, Tanks Art Centre
Carol McGregor – Program Director, Contemporary Australian Indigenous Art, Queensland College of Art
Jan Manton – Director, Jan Manton Art
---
The Mervyn Moriarty Landscape Award Winner 2021
Cynthia Copley, White Rock – Elemental (2021) Oil on canvas
$3,000 non-acquisitive cash prize, thanks to Consolidated Property Group.
For landscape works in any medium.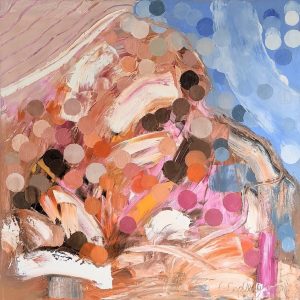 WHITE ROCK – ELEMENTAL
Artist: Cynthia Copley
Artist Location: East Ipswich
Medium: Oil on canvas, 2021
Dimensions: 50 x 1.5 x 50 cm
Artist Statement: In this painting I explored the concept of 'Paint the Town' through celebrating the resilience and beauty of the elements that form White Rock, a magnificent landmark of cultural significance located at the Spring Mountain Conservation Park in Ipswich. My painting is joyful and energetic and captures White Rock's deep horizontal crevasses, the beautiful knobbly shapes and patterns carved into the sandstone from thousands of years of wind and rain; the warm colours which play upon the blue horizon and the bright white facets for which it is named. I painted my intrinsic and spontaneous response to the refracted light on the rock and the dance of shadows cast from the leaves of the surrounding gum trees.
Photographer: Cynthia Copley
---
The Mervyn Moriarty Landscape Award Finalists 2021
All artworks that are selected as finalists in this category will be exhibited in the Consolidated Property Group office in Brisbane for a period of 12 months.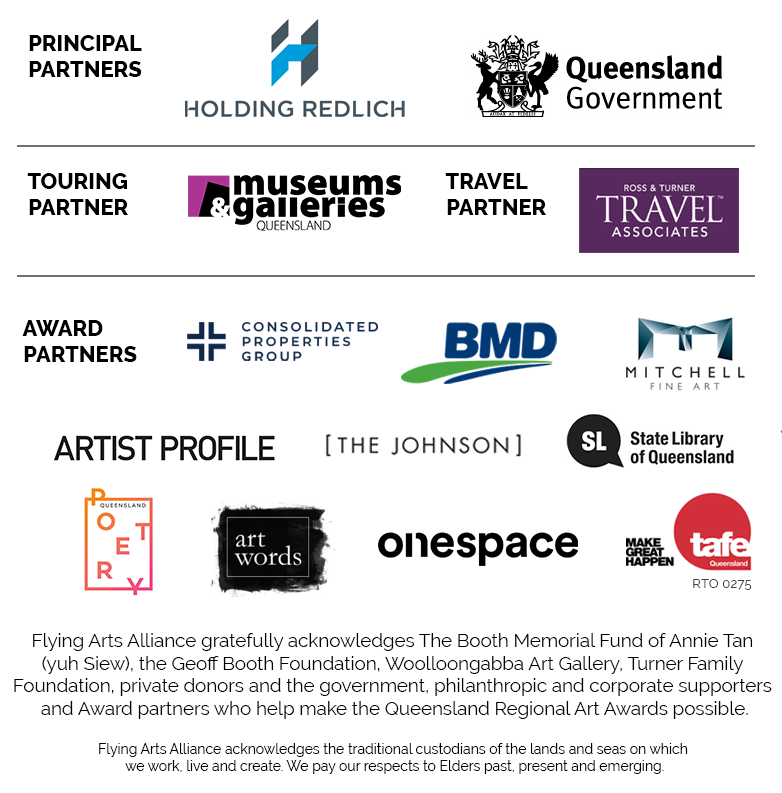 Banner Image: Palm Cove. Mark Skelcher. Oil on canvas. 2020.