Kay Watanabe's small scale 3D works feature themes which are deeply rooted in her homeland, Japan. With her Sakura series, Kay expresses the awareness about the transience of things and a bittersweet sadness about people's lives which are ever-changing and eventually come to an end in the form of death. One Hand Clapping is themed around Zen philosophy which has strongly influenced Japanese people's way of thinking. Kay is primarily a printmaker but has diversified into 3D works recently. She currently uses polymer clay which she has found easy to build shapes and she combines it with paper or wood. For her, a small sculpture is something that she enjoyed making when she was very young. She has found that, in a way, she can more directly express some of her ideas by manipulating materials with her hands than through printmaking, which relies on the mechanisms of plates and various printing tools and equipment.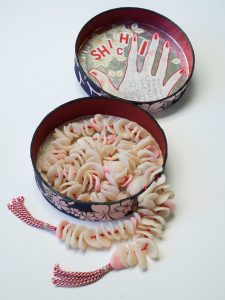 Sakura Night
paper (box), polymer clay, silk and cotton strings
14 x 14 x 3.5cm (box)
$990 signed and dated

Sakura Night is themed around cherry blossoms at night which are believed in Japan to have a power to make viewers go mad with their absolute beauty.  The sub theme of the work is a historical incident of a young woman named Yaoya Oshichi in Japan's Edo period. Oshichi was madly in love, attempted arson, and was later executed. Her life was adopted to Japanese traditional performing arts such as "Joruri" and "Kabuki, " and in modern Japan, it reappeared in the lyrics of a hit pop song in 1994. These elements of Oshichi's tragic love story are extensively expressed in this work.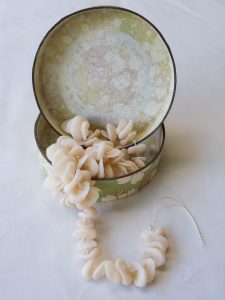 Colours of Flowers
paper (box), polymer clay, silk and cotton strings
14 x 14 x 4cm (box)
$990 signed and dated
Colours of Flowers has taken on the form of a string of beads, each resembling cherry blossom petals inspired by a necklace Kay made from fallen petals in her grandparents' garden when she was a child. As with actual petals, the beads are random shapes and they represent events in life. They are in translucent, dreamy colours to express the memories of these events which are sometimes forgotten. They are strung together to illustrate events which happen in a linear timeline throughout life. The box represents the garden filled with cherry blossoms as well as the person who holds the memories.
The beads are accompanied by a poem about the changing nature of life, written by 9th Century AD Japanese novelist Ono no Komachi. It is written in Japanese characters and in a circle to show the cycle of life.
This work is a finalist at the Manly Library Artists'  Book Award in 2017.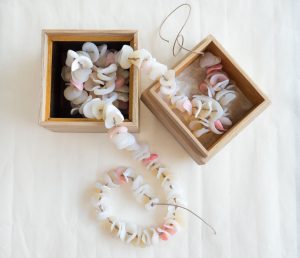 Eternity?
wood and paper (box), polymer clay, silk and cotton strings
9 x 9 x 9.2cm (box)
$990 signed and dated
Eternity? is about a person's death and our memories of them.The beads, made  of polymer clay, resembles flower petals and mean the celebration of the life.They are stored in a wooden box which can be seen as a coffin or an urn. The wooden box will decay faster than the plastic beads, just like the memories of the deceased will  stay longer in the minds of their friends and families. The beads, however, are also expected to decay eventually just as memories finally fade and are forgotten altogether.
 Sekishu Onjo – One Hand Clapping
paper and ribbon(box), polymer clay, silk and cotton strings (hands) paper, cotton, wood thread, ink (book) – prints on the book were created with hand carved rubber stamps
11 x 11 x 5cm (box)
$990 signed and dated
Sekishu Onjo – One Hand Clapping is based on Japanese Zen master Hakuin Ekaku's (1686 – 1768) "koan" or paradoxical riddle. The artist book consists of a book of several pages made of paper and thin wooden sheets. Accompanying the book are two small objects in the shape of right and left hands. They are made with polymer clay to resemble "netsuke". They are connected with a thin silk "kumihimo" cord just as people's two hand are together, but they are stored in separate cloth bags so that they do make noise.

For sales enquiries please contact us.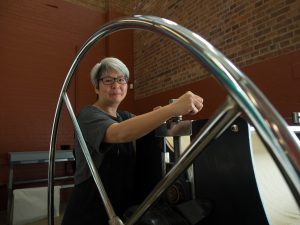 Kay Watanabe is a Brisbane based visual artist with her main medium being printmaking, but she has recently diversified into painting, drawing and sculpture. Born in Japan, Kay holds Bachelors of Art degree in liberal arts (majoring in communication) and has studied printmaking in Tokyo, London and Sydney.
Kay attends and facilitates workshops as part of her professional development; her exploration into new techniques has led her to diversify into 3D works and other activities. Kay is a permanent resident of Australia. You can read more about Kay here.