In 2015, Flying Arts held two programs for young artists: Artiz@Miles and Artiz@TheEdge. These programs offered great opportunities for young artists who wanted to develop skills and knowledge in visual arts practice and to mix with like minded peers and professional artists.
Artiz@Miles – Young Artist Development Art Camp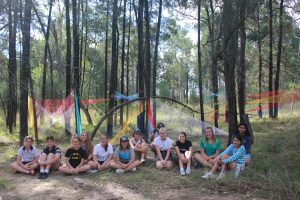 This 3 day visual arts intensive arts residential program featured a stimulating program of hands-on art experiences. It also provides information, expertise and resources, to provide students with a full picture of training, education and career opportunities in the arts. Top line artists, arts educators and special guests will all contribute to a high quality program, designed to provide a platform for future practice, education and career development. This event had a focus on environmental and outdoor installation art.
The program included hands-on creative activities, including outdoor sculpting and rendering; mould making and casting using different materials; contemporary painting and drawing; as well as sculpture and assemblage with natural and found objects. It also included an excursion to the Dogwood Crossing gallery for the launch of the QAGOMA touring exhibition, Ah Xian, Metaphysica.
Artiz@The Edge – Media Arts & Design for Young Artists
Over three full days participants enjoyed a stimulating program of hands-on digital workshops delivered by experienced professional artists at The Edge, Brisbane. They also gained valuable insight into further training, education and career opportunities in digital art and design. Students gained experience in game design, interactive design, synthetic bio-art, sound design, and design fabrication.
The program engaged participants in a series of experiential and practical workshops designed to provide them with an overview of contemporary new media and digital art practises.