Chrys Zantis participated in Flying Arts' Exhibition Development Program in 2017 as she was hoping to submit a proposal to the Logan Art Gallery for the 2019 exhibition calendar. She identified the Exhibition Development Program as the best way to hone her proposal-writing skills, and was especially keen to have her proposal professionally reviewed for feedback before submission.
Since completing the program, Chrys has:
Been selected from the Exhibition Development Program participants to present a solo show at the Queensland College of Art galleries
Presented work in a Flying Arts group exhibition of works produced by a collective formed of Exhibition Development Program participants
Had her proposal accepted to present an exhibition as part of the Logan Art Gallery 2019 program
Has passed the first stage for a potential show at one of Redland Council's art galleries
We caught up with Chrys to chat more about her experiences! 
---
How did your participation in the Exhibition Development Program affect your practice?
I gained so much knowledge because every aspect of putting on a show was covered over the weekend. It was these finer details that gave me the confidence to write a proposal that would leave no questions in the mind of the gallery. I wanted all my bases covered. Additionally, this workshop provided wonderful networking opportunities. The room was abuzz for two days. We didn't want to go home. We later had a group show within six weeks of the course! Feedback from fellow participants was genuine and constructive. Lots of sharing and caring.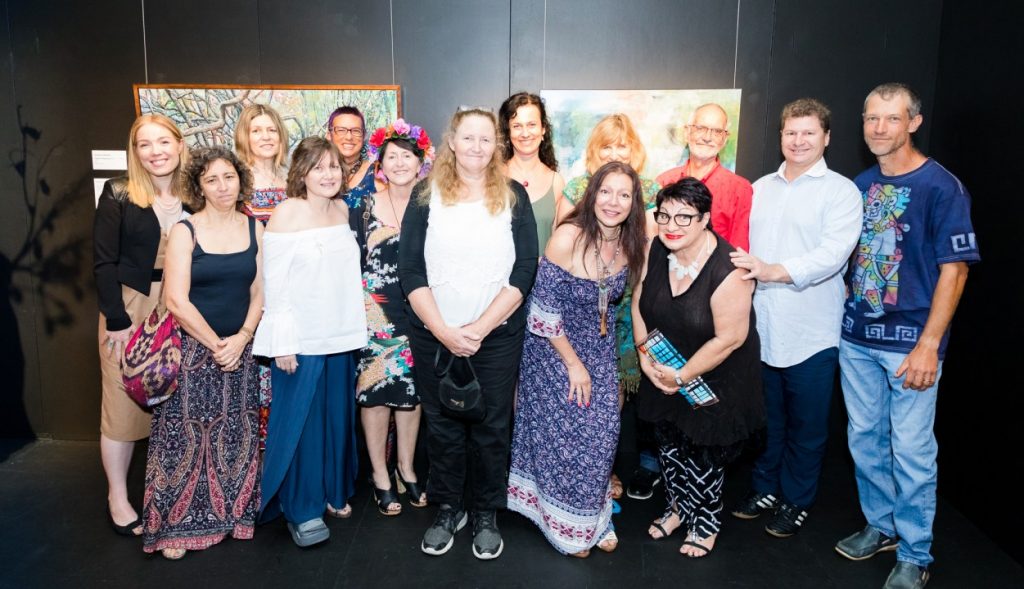 I was keen to start working on my proposal and the body of work. I felt very motivated. I was asked if I wanted to submit a proposal to QCA. I was so happy to have this opportunity.  So much so when I did a floor plan for QCA I submitted a plan for Project Gallery and the Webb Gallery.
What was your reaction when you found out that you had been selected to exhibit your work with QCA Galleries as an outcome of your participation in the program?
I was excited to be asked to submit my proposal to QCA. For me this was a golden opportunity as I felt I was ready for such a site and viewing by my peers at QCA. When I was told I had the exhibition I thought I had won the lottery. I was so happy I wanted to celebrate with cake and champagne at Flying Arts but we had cake and coffee. Too early for champers!
What impact did this have on you both personally and professionally?
I have been working solidly for six months for my show at the Queensland College of Art on the 3rd July 2018 in the Project Gallery.
I have been programmed for a solo show at Logan Art Gallery for May 2019. They were so kind as to say it was a well written proposal, and that the work I was to present looked exciting. My confidence was back and you couldn't wipe the smile off my face.
I then put in a proposal for an exhibition at one of Redland Council's art galleries. I have passed the first stage for a show. My body of work has flowed together with ease.
I know my art practice took a turn for the better since doing the Exhibition Development Program. I am still motivated and looking for more opportunities. Maybe I could do a residency related to neuroscience and textile art –  who knows? After the Queensland College of Art show, I'm planning to conduct some research at the Queensland Brain Institute at UQ.
---
Chrys Zantis' exhibition Internal Landscapes will be at the Queensland College of Art Project Gallery from Tuesday 3rd July – Saturday 14th July 2018. 
---