Flying Art Alliance's founder, Mervyn Moriarty OAM, was a legendary figure in the arts. He was an extraordinary art teacher and artist with a passion to bring the arts to the rural, regional and remote places. He learnt to fly to be able to achieve this passion.
Mervyn Moriarty made his very first flight in 1971. He flew solo out of Brisbane on a 6,000 km round journey to meet with regional representatives across Queensland to assist him in establishing an 'art school' that is now Flying Arts.
Merv remained the principal tutor from 1971 to 1983, flying to an average of 26 centres four times a year, with extra trips made to organise exhibitions and other special events. During this time, he totalled over 1250 trips and flew well over 400,000 km.
Merv left an immeasurable legacy throughout regional and remote Queensland, where a generation of artists, educators and communities gained exposure to contemporary visual arts practice, many for the first time.
His enduring and outstanding contribution and impact was recently recognised in the Order of Australia honours.
Honouring Mervyn Moriarty's legacy, Flying Arts offers the The Mervyn Moriarty Landscape Award as a category of the Queensland Regional Art Awards (QRAA), thanks to Consolidated Properties Group.
The prize awards a landscape artwork in any medium, in homage to Mervyn's penchant for 'en plein air' landscape painting. In the 2022 QRAA 'Reframe' the winner of the award was Jan Strudwick for Sunday Morning – Ukraine.
Over 50 years on, thanks to the strong state-wide networks that Merv created, Flying Arts continues to provide transformative art experiences. The organisation has evolved from its early days, however the vision of Merv has remained steadfast.
Thanks to our award partner, Consolidated Property Group, the winner and finalists of the Mervyn Moriarty Landscape Award will be on display in an exhibition in the Judith Wright Arts Centre foyer and later displayed in the Brisbane office of Consolidated Properties Group from 13 March 2023.
9:00 AM – 5:00 PM Monday to Friday
13 March 2023 – 4 March 2024
Consolidated Property Group,
Level 8/175 Eagle Street, Brisbane City.
---
2022 QRAA Judging Panel
Aven Noah Jr., Curator, NorthSite Contemporary Arts, Bulmba-ja Arts Centre Cairns
Rebecca McDuff, Gallery Director, Bundaberg Regional Galleries, Bundaberg.
Elisabeth Findlay, Director, Queensland College of Art, Griffith University, Brisbane.
Hamish Sawyer, Independent curator and writer, Brisbane.
---
The Mervyn Moriarty Landscape Award Winner 2022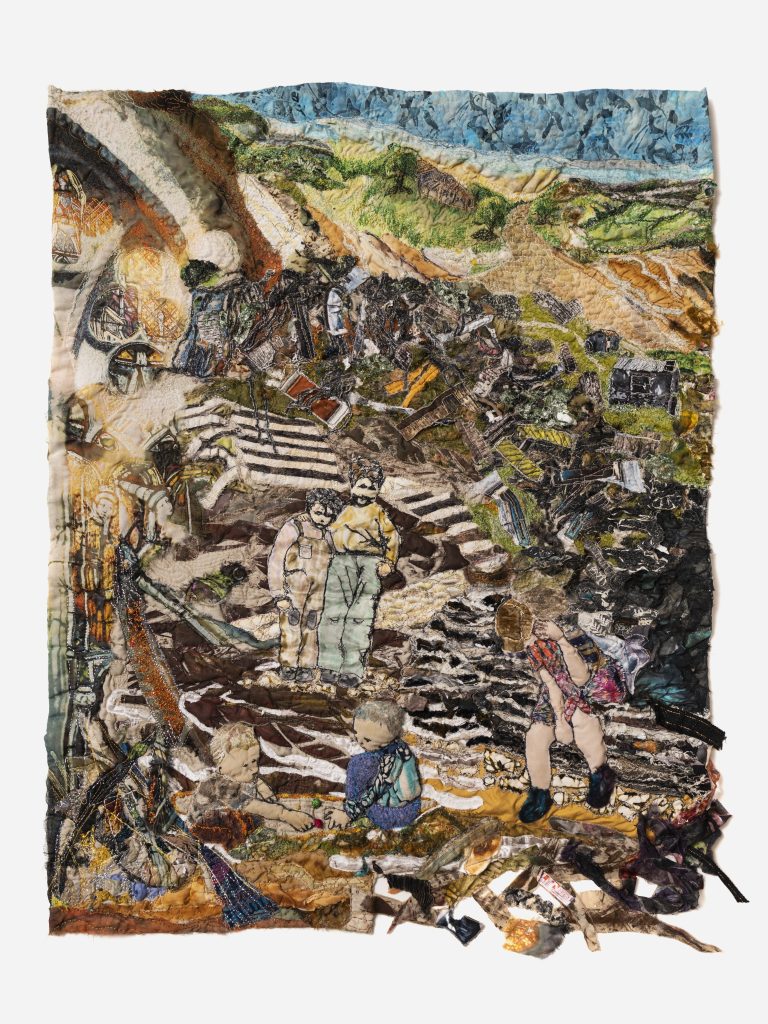 SUNDAY MORNING – UKRAINE
Artist: Jan Strudwick
Artist Location: Buderim
Medium: Textile, 2022
Dimensions: 90 x 71 cm
Artist Statement: The injustice of "war" in the Ukraine has touched people worldwide. What can we do? Lobby politicians? Donate money? Pray? This work depicts an elderly Ukrainian woman, who has lost all hope, faith, and belongings, beside young children, playing in the dirt, who can only live in the present, and hope for a future. It is made from repurposed textiles, free machine embroidery, and quilting.
Photographer: Louis Lim
---
The Mervyn Moriarty Landscape Award Finalists 2022