Leigh Schoenheimer, Artist and Educator

Brisbane, SEQ
I am a Brisbane based artist who conducts a mixed practice focussing on contemporary painting and assemblage making. In 2014, I stepped away from a long-term art teaching career in order to pursue my own practice. I am now fully focused on the development of new work and the establishment of an audience for it. Since 2014, my work has been included in over 30 group shows and four solo exhibitions.  A solo show of my work, 'Iterate | Elaborate' is now on tour throughout QLD's regional galleries, courtesy of Flying Arts exhibitions program. My work is the subject of an extensive case study featured in the new senior visual arts textbook for QLD – 'Creative Inquiry' – published in 2019 by Cambridge University Press and I have been selected for an artist's residency at the Nancy Fairfax Studio, Tweed Regional Gallery, NSW, to take place in 2021.
I paint conceptual, multi-panelled still life works which investigate ideas around representation and interpretation in image making. Often, I address sub-themes within these works, with a current focus on loss of biodiversity in Australia's flora and fauna. The sculptures that I construct employ a similar visual vocabulary to that of my paintings, often, though not always, coming together in conversation with them. These assemblages of hardwood offcuts and found objects are simultaneously eccentric and joyful, sparking recognition and familiarity in many of the objects employed in their construction.
I had been keenly aware of the work of Flying Arts since the 1970's through my mother, Joy Schoenheimer, a Brisbane based contemporary artist and colleague of founder, Mervyn Moriarty. In 2015, Flying Arts was my first choice of organisational membership when I needed artist's indemnity insurance for my 2015 solo exhibition, 'Ways of Seeing / Ways of Knowing'. Once a member, I very quickly found my way to Flying Arts' extensive program of artists' courses, activities and resources. The activities that I undertook with Flying Arts at that time, have been absolutely central to the subsequent success of my emergence as a visual artist in the years which have followed, helping me to shape my thinking about and my approach to career building.
Thank goodness there are donors, philanthropists and sponsors who see the essential value in the work that Flying Arts do. The visual arts scene in QLD would be in a much poorer situation without them.
The first of these, an artist consultation undertaken in 2015, led me to seek out exhibition opportunities in the regional galleries of QLD. After then completing the Flying Arts Exhibition Development Program in 2016, I was able to confidently shape and pitch an exhibition proposal to several public galleries. As a direct result of the professional development courses I was undertaking with Flying Arts at this point, I also made an informed decision to engage an art writer to craft an essay about my work. This piece of writing has since been regularly used as a catalogue essay for my solo shows, proving to have been a very well-advised investment in my career.  
The proposal I had developed with Flying Arts in 2016 also resulted in my second and third solo exhibitions. In 2017 I exhibited with Redland Art Gallery ('Perceive | Conceive') and in 2017 / 18 with the Stanthorpe Regional Art Gallery ('Perceive | Conceive expanded'). In 2018, these two shows resulted in an invitation to stage my fourth solo show and first with a commercial gallery: 'Iterate | Elaborate' presented by Onespace Gallery. The presentation of artist's talks and the running of workshops associated with these exhibitions generated further expansion of my professional profile. The building of my reputation as an artist and the ongoing exposure of my work subsequently led to my textbook inclusion.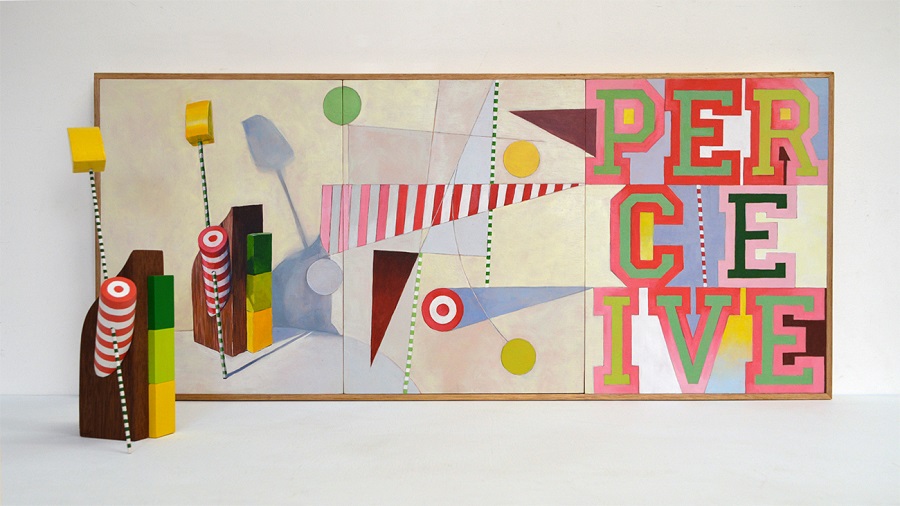 In the most significant chapter in my career to date, Flying Arts approached me in 2019 with an offer to include a re-curated version of 'Iterate | Elaborate' in their annual touring exhibitions program. Postponed due to the pandemic, this tour is currently underway throughout QLD's regional art galleries. Supported by a 10-page educational kit which includes direct links to the Foundation to year 12 national curriculum, the tour of 'Iterate | Elaborate' has been enthusiastically received by the communities it has visited. School teachers and students have been excited by the fact that the images they have been studying in the textbook, have now come to their local galleries and general visitor numbers have been strong. This solo exhibition tour is an extremely important addition to my professional CV and is doing much to raise my profile as a contemporary artist.
Over the 6 years of my membership with Flying Arts, I have continued to avail myself of their excellent program of workshops, both in person and through live, online sessions. I am always impressed by the quality of the presenters and their content and have found insight, relevance and value in every workshop undertaken.  I have undertaken artist consultations with a range of gallerists and directors, finding great value in their insights and feedback about my work. Importantly, these consultations provide artists with unparalleled opportunities to present their work to industry professionals and I am always eager to participate in this part of the annual program.
Beyond the face to face opportunities, I make regular use of the Flying Arts website's extensive library of recorded webinars – a perpetual resource that is made available to members. I have learnt about such topics as taxation for artists, writing for grant applications and making approaches to commercial and public galleries. A two-day workshop 'Where to Next?' helped me to shape my thinking around the next steps in my artist's career.  I continue to keep abreast of industry developments and opportunities via Flying Arts newsletters and phone the office from time to time, to seek advice from the experienced staff there.
Two years ago, my relationship with Flying Arts expanded when I joined their workshop facilitators' network. In 2010 I presented an all-day workshop to art educators and this year have presented a live webinar to another large group of teachers. Such opportunities are of great value in raising the profile of my practice as an artist.
At this point in my career, I am shaping a new, connected body of work premised upon the latest research into Australia's endangered species and biodiversity loss. A huge undertaking for me as an artist, I am currently engaged in research for the work, writing several grant applications for this project, considering the commissioning of a piece of writing about the work as well as shaping an exhibition proposal around it. Prior to becoming a member of Flying Arts in 2014, I could not have imagined that I would be working towards such an ambitious goal just seven years down the track. Flying Arts have been integral to my development as a professional artist along with those of many other artists throughout QLD.
Flying Arts tailor their program in response to the QLD art industry, always making their offerings timely and relevant to the local scene. Importantly their long-standing commitment to the arts in Regional QLD is the life blood of so many remote communities whose connection to the visual arts would wither without the fertile program of workshops, events, opportunities and exhibitions that the Flying Arts continues to provide to them. Their capacity to do so is predicated upon their access to adequate funds. It is essential that Flying Arts receive the funds necessary to continue their work in supporting the many vital contributions that artists in QLD make to the life of our towns and cities.
All of my success as an artist has flowed directly from my association with Flying Arts backed up by my own determination, resilience and work ethic. Thank goodness there are donors, philanthropists and sponsors who see the essential value in the work that Flying Arts do. The visual arts scene in QLD would be in a much poorer situation without them.
---