The Queensland Regional Art Awards (QRAA) has seen some extraordinary art and artists emerge from its 7 year history. One of the Alumni of this prestigious and unique award and exhibition is Helen Hume. We asked them a few questions about their experience with the awards and what they're up to now!
---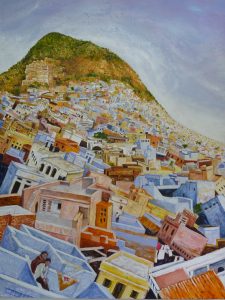 What was your reaction when you found out your work would tour Queensland as part of the Queensland Regional Art Awards Exhibition? How did it feel to be selected?
My reaction was one of excitement as I rarely bother with competitions. I was also short listed for the major prize which gave me more confidence as to the standard of my work. It was especially beneficial as the travelling show came to the Tableland Regional Gallery in my home area.
What benefits do you think have come from your work/s touring Queensland with the awards?
Keeps me 'keeping on' and feeling that I am less isolated as a working artist. I gained a lot of positive feedback from the local community and this has led to more sales each time I exhibit.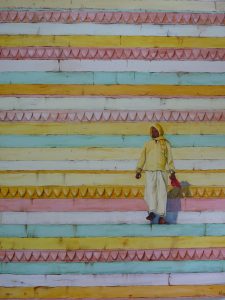 What else have you been up to in your artistic practice since your artwork started touring? Has your practice evolved or changed in that time?
I had a solo exhibition called 'The Dividing Line' at the end of 2012 that was very well received. I have also been in several goup exhibitions. In 2016 I had a show at the Tableland Regional Gallery with another artist based on my recent travels to India. My practice changed from the essentially landscape based works to a return to the figurative.
Do you have any upcoming exhibitions, events or projects you'd like to let people know about?
I have only just had a show at the end of last year. Am currently working on a series based on 'Connection/Disconnection' relating to man on the land. I will need a year or two before having another solo.
---
Images and video courtesy of the artist.