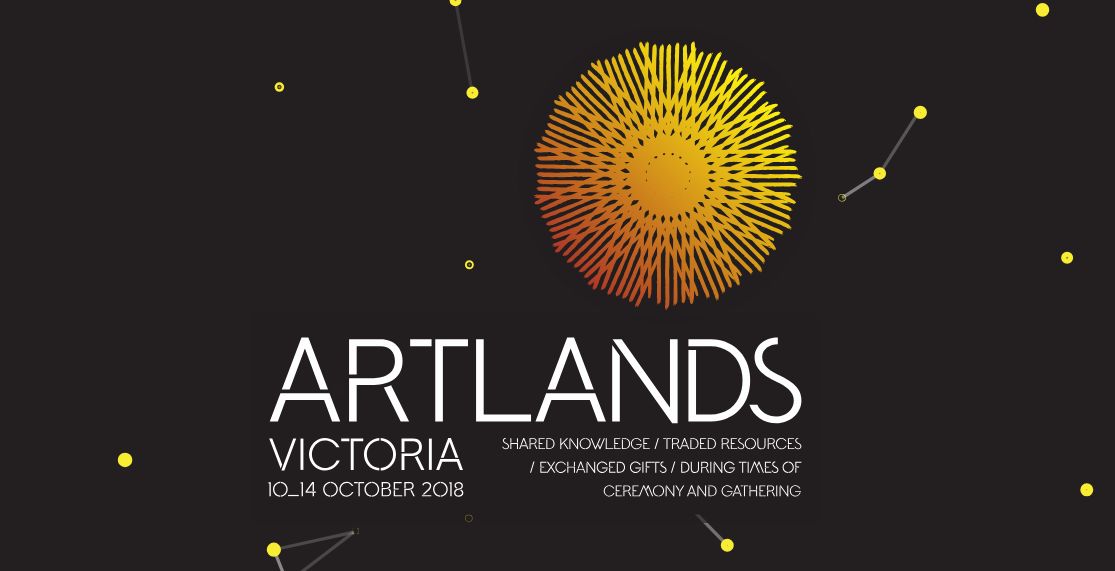 A travel assistance grant is available to assist Queensland regional, rural and remote artists, arts practitioners and volunteers to attend Artlands Victoria 2018.
Opens: 30 July
Closes: 31 August
Applications Now Closed
---
What is Artlands?
Celebrating twenty years in 2018, Artlands is the biennial event that shines a national spotlight on Australia's regional arts.
Artlands Victoria 2018 is a multi-art, cross industry and inter-generational event that provides regional connections. Presented by Regional Arts Victoria as an integrated conference and cultural program, Artlands Victoria 2018 aims to combine a curated program of works in progress, explorations and commissioned projects alongside an engaged speakers program.
Information on Artlands can be found at here
---
Who is this grant for?
Artlands offers a professional development opportunity for rural, remote and regionally-based artists, arts practitioners and volunteers. Participants will benefit from being a part of a national conference and play an active role in wider discussions about regional arts practice within a professionally managed arts gathering.
---
How much can I apply for?
Regional applicants from MMM2-MMM5 areas
Up to $750 to be allocated towards the cost of travel and /or accommodation. If successful, you will be sent a link to register for a full conference ticket at a special travel grant price of $660 (incl. GST)
Remote applicants from MMM6-MMM7 areas
Up to $1,500 to be allocated towards the cost of travel and /or accommodation. If successful, you will be sent a link to register for a full conference ticket at a special travel grant price of $660 (incl. GST)
Using the Modified Monash Model Map
Applications from people living in a MMM2 – MMM7 location will be eligible to apply for this grant, however those living in an MMM1 location are not.
To access and search your address in the Modified Monash Model please follow these steps below:
Visit the Doctor Connect Locator map using the link in this sentence.
Located on the right side of this page is the layer toolbar. Under the heading "Department of Health – custom remoteness classification", turn on the Modified Monash Model Layer by clicking the checkbox next to this layer name.
Enter your address into the address bar at the top of the toolbar to search the map for your MMM Class.
The map will now show you your MMM Class to check your eligibility to apply for this grant.
If you have any questions about your MMM location please contact Flying Arts on 07 3216 1322 for assistance with your MMM eligibility.
---
Eligibility
The funding is only available for artists, arts practitioners and volunteers residing in regional and remote Queensland. 
Government employees are ineligible to apply for this grant.
---
Selection Process
The selection process will reflect priorities such as inclusion of Aboriginal and Torres Strait Islanders,  young practitioners and practitioners experiencing disability; ensuring cultural and geographic diversity; supporting those who lack the financial means to attend; supporting those who are geographically disadvantaged to attend; supporting the attendance of confirmed presenters; and the professional impact of attendance for the applicant.
Successful applicants will:
be notified on Friday 7 September by phone and email
need to upload an invoice and signed agreement to the assigned form by 11am, Tuesday 11 September for payment of the approved grant amount
receive funds within ten working days of receipt of invoice
receive a link to book their full conference ticket at the early bird price of $660 inc GST on receipt of an invoice
need to register for the conference using the link provided by Friday 24 September
need to submit an acquittal report by Friday 23 November
Unsuccessful applicants will be notified by email on 7 September.
---
---
More information
For further assistance please contact Amy Cook, RAF Administrator on (07) 3216 1322, or email raf@nullflyingarts.org.au

The Regional Arts Fund (RAF) is an Australian Government program designed to benefit regional and remote arts practitioners, arts workers, audiences and communities. The fund is provided through Regional Arts Australia and is administered in Queensland by Flying Arts Alliance.