Donna Davis recently undertook her residency at The Edge, State Library of Queensland, as an outcome of the Queensland Regional Art Awards 2016.
Entries for the Queensland Regional Art Awards 2017 are now open.
The winner of The Digital Art Award this year will also receive a fully funded one week residency at The Edge, SLQ, valued at $4,000 thanks to The Edge, SLQ and SLEEP & CO.
---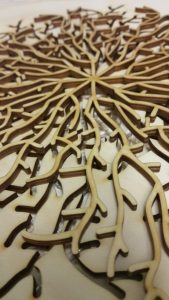 Winning the 'The Edge Digital Art Award' as part of the Queensland Regional Art Awards meant that I could undertake a one-week residency at 'The Edge' State Library of Queensland.  I had previously undertaken some short courses at 'The Edge' so knew that this residency would present some valuable opportunities and skill development for me as an artist.  Once the residency dates were set I began researching equipment, programs and projects that 'The Edge' had to offer.  I was spoilt for choice, however as a multi-discipline artist decided that working in the Lab and learning how to use the Laser Cutter and the 3D printers was of most interest to my arts practice.
I am intrigued with the idea of connection, and work across a range of media including sculpture, installation and digital media to explore networks and relationships within the natural world. My most recent body of work, 'Unseen', explores symbiotic connections between plants and fungi, so I used this project as a muse for creating and trialling new works during my residency at 'The Edge'.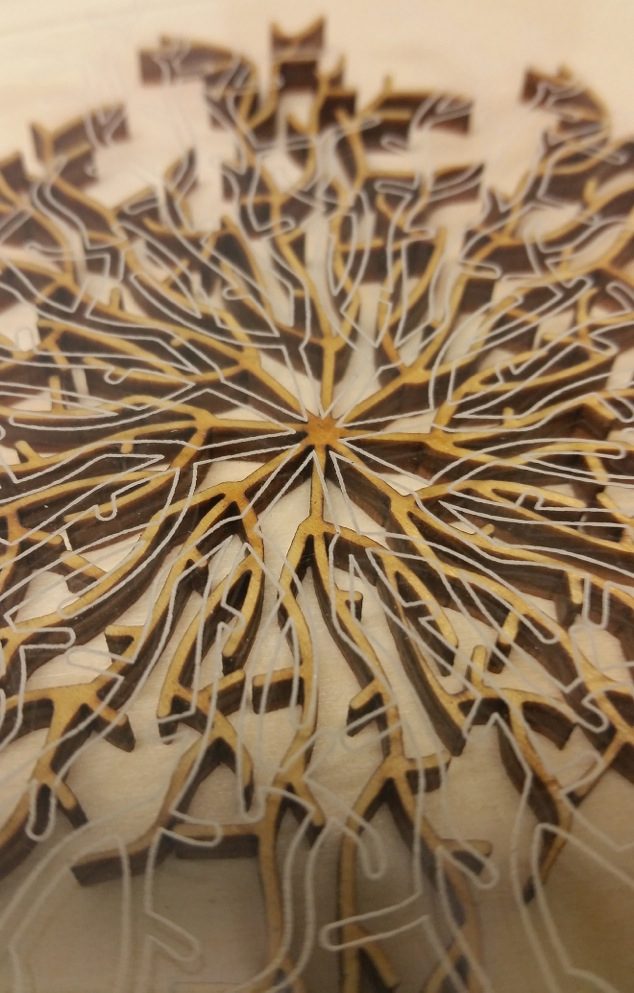 My first day in the Lab involved inductions on the Laser Cuter and 3D printer, and also a tour of the facility.  Then, thanks to the wonderful team at 'The Edge', began to learn new skills in Adobe Illustrator, and Corel Draw in order to design works that could be processed by the laser cutter.  Whilst I am quite familiar with Adobe Photoshop, I found Adobe Illustrator quite challenging, but persisted and was able to create a few designs, based on fungal root systems, which were then etched and cut using the laser cutter. 
I also trialled a number of materials in the laser cutter to explore creative possibilities; these materials included acrylic, cardboard, plywood and vinyl.  All produced very different results, however, the works that were most successful for my practice was the acrylic etchings and the intricate plywood design cut-outs.   I spent many hours cutting and etching to create a series of multiples that could then be incorporated into new works once back in the studio, these are still in development.
Overall, the residency provided me with valuable skill and professional development, allowing me to understand the capabilities and limitations of this type of equipment and opportunities available to do further work at 'The Edge' through their public Lab program.
More information about Donna Davis's work
---