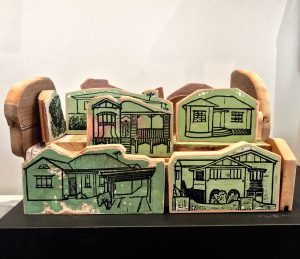 Little Boxes
Repurposed drawer, lino print on wood
approx. 45 x 35cm
$1130
Front view
Right side view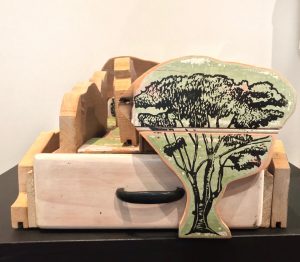 Left side view
Rebecca's work will be on display at the Judith Wright Centre from 30 August – 22 November 2019 as part of the Seasonal Sittings of Tiny Art – Spring.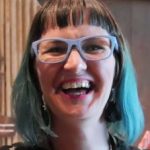 Rebecca Lewis is a self-taught print maker with a particular fondness for Queenslander houses and the stories held within their walls. Living in Ipswich Rebecca is spoiled for inspiration, as almost everywhere you turn you'll find a quintessential Queensland cottage, bungalow or stately home. In addition to lino printing, Rebecca is a big fan of screenprinting and combines these two techniques to produce a range of hand printed textiles and homewares.
Preview Rebecca's works here.