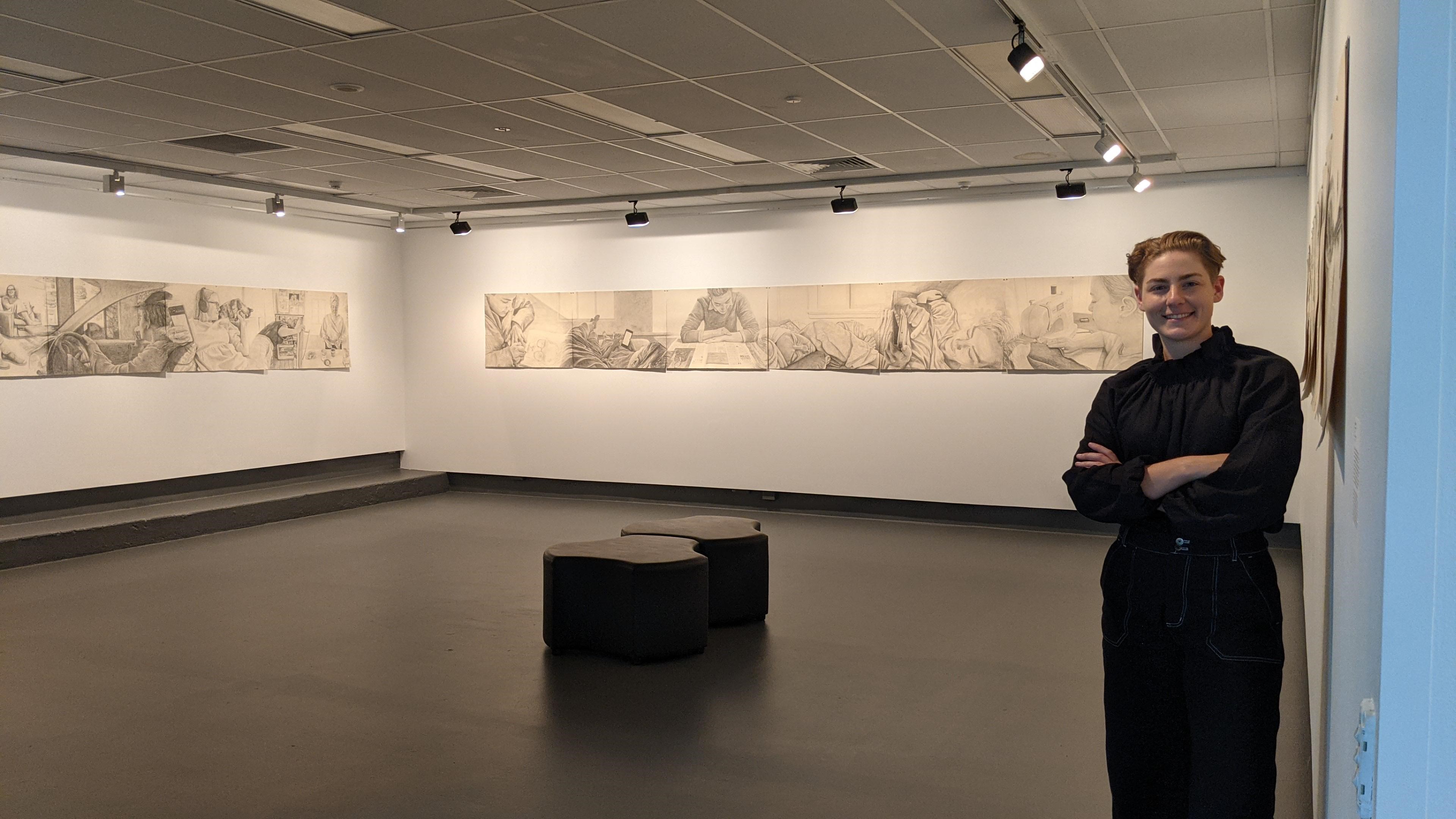 Erin Dunne, Artist and Educator
Rockhampton, Central Q

ueensland
My name is Erin Dunne and I am an artist and arts educator based in Rockhampton, Central Queensland on Darumbal Country. I work full time as a professional artist represented by GALA Gallery, having completed a Bachelor of Fine Art at Queensland College of Art in 2012 and a Postgraduate Diploma of Education in 2014.
I am passionate about sharing both my work and the visual arts generally with regional and rural communities and have exhibited, given artist talks and run workshops for learners of all ages at locations throughout Queensland.
My work has won multiple awards including the 2018 Queensland Regional Art Awards and 2019 Bayton Award for Central Queensland Artists; been selected for exhibitions that have toured multiple states such as the Jacaranda Acquisitive Drawing Awards; been curated into exhibitions by public institutions such as Perc Tucker Regional Art Gallery; been collected by public institutions such as Rockhampton Museum of Art; and been awarded commissions by public institutions such as the State Library of Queensland.
The success of my career to date as an artist based in a regional area can be directly linked back to opportunities and support offered by Flying Arts that I have accessed.
Since 2017, I have interacted with Flying Arts through the following:
Winner of Annie Tan Memorial Watercolour Prize in 2017 Queensland Regional Art Awards
Winner of Holding Redlich Art for Life Overall Prize for 2018 Queensland Regional Art Awards
Artwork part of touring exhibitions for 2017 and 2018 QRAA
Travelled to Winton as Artist Facilitator for Touring Team for 2018 QRAA
Participated in Counterparts artistic residency and exhibition at Rockhampton Art Gallery supported by RAF Funding
Attended Flying Arts Exhibition Development Programme in 2019 to develop a proposal for a solo exhibition at Queensland College of Art, which was selected for exhibition at QCA
Received $3000 RAF Funding enabling me to develop new work for solo exhibition at QCA and to travel to Brisbane for install, opening night, artist talk, invigilation and de-install
Attended and completed multiple Professional Development Webinars
These interactions with Flying Arts have had a fundamentally important impact upon my arts practice and career momentum both individually and collectively.
A key example is having been offered the opportunity to develop a major solo exhibition with Rockhampton Art Gallery after the Director, Bianca Acimovic, saw my work when judging the 2018 Queensland Regional Art Awards. Winning the 2018 Queensland Regional Art Awards provided essential financial support for me to develop this exhibition, titled House, which included public programs, sales of my artwork, one of my works being acquired by the gallery collection, and raising my profile significantly.
Developing House contributed directly to my readiness to participate in the 2019 Flying Arts Exhibition Development Workshop in Brisbane, during which I developed a proposal for a solo exhibition at the Queensland College of Art that was selected as the winning pitch in a competitive process. The support provided by the Flying Arts workshop and a subsequent $3000 grant from the Regional Arts Fund enabled me to overcome significant financial, geographical and interpersonal barriers to develop new work then travel to Brisbane for install, opening night, artist talk, invigilation and de-install.
This experience raised my profile and allowed me to establish new professional networks in Brisbane, which I have been able to draw upon for further artistic opportunities. This includes having a digitised version of the work that I produced for this solo exhibition selected by OuterSpace ARI to be projected onto the exterior of the Judith Wright Arts Centre in mid-2021.
As this selection of my career history demonstrates, a wide variety of Flying Arts programs have had a significant cumulative effect on the momentum and reach of my arts practice and career milestones. Each achievement facilitated and supported by Flying Arts has opened the door to a subsequent opportunity, leading to further achievement, and that cycle has propelled the momentum of my career on an upward trajectory over the past five years.
I can't overstate the significance of the positive impact that the platforms and programs provided by Flying Arts have had on my career, and I can categorically state that I would not have had the success that I have had, as a regionally based artist, without the support of Flying Arts and the Regional Arts Fund.
---