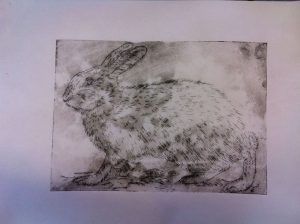 I was delighted at the prospect of travelling to Dalby as a Flying Arts Representative Artist. I had worked there several years earlier as a Vocational Education Teacher for SQIT TAFE and so looked forward to the journey through the Darling Downs Region and a revisit to Dalby State High School where I had taught Visual Arts. I was late arriving on the Monday night before the workshops but I received a reassuring phone call from my accommodation checking to see if I was safe travelling on the country roads at night, so I felt quite at home and welcomed by the time I arrived.
Early the Tuesday morning I met the Art Teachers they were very accommodating and so excited to have a professional Artist for the 3-day residency at the school. I was pleased to have the first lesson set aside for me to get my bearings and to do the final preparation and set-up for the 8 workshops that were to unfold across the Residency.
The Year 8 & 9 classes were first, fast and furious with only 70 minutes for each group. We embarked on creating their collagraph plates using mixed media materials that had been collected by the Organiser. For each group I had considered what was possible and achievable in the short workshop framework and while only the fundamentals of the base plate could be created, I was able to offer them some great examples of the wonderful printing possibilities and the unique qualities of collagraph prints. I introduced the students to some of my large collagraph prints that I have made and I also brought along about 20 collagraph plates, which they were able to test print from on the day. The year 8 & 9 students were able to complete the building of their collagraph plate with mixed media materials in this session.
The year 10 & 11 classes were far more spacious with bigger numbers but double lesson times and so we were able to achieve a lot in these workshops. The printing process we focused on was drypoint, all the students created their own unique printing plate on clear Acrylic drypoint sheets and successfully printed at least an Artist Proof inspired from various image sources that I had brought along as a starting point. Many of the students, particularly the year 11 students were delighted with their results and several students began to investigate printing as a medium that they could take forward into their folio work. Some of these students came back the following day or stayed back in their lunch break and continued printing from their plates creating a series of prints.
We had some lovely exchanges throughout the 3-days and while I was delightfully exhausted at the end of each workshop day, I met and worked with approximately 170 students from year 8 – 11 and was really made to feel at home with many of the students offering a friendly greeting once we had met. On the Wednesday after the workshops I was treated to a private viewing in Dalby's Regional Art Gallery, Gallery 107 to see 'The Range Art Exhibition' featuring some great local Artist's work. Finally the residency was complete with lots of plates created, prints made and a lovely farewell afternoon tea with the Art department staff.
Thanks to Flying Arts and Dalby SHS for having me as the Artist in Residence.
---
3 – Day residency in Printmaking: Collagraph and Dry point
Dalby
21 – 23 July 2015
Cate Collopy – Flying Arts Artist
Flying Arts' Touring Artist Journal is brought to you monthly thanks to Art Shed Brisbane.