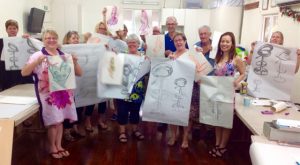 As usual, I had a ball – the people of Chinchilla were warm, friendly AND very creative – quick to learn, experiment and adapted well to the pace of the workshop.
After a presentation of drawing related images that I produced over a 45 year work span, we did an overview of the many different tangents and directions one can take in a visual arts sense. It was such fun watching the class produce drawings in 15 seconds (GASP!), while other drawings took 75 minutes, with a diverse folio achieved in-between in different media.
It was a bonus having Hannah, the Vietnamese Cultural Events Ambassador from Vietnam Culture Inc visiting town and standing in as a live model by sitting in different poses. She appreciated how Australians share their knowledge to a wide audience in regional locations. It amazed her that a highly skilled, professional organization such as Flying Arts existed and covered such an extensive area.
Helen, the host organizer, did a great job bringing in the devotees from far and wide, with people coming in from as far away as Dalby and Kingaroy. We also managed to squeeze in a quick trip to JADA (the 2014 touring Jacaranda Acquisitive Drawing Award). Students were required to pay particular attention to how important presentation is to enhance the artworks and notice what techniques were utilized that they were learning about. It was most fortuitous that this very high standard exhibition was touring in town at the White Gums Art Gallery (Helen being the President). It complimented the drawing workshop perfectly!
Most students were there for the two days of workshopping with an additional three people joining the group on the second day (wishing they had come the previous day). The workshop ended with the students taking home their Flying Arts certificates and rolls of drawings with pride!
As usual, I enjoyed the trip immensely and hope to return to get everybody messy with plaster sculptures to coincide with the Watermelon Festival.
---
Workshop – Foundation and Experimental Drawing
Chinchilla
23 – 24 January 2016
Scott Maxwell – Flying Arts Artist
Flying Arts' Touring Artist Journal is brought to you monthly thanks to Art Shed Brisbane.