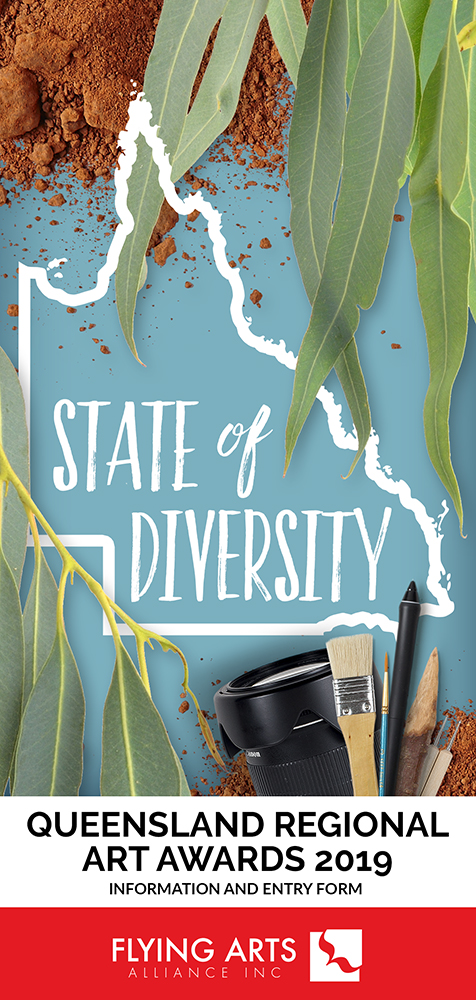 The Queensland Regional Art Awards (QRAA) is an annual visual arts prize and exhibition for established and emerging artists living in regional and remote Queensland. The program aims to provide a platform for further professional development.
Queensland is a state full of diverse ecosystems, wildlife, places, people and personalities.
In 2019, artists were encouraged to explore the diverse elements and qualities that make up their own communities and locations within Queensland.
The theme was to be addressed in an accompanying artist statement of 100 – 150 words.
2019 Judging Panel
Jonathan McBurnie – Creative Director, Galleries, Townsville City Council
Peter McKay – Curatorial Manager, Australian Art – QUEENSLAND ART GALLERY | GALLERY OF MODERN ART
Robyn Daw – Creative Industries Program Leader, Logan City Council
You can also View the print entry form for this year's competition.
---
2019 WINNING ARTWORKS
Resource Removal, Rose Rigley with Pamela Kusabs (Whitfield) – The Holding Redlich 'Art for Life' Award, thanks to Holding Redlich – $10,000 cash, non-acquisitive
Too much, too little, we are all at the mercy of water, Emma Ward (Gracemere) – The Annie Tan Memorial Watercolour Award, thanks to The Booth Memorial Fund of Annie Tan (Yuh Siew) and the Geoff Booth Foundation – $3,000 cash, non-acquisitive
DREHAMPTON, Dre Adams (Rockhampton) – Betty Crombie Young Artist Development Award, thanks to David Crombie – $2,000 cash, non-acquisitive
and will the blue skies go on forever?, Barbara Stephenson (Toowoomba) – Textile Art Award, thanks to Janet de Boer and Art for Life donor – $1,500 cash, non-acquisitive
Organic Organisms, Lillian Whittaker (North Maleny) – Digital Art Award, thanks to State Library of Queensland – The Edge, Art Series – The Johnson and Flying Arts – Fully funded one-week residency at The Edge, SLQ including 7 nights accommodation at The Johnson, valued at $4,000
Maramaka, Madge Bowen (Hope Vale) – Remote Artist Award, brought to you by USQ Artsworx – Fully funded one-week residency at McGregor Summer School (Jan 2019) valued at $2,500
Embracing Azariah, Catherine Boreham (Yeppoon) – People's Choice Award (Adult), thanks to Ironlak Art and Design – $1250 Ironlak art materials voucher
K'GARI, Caitlin Broderick (Toowoomba) – People's Choice Award (Youth), thanks to Ironlak Art and Design – $750 Ironlak art materials voucher
---
State of Diversity Touring Exhibition
---
Tour Schedule
---
Flying Arts Partners and Prize Sponsors for the
2019 Queensland Regional Art Awards