It's not hard to see how poetry and songs that have shaped a nation were born in the sun-drenched shire of Winton.
From July 26 – 28, Flying Arts patrons, board, staff, artists, donors, Koa nation T.O.s, supporters and friends converged on Winton to attend the regional launch of Wanderlust, the touring exhibition of the 2018 Queensland Regional Art Awards (QRAA).
---
Day 1
We were up before the crack of dawn to start the long trek to our final destination in Central West Queensland. Still in darkness, people trickled into the airport to check their bags and pass security. It wasn't long until we were in the air, living up to our Flying Arts name.
After a quick touch-down in Blackall we soon arrived at Longreach. Karen Stephens, the Exhibitions Coordinator at the Waltzing Matilda Centre (where the exhibition was to be launched) greeted us there with a smile and a bus idling just outside the terminal. Soon we were heading down the highway on track to our final destination for the weekend.
Plains of pale gold grasses stretched unending towards the horizon. One could not help but be inspired by the colours present in the landscape, and in the sky so clear and vivid above us. A feeling of 'Wanderlust' was definitely with us on this trip!
On arrival at our accommodation, the group split. Eager to see evidence of Winton's first inhabitants, several of our party departed on a Red Dirt Tour to the Dinosaur Stampede site at Lark Quarry, while the rest of us explored our new surrounds once we'd had a quick bite at the local bakery. Few things are better than a pie from a country bakery!
After a successful wander to investigate the Corfield & Fitzmaurice Building mini-museum, take in the local sights and consume a sneaky milkshake, it was time for everyone to come together again for some drinks at the Tatts Hotel.
Flags adorned the ceiling and baseball caps formed a border all the way around – hardly a spot on the walls was left unadorned in one way or another. We'd hardly walked in when a guitarist up from Hobart, 4String Phil, kicked off a toe-tapping set that had locals and visitors alike clapping along and yelling 'Yee-haw!'
Dinner followed, with plates piled high, and dessert came soon after. Conversation flowed freely, and one couldn't help but feel surrounded by family as Winton VIPs, Waltzing Matilda Centre board and staff, came together with Flying Arts artists, patrons, supporters, board and staff to meet and mingle over a communal meal.
---
Day 2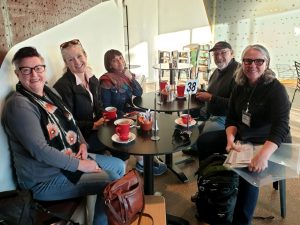 People filtered gradually across to the Tuckerbox Cafe for a morning feed. After a hearty meal, we boarded the bus and headed down the road to visit (with much excitement) Australian Age of Dinosaurs.
The Australian Age of Dinosaurs is a museum focused on Australia's evolutionary history, in particular the discovery, conservation and research of Australia's dinosaurs. It is a working museum – an education resource, research facility and tourist attraction. It contains the world's largest collection of fossils from Australia's largest dinosaurs and is the most productive fossil preparation laboratory in the Southern Hemisphere!
We started with a presentation about the history of fossil discovery in Winton – the dinosaur capital of Australia, and were introduced to Banjo and Matilda – two of the impressive dinosaurs discovered in the local area. To be in the same room as the actual fossils, connected to history millions of years old, was beyond special.
From there, we boarded our shuttles down to the canyon to view recreations of the fossils (and dinosaurs!) in situ. The bronze recreations were particularly realistic, and gave a real sense of what it may have been like in this area millions of years past.
Our tour continued in the Fossil Preparation Laboratory, where our party learned about fossil discovery in the Winton area, and the ongoing work that is being done to extract fossils and preserve them for future generations. Volunteers worked tirelessly with tiny tools that buzzed like dentist drills the entire time we were there, gradually chipping away at the surrounding dirt and stone to reveal the bone beneath.
Australian Age of Dinosaurs is also the home of Australia's first international Dark Sky Sanctuary – and while we could not return that evening to stargaze, it was easy to imagine how incredible it would be to see the stars from this location. With one last look out from the plateau to the sweeping vista below, we returned the bus, and hit the road again.

It wasn't too long until we reached another Winton attraction – the Musical Fence. The Musical Fence, designed by percussionist and composer Graeme Leak, is a wire fence that can be played as a musical instrument and it is the first Permanent musical fence installation in the world. After a jolly good play, we headed back to town.
While some travelled back to the accommodation for a quick rest, others took in some of the other local attractions – including the Camel Races!
It wasn't long until the launch now, but one couldn't visit the Waltzing Matilda Centre without learning some of the local history and more about the song that lends the Centre its name. We were privileged to get a guided tour by Waltzing Matilda Board Chairman, Jeff Close.

---
The Launch
Launch time was upon us! Locals and interstate guests alike met and mingled; the Waltzing Matilda Centre was abuzz with conversation and the sound of smooth jazz of local musician, Sax and the Single Girl.
The evening was started with a Welcome to Country lead by Koa Nation representative, Aunty Lesley Williams. Mr Jeff Close, Chairman of the Waltzing Matilda Centre Board welcomed us to their magnificent venue.
Professor John O'Toole, Chair of Flying Arts then spoke on behalf of Flying Arts, and introduced a video presentation from His Excellency, the Honourable Paul de Jersey AC, Governor of Queensland and Patron of Flying Arts . This was followed by further speeches by Winton Mayor, Mr Gavin Baskett, Queensland Regional Art Awards major prize winner, Erin Dunne and Bianca Acimovic, the exhibition curator.

The exhibition was officially open, and the gallery space filled with patrons eager to see the best art regional Queensland has to offer.
The evening completed, people reluctantly drifted away – some to have dinner at the North Gregory Hotel, others navigating farther from town to seek out the best star-gazing spots. A good evening was had by all.
---
Day 3
Dawn broke over Winton on day 3, and you couldn't help but wish you could stay much longer. We grabbed a quick bite at the Tuckerbox cafe, and went off to explore with the precious time remaining. Some of us made a stop at Willie Mar's Fruit and Vegetable Shop to view a snapshot of times gone by. A little further down the road, Arno's Wall stood testament to what a little ingenuity, some household items, a whole lot of concrete and dedication could do! By 8:30 am we were back on a bus to start the journey home.

When we hit Longreach, our party split again into two groups. Where some lazily ate lunch and talked about how amazing the weekend had been thus far, others toured the Qantas Founders Museum and learned everything there is to know about aeroplanes. Some of the party took the Boeing 747 tour – it was great to get so up close and personal with the machinery!

We boarded the bus for the final time, and headed to the airport. It wasn't too long until we'd touched down in Brisbane, safe and sound. While we may have only visited for a few days, the memories of Winton will surely last a lifetime – and a few of us are planning trips back already!
Thank you Winton!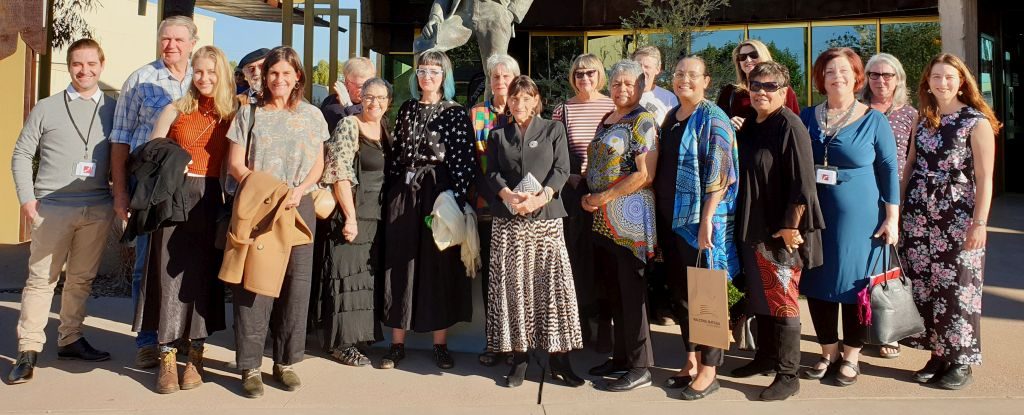 Thank you also to everyone who was able to make the trip to Winton, including several of our 500 Club donors, their friends and their families. Your continued support is greatly appreciated.
---
Flying Arts thanks our Cultural Patrons Mr Tim Fairfax AC and Mrs Gina Fairfax for supporting this event in Winton.
Flying Arts also thanks the following supporters:
---
Queensland Regional Art Awards Partners and Supporters
Special thanks to the following prize supporters:
The Booth Memorial Fund of Annie Tan (Yuh Siew) and the Geoff Booth Foundation; David Crombie; Janet DeBoer and Art for Life Donor