Located on a stretch of the Dingo Mt Flora Road (Commonly known as the Beef Road) in the Central Highland/Coalfields of Central Queensland, Valkyrie State School is one of the few visible structures. Many people pull into the school to stretch their legs, rest, sleep or feed children and themselves. Traditionally a beef cattle area, this stretch of road now is the main route for all of the traffic to and from the coal mines located in all directions. As a result, thousands of workers travel this lonely stretch of highway to and from work every year.
In light of this, the Valkyrie school community embarked on a journey of creating a permanent landmark for travellers and locals alike, which signified the history of Valkyrie. What started off as a very ambitious project proved a huge success by drawing resources, minds, time and plenty of creativity.
This project was delivered by Flying Arts Alliance's Small Schools Fund, which allows schools with 50 or fewer students in regional and remote Queensland to apply for a bursary of up to $5000 per school year for curriculum linked projects.
---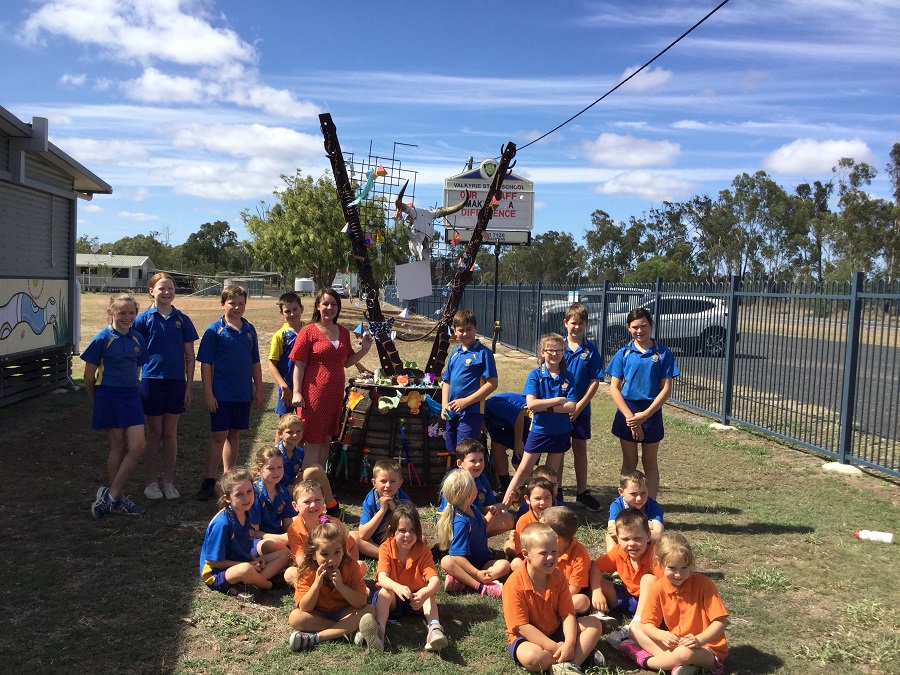 Over the three day workshop, visiting artist Simone Eisler worked with School Principal Sue Redman to run a series of sculpture workshops using materials like air-dry clay, ink, fabric, sticks and other found objects to explore objects that have historical links to the local area. The works created in these sessions would later be displayed on the giant 'V' landmark, which was constructed as a permanent form from a discarded coal washing bin and scrap metal found on surrounding properties. This structure was made prior to the Small School Fund Workshops by school staff with the assistance of parents and community members.
Mrs Redman explains "The original idea was for students to construct the larger sculpture, however it was very quickly realized that this would be unachievable in the time frame if we wanted the larger sculpture to be enduring. However, the idea of the children creating a variety of smaller sculptures using recycled and different materials was more successful as it enabled the students to learn a larger range of techniques and use a larger variety of materials in the time frame."
"The items are semi-permanent, meaning they can last for a period of time outside, but they will be removable so that in the future, other items of a different theme can be created to suspend from the landmark.
"The students learnt how to use air-dried clay correctly and added colour with the use of ink. They also acquired to skill of using recycled materials and sticks found in the school ground to create stick people by wrapping them with wool and materials.
"The students learnt how to use wire to construct meaningful sculptures and add beads to this for colour and balance. The students also used collage materials to produce artworks that were meaningful to them – mainly of cattle and horses – to represent their home lives."
Mrs Redman said that while some of the students found the new techniques challenging, their perseverance and enthusiasm was testament to their enjoyment of the workshops.
"It was great to see the detail added by all students and surprising to see the kindy students maintain their attention span for an extended period of time to enable the stick people to be created successfully. For 10 four year olds to spend two hours constructing an artwork is incredible!"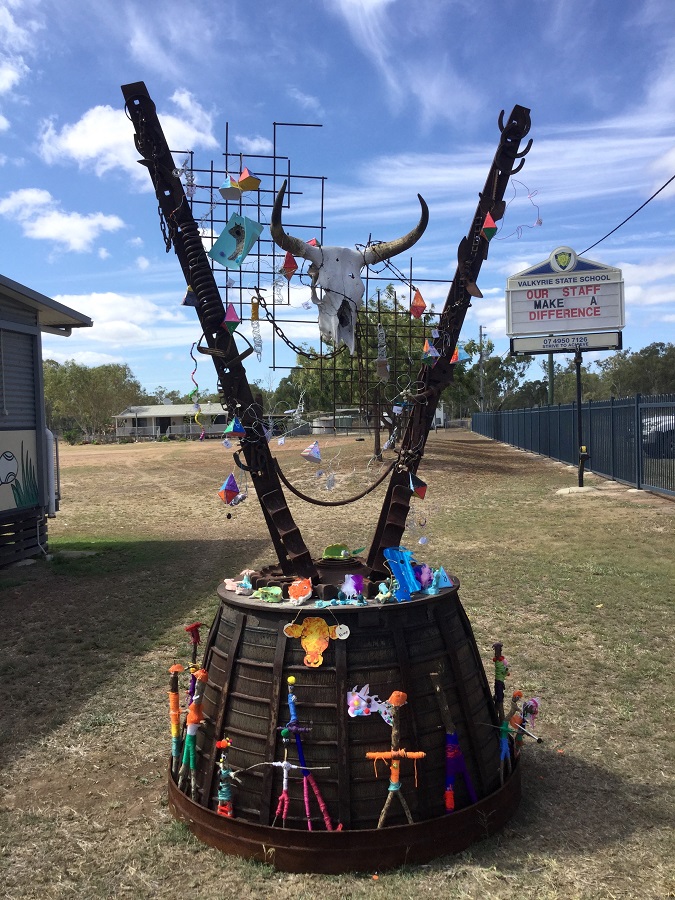 ---
The Small Schools Fund allows schools with 50 or fewer students in regional and remote Queensland to apply for funds up to $5000 per school year for curriculum linked projects (inclusive of facilitator fees, travel and accommodation). This opportunity allows schools to work collaboratively with an experienced artist to plan and deliver a visual arts incursion (workshop/residency) of your selection to create an arts rich experience for students and the wider school community.
The Lesson Plan for this workshop will be available in the near future. In the meantime, view other Small Schools Funded Project lesson plans on our Educators Resource page.
---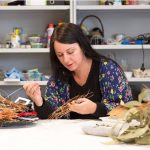 Simone Eisler is a Brisbane/Sunshine Coast based artist and has exhibited her work internationally in the Philippines, Indonesia, New York, Belgium, Paris, Berlin and within Australia. Her work is focused on space, time, form and structure and she moves from large scale sculptural multimedia installations through performative photographic works to individual sculptural objects that reference concepts of physical transformation, species evolution and biodiversity within the overarching notion of a changing technological and natural world. Her practice also covers drawing, painting, video and sound and she is well known for a wide range of public art works.
---
Thanks to the incredibly successful Make Art Big in Small Schools campaign, Creative Partnerships Plus 1 funding and generous support from Gandel Philanthropy, Flying Arts has been able to dedicate over $40,000 to cross curriculum arts incursions in 2019. Consider supporting Flying Arts to provide more projects like this – all donations over $2 are tax deductible.