Love More
Love More is a reflection on my life. This year I turned 50 and as the day drew closer I wrestled with myself about what turning half a century means to me. Have I done enough? What should I have achieved by now? Could I have done more? The little bugs, 50 in all, represent every year that I have been alive and are a celebration of life. Love more!!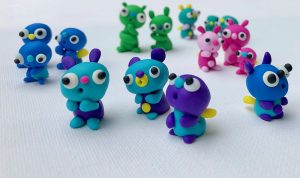 Love Bugs
Fimo
3 x 2 x 2 cm
POA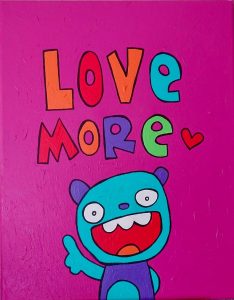 Love More
Acrylic on canvas
35 x 28 x 2 cm
POA
Stuart's work will be on display at the Judith Wright Centre from 29 November 2019 – 21 February 2020 as part of the Seasonal Sittings of Tiny Art – Summer.
Stuart Carrier, Brisbane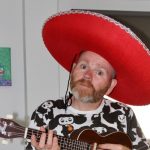 Stuart Carrier is a Brisbane based artist. Self taught, he merges his love of drawing with acrylic painting, sculpture and paper art to create a world of super cute yet slightly menacing characters. Inspired by Japanese Kawaii culture, Stuart is also the creator of Midgetboy Universe an independent label producing private commissions, kids clothing, unique handmade greeting cards and gifts that retail in stores nationwide.