Kelly described herself as "really thrilled" to find out that her work would be exhibited at the Judy. "It's often hard as an artist, often busy creating or wanting more time to just create work and do nothing else," she said, "but that never happens. Life is full of other things that can clog up a typical day. So I am pleased I took the time to find out about this exhibition and apply."
Considering my work for this show has encouraged me to look at my work from a different perspective, I suppose. I am used to showing my work as a 2D artist. My works hang up or sit on a shelf. I like to notion that viewers can walk around the artworks when they are in a plinth. It is very museum like. I hope I can pull it off!
I have a long list of places that I want to capture including heritage listed, Art Deco and Mid Century homes and buildings in Queensland. I am interested in how our built environment influences and impacts our lives. I studied interior architecture at uni 25 years ago, and grew up in a family always moving and improving, renovating and building. Homes, streetscapes, civic places are important to all of us. They tell our stories. I like to capture where we have come from and where we are now. I am also continuing to complete commissions for clients of their homes and gardens. Plus I want to visit more parks and forests and work en plein air. The 'to do' list is long!
I am exhibiting in Paddington in October this year with fellow artist Alan Morrison. We've both built up a collection of works highlighting the Granite Belt and local scenic areas as well. I can't wait for that show at Percolator. To me the world needs more peaceful landscapes.
I am also creating a series of works showcasing the best of Brissy. And intend to give buyers or tourists the option to purchase high quality reproductions of local iconic scenes rather than buy an original. City Hall and the Shrine of Remembrance are coming. South Bank. Mt Coot-tha. Plus that gorgeous view of the city from atop Kangaroo Point Cliffs at sunset.
I am always adding new content to my Facebook and Instagram as its a great platform for creatives to share inspiration and their work. I am really appreciative of this opportunity and the work that you do to promote the value of art in the community.
Kelly's small painting series will be on display at the Judith Wright Centre from 31 May – 23 August 2019 as part of the Seasonal Sittings of Tiny Art – Winter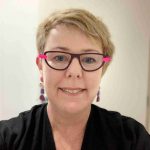 Kelly Southee is a Brisbane based artist. She was born in New Zealand and moved to Queensland at a young age. She has lived in Canada and the United States. Kelly enjoys sketching and painting en-plein air as often as she can. However, when time limits this pursuit she takes reference photographs to interpret later in the studio. She uses a variety of mediums to create her works: pen and ink, pastels and paint. As a former interior architect, working in the 'built environment', Kelly is currently focused on capturing 'our places': old buildings and homes, modest garages and massive backyards that tell a story of change, or of better times. She feels an urgency to honour these character-filled buildings, streetscapes, treescapes and precious green spaces, as they disappear to make way for urban redevelopment.