2019 has been the biggest year yet for the Small Schools Fund!
Thanks to the incredibly successful Make Art Big in Small Schools campaign in conjunction with successful Creative Partnerships Australia through Plus 1 funding and generous support from Gandel Philanthropy, Flying Arts has been able to dedicate over $40,000 to cross curriculum arts incursions this year.
This has supported a total of 12 cross-curriculum programs across the state!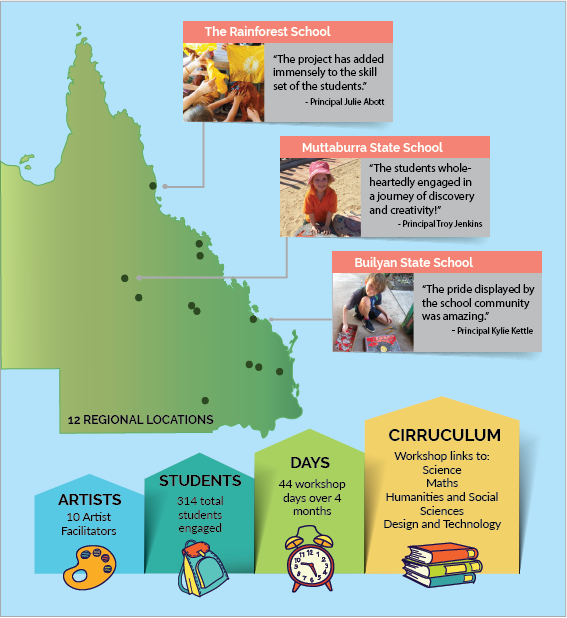 ---
Small Schools Research Project with the University of Southern Queensland
Three schools from this year's program have been included in a research project conducted by the University of Southern Queensland's (USQ) Associate Professor Margaret Baguley and Flying Arts Alliance Chair Professor John O'Toole. This builds on the initial Connecting Arts with School Curriculum (CASC) research project which the fund was founded on in 2014.
As such, the research project aims to explore the process and outcomes of integrating visual arts in the classroom as a cross-curriculum teaching method. The findings from this project are expected to be published in mid-2020.
---
Case Studies
Kulpi State School – Ceramic Exhibition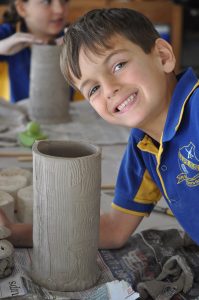 Kulpi State School welcomed ceramic artist Dianne Peach to facilitate a 5-day cross-curriculum art, science and design workshop. Students and their families worked collaboratively to create their own unique ceramic artworks which were then exhibited at their local Rosalie Gallery in Goombungee.
Following the success of the first exhibition, Rosalie Gallery have invited Kulpi State School students and their families to exhibit their artworks again in 2020. Congratulations Kulpi!
---
Mixed-Media Collage at St Joseph's Barcaldine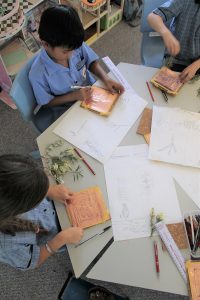 St Joseph's Primary School in Barcaldine hosted Flying Arts facilitator Nancy Brown for a series of workshops exploring botany and visual art with mixed media sculpture.
42 students from Prep to Year 6, seven school staff and one keen community member worked together to produce a series of tiles to be displayed in a cabinet at the school entrance. An outcome to admire for many years to come.
---
Public Monument for Valkyrie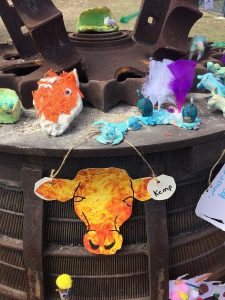 Over a three-day workshop, visiting artist Simone Eisler worked with Valkyrie State School Principal Sue Redman to run a series of sculpture workshops using materials like air-dry clay, ink, fabric, sticks and other found objects to explore objects that have historical links to the local area.
The works created in these sessions were displayed on a landmark constructed as a permanent form on school grounds by their wider community proir to the incursion. The sculpture forms a V shape, made from a discarded coal washing bin and scrap metal from private properties.
---
More Resources
If your school is interested in applying for the Small Schools Fund next year, contact our By Request Program Lead.
Here are some lesson plans from previous Small School incursions that may inspire your project: