St Joseph's Primary School in Barcaldine hosted Flying Arts facilitator Nancy Brown for a series of workshops connecting arts with school curriculum. Forty two students from Prep to Year 6, seven school staff and one keen community member worked together to produce a series of tiles to be displayed in a cabinet at the school entrance.
This component of the project was delivered by Flying Arts Alliance's Small Schools Fund, which allows schools with 50 or fewer students in regional and remote Queensland to apply for a bursary of up to $5000 per school year for curriculum linked projects.
---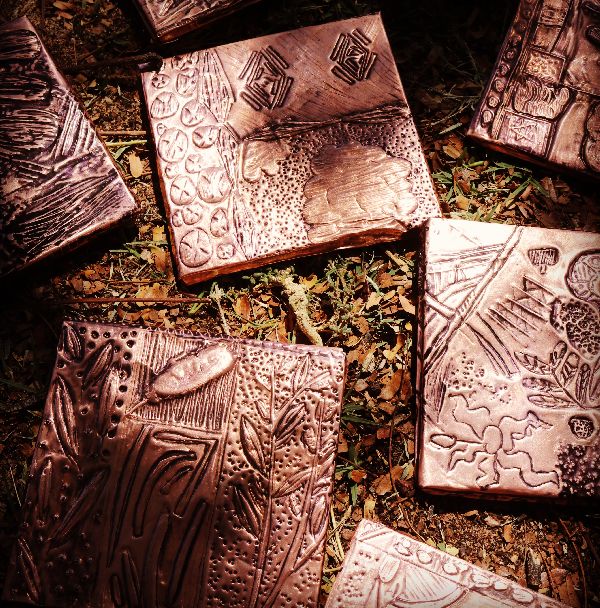 Nancy delivered a 3.5 day incursion linking visual art into curriculum learnings around science and maths, including life cycles and the dependence of living things on each other and their environments. The Connecting Arts with School Curriculum (CASC) program aims to deepen students' understand of non-arts subject by interacting with curriculum elements through an arts focus.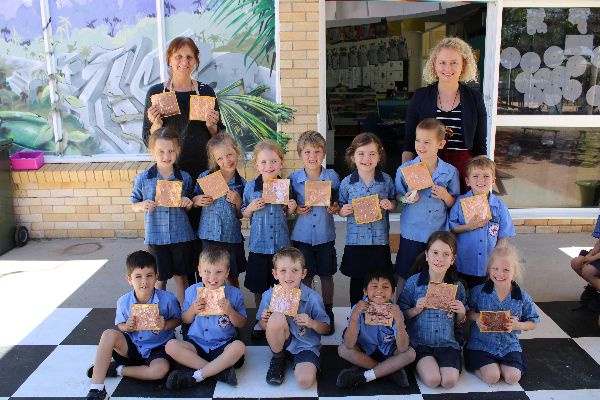 Keen botanist and Barcaldine local Jenny Mace got involved before the workshops began, taking the students and teacher of Level 3 (years 3-6) on an excursion around town to observe, photograph and learn about the local flora.
Students participated in botanical drawing classes and made clay, aluminum and copper tiles which will be assembled into a collage and installed in the display cabinet at the school entrance. The students' botanical drawings will be entered in the Barcaldine Show and Barcaldine Art Exhibition.
The botanical drawings show that the students made careful observations of the plant shapes, patterns and structures. "These drawings are outstanding considering the students have had limited drawing tutelage," said St. Joseph's Barcaldine Principal , Mrs Annie Wachtel.
The students enjoyed being able to continue to extend their drawing skills further using clay and metal. They were able to explore how their drawings and designs looked using different mediums. The students loved rolling, cutting and stamping the clay to make the tiles.
Drawing shapes with clay coils and onto the metal shim provided them further opportunity to improve their skills. "Watching their faces as their designs were revealed was brilliant!" enthused Mrs Watchel.
The sense of achievement and pride in their individual work was multiplied when the students saw how their tiles all contributed to a major art piece that will be installed at the school front entrance for all to see.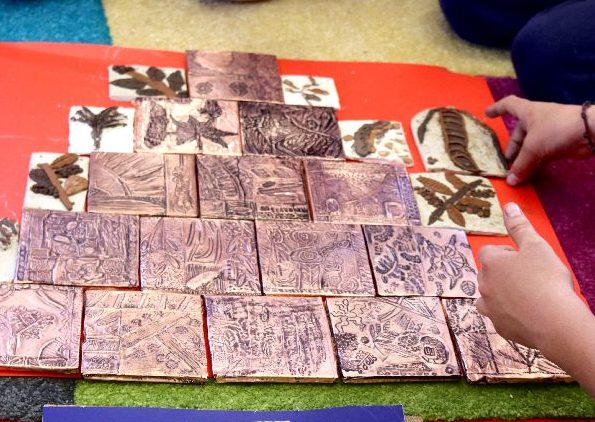 ---
The Small Schools Fund allows schools with 50 or fewer students in regional and remote Queensland to apply for funds up to $5000 per school year for curriculum linked projects (inclusive of facilitator fees, travel and accommodation). This opportunity allows schools to work collaboratively with an experienced artist to plan and deliver a visual arts incursion (workshop/residency) of your selection to create an arts rich experience for students and the wider school community.
To see the Lesson Plan for this workshop check out the Educators Resource page.
---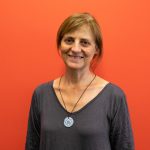 Nancy Brown is a visual artist working in printmaking, ceramic, mosaic, metal and textile printing. Her art practice has taken her on adventures across Australia to remote communities facilitating projects, creating decor and running workshops at festivals, schools, art in education programs and working alongside creative groups within the communities. Nancy sells her work at retail outlets around Australia and has both exhibited and completed large commissions nationally.
---
Thanks to the incredibly successful Make Art Big in Small Schools campaign, Creative Partnerships Plus 1 funding and generous support from Gandel Philanthropy, Flying Arts has been able to dedicate over $40,000 to cross curriculum arts incursions in 2019. Consider supporting Flying Arts to provide more projects like this – all donations over $2 are tax deductible.