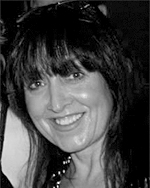 Pat Hoffie is a visual artist based in Brisbane whose exhibiting practice both in Australia and internationally covers some three decades.
She has also maintained active roles as a writer, curator and an arts worker who has held positions on a number of national boards and committees including the Australia Council for the Arts, Asialink and the National Association of the Visual Arts.
She is a Professor at the Queensland College of Art, Griffith University.
Pat will be facilitating the Conversation, joined by panellists, John Honeywill, Kevin Grealy and Merv for In Conversation with Merv Moriarty at the Judith Wright Centre on 8 October.
How and when did you first come to be involved with Flying Arts?
I was a tutor with Flying Arts for 8 years. My first touring flights overlapped with those of Merv; I think we actually 'ran into each other' somewhere while on tour but typically only had a few short moments in a dusty street outside a milk bar before flying off in different directions. I was the first female painting teacher following on from Merv and Roy Churcher, and I think that that in itself may have initially been somewhat of a disappointment for the largely female classes. Merv and Roy had a reputation as 'wild boys'  – whatever that might have meant – and were larger than life in myth and conjecture. But the real outcome of Merv's vision has proved to be much, much deeper than this, and the organisation he launched survives as a viable model for teaching art in this country.
Later I wrote the correspondence course in painting and for years selected and co-ordinated tutors with regard to their tours and their correspondence programme. I also produced tapes for AFAS teaching programmes in ceramics, and hosted and presented the interview-based TSN 11 programmes "Traces of Place" that were beamed live to satellites for AFAS students across Queensland and Northern New South Wales.
 What was your first impression of 'the flying artist' himself?
A man with vision who had the schtick to bring that vision to reality. He was down-to-earth and committed to the value of art in everyday lives. Without going into details, let me assure you that he didn't look anything like a manager or a bureaucrat … in fact, some might say he didn't look 'professional'… but he did look and speak very much like a human – one with very high communication skills.
What was the most profound learning or experience you gained from Merv's teachings/your involvement with Flying Arts?
I can remember the depth of the grace and hospitality of those I met beyond the cities. Many would drive for hours to get there, and they soaked up challenges like sponges. I can remember once unwrapping a touring exhibition that I laid out in front of them in an old wool shed in the late afternoon. The rays shafted in from the sloping tin ceiling high above. I knelt on the floor so that I could carefully unwrap the work, which was a handmade artist's book. The effect of the work – partly because of the care that had been invested in the production – was that many in that space simply looked and were silenced into reverence – and some to tears. I remember thinking in that moment that, beyond all the institutional support structures and the words and the hype, art has an extraordinary power to communicate, and to profoundly move, and to draw people together.
Where can you see this influence in your practice/career today?
Memories of so many people, and so many places associated with the travelling days of AFAS underpinned my belief that regional diversity lies at the heartland of Australian identity. That topic later became the nucleus of my PhD thesis, and also became a framework for how I see Australia's role in the Asia-Pacific region.
Image Captions:
Pat Hoffie

Madame Illuminata Crack's Phantasmagorical, Armchair Exhibit for Ecologically Sustainable Recreation 2008
Pat Hoffie, you gotta love it, 2012-13. Installation detail, Artspace, Sydney. Photograph Louise M. Cooper.

Pat Hoffie Freddy (the fox) 2015 Mixed media