The Queensland Regional Art Awards (QRAA) is an annual visual arts prize and exhibition for established and emerging artists living in regional and remote Queensland. The program aims to provide a platform for further professional development. Paint the Town is the exhibition outcome of the 2021 QRAA.
The 2021 QRAA coincides with Flying Arts' 50th year anniversary, half a century of connecting artists, educators and communities.
Paint the Town, touring exhibition of the 2021 QRAA, is a Flying Arts Alliance initiative in partnership with Museums & Galleries Queensland. This project is supported by the Queensland Government through Arts Queensland; and proudly sponsored by Holding Redlich.
---
Flying Arts are pleased to be partnering for the second year with Queensland Poetry to deliver the QRAA Ekphrasis Challenge. Australian poets responded to the judges' prize winners of the 2021 Queensland Regional Arts Awards. View Here
Theme: Paint the Town
Evoking the spirit of celebration, of all things jubilant, artists are invited to respond to the question – How do you celebrate? Is it a party, a big bash or a simple elegant affair, serene or riotous, extended explosions of joy or quiet moments reflection and gratitude, ceremony, tradition or ritual, expressed in dance or song, full of sentiment or tears, an anniversary, a farewell or a whim, with family, friends, a whole community or alone, a sense of occasion, a festival or just because? Whatever the reason or season, whatever your medium or practice, we invite you to Paint the Town.
Judging Panel
Chris Stannard – Curator, Tanks Art Centre
Carol McGregor – Program Director, Contemporary Australian Indigenous Art, Queensland College of Art
Jan Manton – Director, Jan Manton Art
---
2021 Queensland Regional Art Award Prize Winners
'ART FOR LIFE' AWARD AND SPOTLIGHT AWARD
Kym Barrett, Gateway (2021) Oils, mixed media on canvas
$10,000 non-acquisitive cash prize, thanks to Holding Redlich.
A catalogue essay valued at $1,000, thanks to Onespace Gallery and artwords;
Print and digital editorial and promotions valued at $10,000+, thanks to Artist Profile.
THE ANNIE TAN MEMORIAL WATERCOLOUR AWARD
Libby Derham, Celebrating the Colours of Coolum (2021) Watercolour on paint chips
$3,000 non-acquisitive cash prize, thanks to The Booth Memorial Fund of Annie Tan (Yuh Siew) and the Geoff Booth Foundation. For watercolour artists who have not previously won a major State or National art prize or award and do not have current gallery or agent representation.
YOUNG ARTIST DEVELOPMENT AWARD
Weston Campbell, Town Meets Town (2021) Photograph
$2,000 non-acquisitive cash prize, thanks to Turner Family Foundation.
For artists aged 15 – 25 years.
TEXTILE ART AWARD
Michelle Kurth, Ignite (2021) Plastic Food Packaging, Metal Fan Case, Cotton Warp
$1,500 cash, thanks to an 'Art for Life' Donor.
NEW MEDIA ART AWARD
Bianca Tainsh, To the Citizens of Paradise (2021) Digital print on Hahnemühle Bamboo paper, graphite, frame made from sustainable timber, wood chips from land cleared for a shopping mall expansion, online video 1:46 min
View digital artwork
Fully funded one-week residency at State Library of Queensland, including 7 nights' accommodation at The Johnson- Art Series, valued at $4,000. Residency includes return airfare to Brisbane from your nearest airport or equivalent, accommodation and per diem. Must use within six months of receiving prize.
REMOTE ARTIST AWARD
Netta Loogatha, My Country (2021) Acrylic on Belgian linen
$1,500 non-acquisitive cash prize, thanks to Woolloongabba Art Gallery.
For artists living 300 kilometres outside a major metropolitan centre e.g. outside Cairns, Townsville, Toowoomba, Gold Coast, Brisbane etc.
FIRST NATIONS ARTIST AWARD
Darren Blackman, Stolen (2021) Acrylic, enamel on linen
$1,500 non-acquisitive cash prize, thanks to Mitchell Fine Art.
For artists who identify as Aboriginal and/or Torres Strait Islander.
MERVYN MORIARTY LANDSCAPE AWARD view more
Cynthia Copley, White Rock – Elemental (2021) Oil on canvas
$3,000 non-acquisitive cash prize, thanks to Consolidated Property Group.
For landscape works in any medium.
PHOTOGRAPHY AWARD
LeAnne Vincent, The Royal (2021) Pigment print on Photo Rag
$3,500 non-acquisitive cash prize, thanks to BMD Group.
Camera derived works both analogue or digital or alternative processes including cyanotype, photogram etc.
PEOPLE'S CHOICE AWARD
Caitlin Broderick, Summer Clover (2021) Acrylic on canvas
$1,250 non-acquisitive cash prize for Adults, thanks to TAFE Queensland.
Mikayla Parrotta, Botanical Picnic (2021) Acrylic on canvas
$750 non-acquisitive cash prize for Youth (artists aged 15 – 25 years), thanks to TAFE Queensland.
---
2021 Queensland Regional Art Award Finalists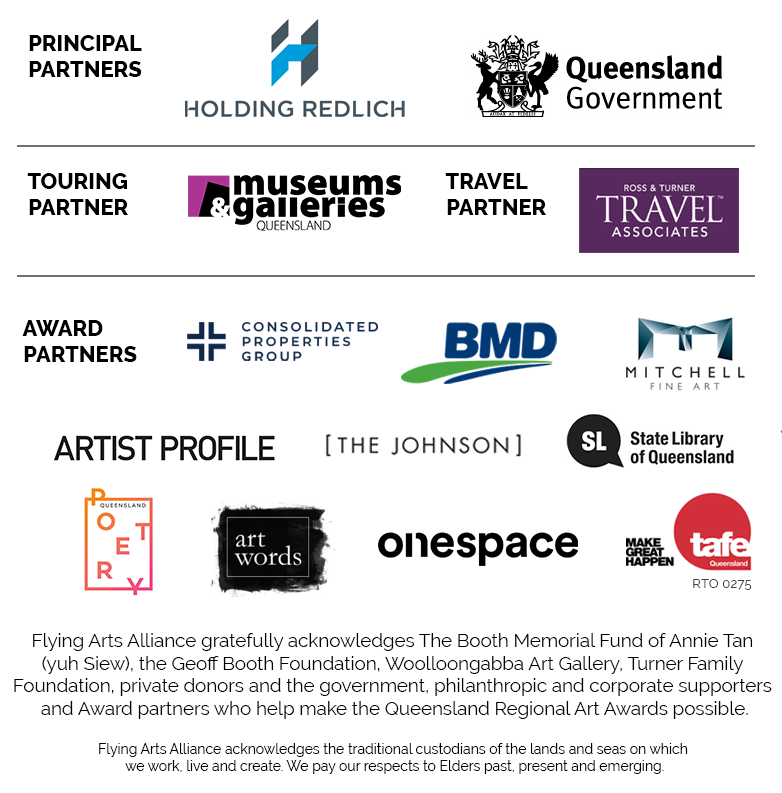 ---