Community Project Grants
The Community Project Grants stream supports applications which benefit the community, increase access and participation, and/or provide direct benefits to artists/arts workers.
AustraNesia Creative and Cultural Support Inc: WOVEN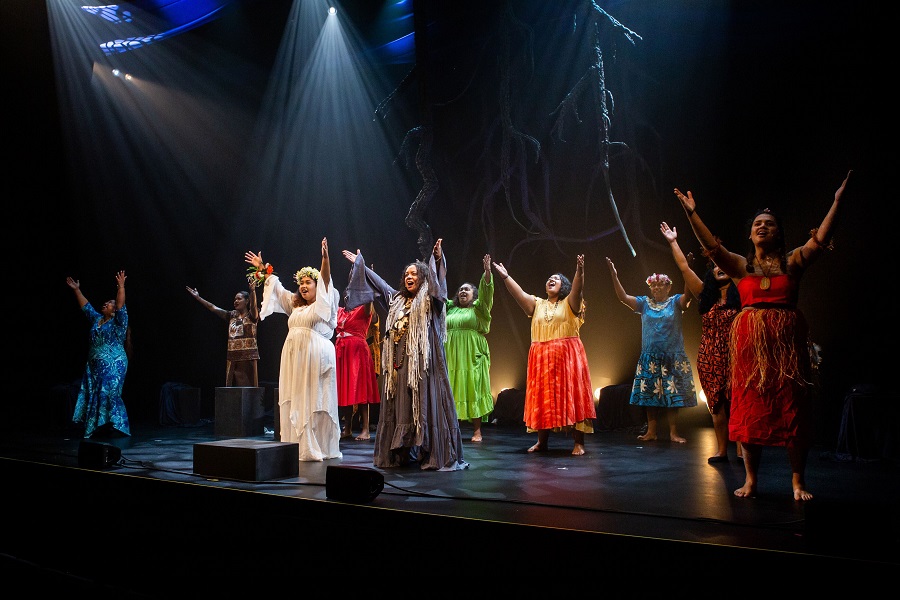 Date: 8 March, 2019
Location: Cairns, QLD
In March, 2019 Cairns-based musical and cultural ensemble Women of AustraNesia performed Woven, an original performance capturing the essence of what is most powerful and enduring about the nature of woman. Six entwined stories of joy, sadness, hardship, resilience and hope weaved a timeless tapestry of what it is to be a woman, be they daughters, sisters, mothers, aunties, matriarchs or part of the powerful force that is the collective womanhood.
Through support from the Regional Arts Fund, Women of AustraNesia were able to bring the stories, language and music of cultural backgrounds from around the Pacific (Aboriginal, Torres Strait Island, and Melanesian and Polynesian heritage) to a contemporary audience. Keeping with this goal, the actresses and majority of the creative team were able to draw from their backgrounds from these four regions.
Both musically uplifting and visually powerful, the performance itself utilised woven artefacts, words and music, revealed in stages, to represent the empowerment of women. Celebrating and elevating the audience, the original performance of song and story aimed to create a new sense of appreciation for the women who have positively impacted their lives.
The performance garnered an extremely positive response from women, men, youth alike, with many expressing that the stories were relatable and universal, the music uplifting and the showcase of local talent was incredible. These elements combined led Woven to be a powerful and culturally significant performance that introduced now, contemporary audiences to theatre.
---
This case study meets the following RAF criteria to a high degree: "Develop audiences and broaden community engagement."
StoryARC: LIT Futures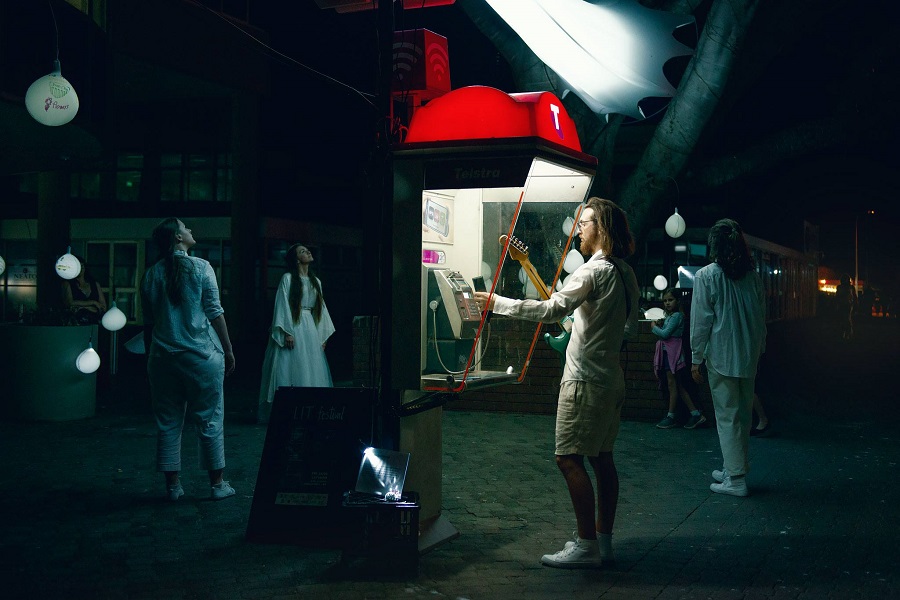 Date: 28 – 29 September, 2018
Location: Toowoomba, QLD
In early 2019 LIT Festival illuminated the streets of the Toowoomba CBD in a two-night celebration of local stories through projections, sculptures and street theatre. Alongside the festival line-up of established multi-media artists, LIT festival Director Benjamin Tupas endeavoured to also engage local emerging theatre artists through an immersive week-long professional development program, 'LIT Futures.'
Thanks to project funding from the Regional Arts Fund, Tupas was able to enlist the expertise of street theatre artist Kristian Santic to conduct the program. The outcome was an interactive performance titled 'Ghosts of the Range' that told stories of Toowoomba's past present and imagined future while guiding patrons through the festival's activated public spaces.
The performance development program allowed emerging theatre artists to explore how street performance can make theatre more accessible to a wider audience and act as a vehicle for sharing untold local stories. The contribution from the Regional Arts Fund in order to contract Kristian Santic was instrumental in enabling wider community connections within the program. Santic's personal and professional connections within the local Toowoomba arts community and broader Australian theatre scene enabled Toowoomba to secure ties with other industry members.
RAF funding also contributed to the wider community project of LIT Festival, bringing strong economic benefit to the community through increased tourism and use of night-time hospitality venues.
The program will have continued effects for Toowoomba-based Story Artist Run Collective Inc, the company in charge of LIT Festival, and broader regional arts projects, including:
developing best practice frameworks for street performance in a regional context
developing models of feedback to build upon the success of the project
Establishing a model for how a festival can foster community inclusion
Demonstrating frameworks for public safety and wellbeing during a night-time outdoor performance
Providing young regional actors with professional development to assist the longevity of their career
Strengthening performing arts networks in Toowoomba
---
This case study meets the following RAF criteria to a high degree: "Encourage and support sustainable economic, social and cultural development in regional communities."
Quick Response Grants
Quick Response Grants are intended to assist regional artists, arts organisations and communities to take up professional or skills development or small project opportunities. Applicants can apply for a Quick Response Grant if their small arts or cultural project cannot be funded by any other means because of its nature or timing.
Girrigun Aboriginal Art Centre: Bagu at Sydney Contemporary Art Fair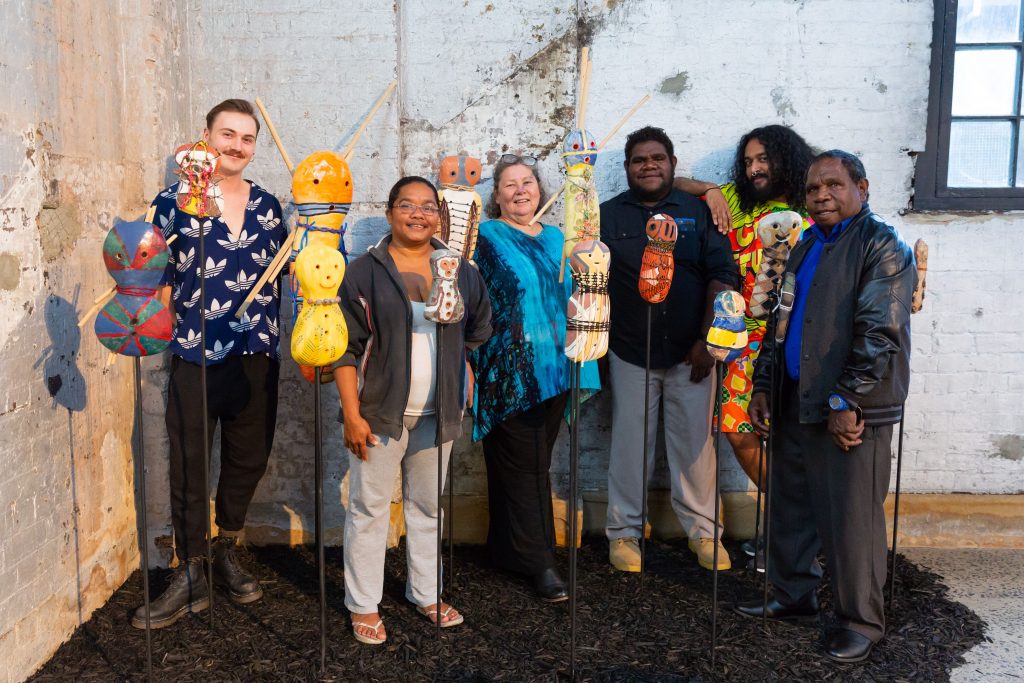 Date: 14 – 18 September, 2018
Location: Sydney, NSW
In a project coordinated by Anna Grigson of Sabbia Gallery in Sydney, the Girringun Aboriginal Art Centre (located in Cardwell, QLD) was able to display in excess of 50 ceramic bagu in a prime location at the entrance to the Sydney Contemporary Art Fair 2018. With assistance from the Regional Arts Fund, Girrigun Aboriginal Art Centre were able to transport artists Nephi Denham, Philip Denham, Melanie Muriata and Centre Manager Dr Valerie Keenan to the renowned event.
The word 'bagu' means firesticks, and relates to the traditional fire making implements of the Girringun rainforest Aboriginal people. The motifs on the clay represent patterns, stories and human figures from Girrigun Country. Grouped in two huddles, this was one of the first large-scale works on display as you moved further into the fair.
The 'bagu' display at the Sydney Contemporary Art Fair was a great success as the prime location of the installation allowed the artists to receive full attention from delegates and attendees.
Neither Melanie Muriata nor Philip Denham had been to an event of this kind before and were blown away by the exposure, networking and sales opportunities afforded to them. Gaining exposure to attendees who had paid to enter the venue provided the artists with the opportunity to engage with potential collaborators, clients and audiences who were sincere in their interest with contemporary art.
Exhibiting at the Sydney Contemporary Art Fair was also a fantastic opportunity for the art centre and artists, with over 50 percent of the works sold while on display and a large number being sold since. The artists were also able to strengthen their own artistic practice while reflecting on the work of their peers. The trip also allowed for the team to visit the McLeay Museum (University of Sydney) and the Australian Museum to meet with respective curators to discuss future initiatives.
---
This case study meets the following RAF criteria to a high degree: "Professional Development opportunity."
BirdTribe Wearable Art: Showcase at Melbourne Fashion Week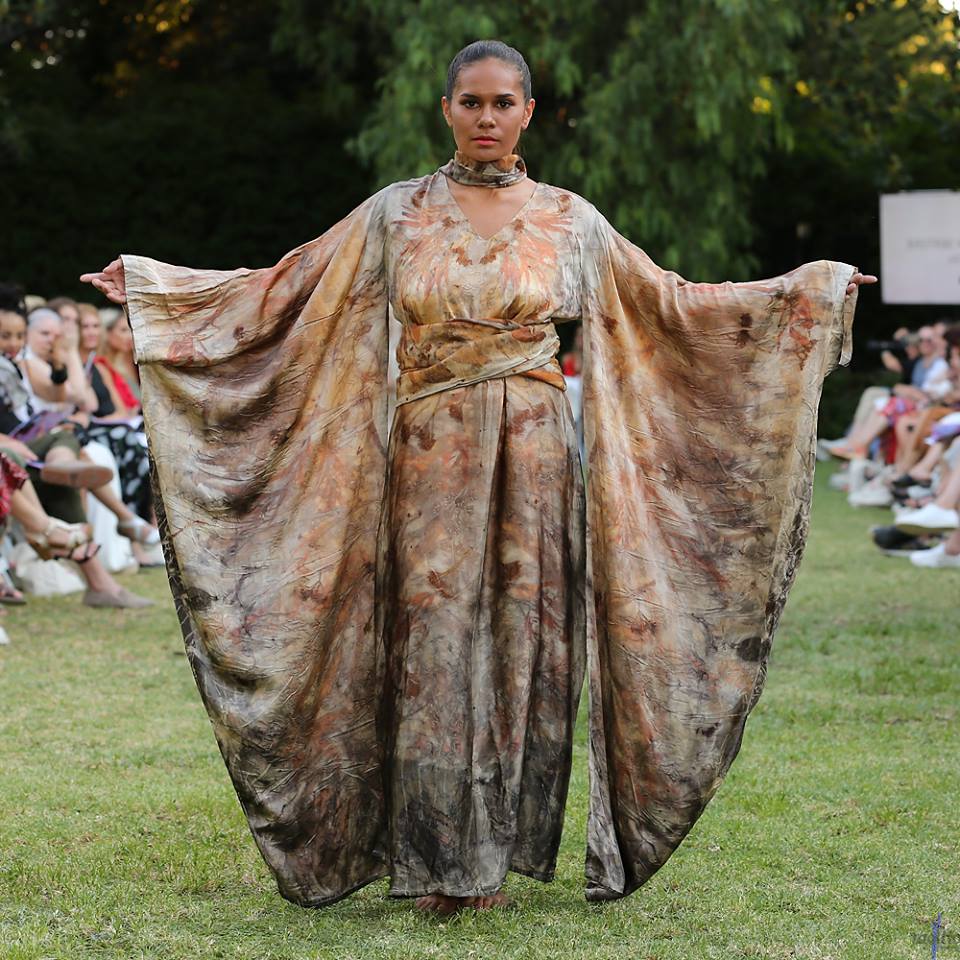 Date: 2 March, 2019
Location: Melbourne, VIC
Nina Dawson, the regional Queensland designer behind eco-fashion brand Birdtribe Wearable Art was invited to showcase her designs inspired by the North Queensland rainforest at major Australian fashion event Virgin Australia Melbourne Fashion Festival (VAMFF).
Thanks to successful grant funding from the Regional Arts Fund, Nina was able to fly her 6-piece clothing range for an eco-fashion runway called Identity that took the stage on the 2nd of March, 2019.
"The project paves the way for a new kind of ethics in Fashion. The Fashion Industry has been exposed in the last few years for its huge pollution impact and inhumane and exploitative working conditions, so this event aimed to address these issues by showcasing Australian Fashion Designers who have ethical, humane and environmental principles," said Nina.
"For the ethical fashion event Identity to be featured as part of VAMFF shows that we are becoming more conscious of our clothing choices and that good fashion can come from good principles."
Nina says that the experience reinvigorated her artmaking practice and gave her a renewed sense of direction within the fashion industry.
"I learnt that my kind of EcoFashion is now becoming popular and the Ethical Fashion industry is growing. This is great news for me and has given me extra inspiration and initiative to continue on my EcoFashion and Wearable Art path.
"I also got to see the process of running such an event which has also inspired me to create a similar EcoFashion/Ethical Fashion Event in my community."
As a result of this event, Nina was inspired to create a new ethical fashion range utilising her new connections for sourcing ethical fabric and materials. The project also enabled the artist to grow her personal brand within the industry, touting greater connections within the ethical fashion industry both personally and online.
---
This case study meets the following RAF criteria to a high degree: "raising artist profile."
Young People Ahead Youth and Community Services: Can You Relate?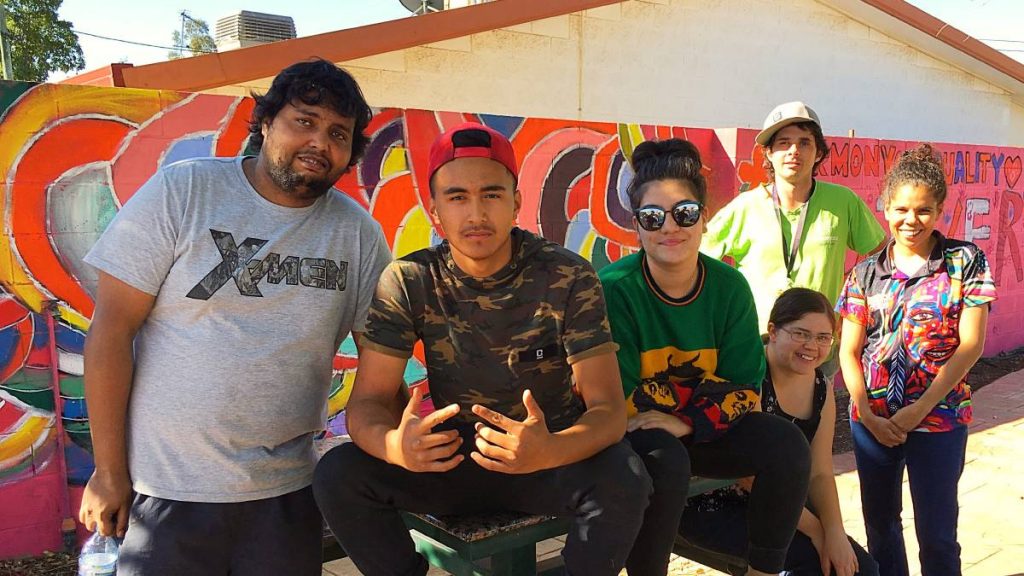 Date: July – November, 2018
Location: Mt Isa, QLD
Over a six-week period 8 young people from Mount Isa were involved in a series of writing, acting and film-making workshops exploring the topic of healthy relationships with the organisation Young people Ahead Youth and Community Centre (YPA).
The program called 'Can you Relate?' received funding support from the Regional Arts Fund in order to teach young people a range of media skills to create their own short films, exploring how healthy relationships impact and decrease domestic violence in their community.
Over the duration of the program, which primarily ran in the September School holidays in 2018, participants created four short films. One film told a personal story of the impacts of Domestic and Family Violence. The team also collaborated song on a about Domestic Violence to accompany the film content.
The outcomes of the project were showcased at a private screening night and then further during Domestic Violence Prevention Month in May, with the next showing happening at the Mount Isa Short Film Festival in 2019.
The program provided a platform for youth to have open discussions around the topic of Domestic Violence, an issue which impacts on many young people and their families, within a fun, supportive and creative space.
The overall program was successful in empowering youth to spread social messages through digital media skill, while also educating the community on the power of healthy relationships. The program also enabled youth to gain an insight into the film and television industry, with many participants stating new confidence in their acting and producing skills.
Specifically, the participants showed an interested in visual techniques which focused 'showing' not 'telling' which allowed the finished films to be evocative with little dialogue and more visual storytelling.
The program has opened up further opportunities for the participants including being involved in YPA's next film project called 'Power on Up' which is looking at physical activity for youths. The project group would also like to use their films in schools, with the Mount Isa Domestic Violence services and youth groups as an education tool. The group will also use the power of social media to share these locally made stories and to create further opportunities for youth who would like to get into the screen industry as actors.
---
This case study meets the following RAF criteria to a high degree: "encourage and support sustainable economic, social and cultural development in regional communities."
Naomi McGravie: No Worries Project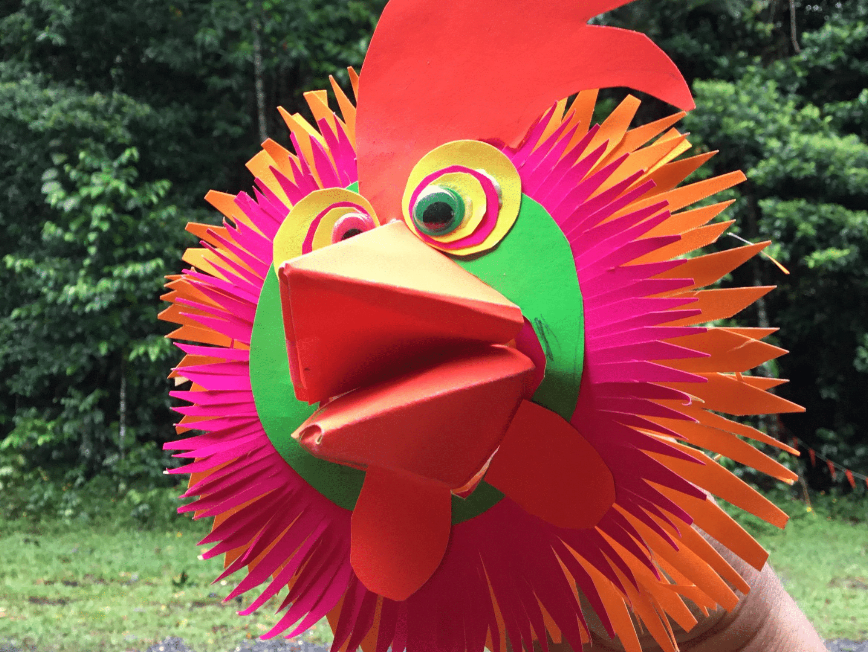 Date: 1 – 26 April, 2019
Location: Mossman, QLD
Concerned with rates of unemployment in her local area, Mossman-based puppeteer Naomi McGravie set out to equip members of the community experiencing mental health and substance abuse with skills to create engaging short films using puppets.
Over ten half-days, the 'No Worries Project' involved educating participants in a high standard of artistic expertise with skills such as drawing, painting, set design, storytelling, story boarding, puppet making, black light puppetry, filming on an iPad and video editing using iMovie software.
'No Worries' provided a fun, safe, non-judgemental space for individual's artistic expression and aimed to inspire others to become self-employed through technical creative.
The program was a success with 10 participants designing backdrops, learning puppet manipulation and filming various puppet skits.
The program facilitator said that collaborating with a diverse audience also allowed for expansion upon ideas of her own craft and taking innovative approaches to film elements such as backdrops, character development and sound effects.
---
This case study meets the following RAF criteria to a high degree: "develop audiences and broaden community engagement."
Mill Darby: Culture Business Conference
Date: 20 – 22 November
Location: Canberra, NSW
Mill Darby attended the conference Culture Business Canberra from 20 – 22 November, 2018 for her professional development as an Arts business professional operating in a regional location. She was also one of 25 people identified nationally as key development staff by Creative Partnerships, who subsidised her attendance at the event. The experience allowed her to attend funding master classes and hear from national and international Arts Fundraisers regarding trends for prospecting, cultivating and retaining sponsorship, and innovative revenue generation. Mill was able to gather critical information pertaining to her Arts business practice, as well as initiating and consolidating networks with Arts industry peers. Mill describes her experience at the conference:
"For two and a half days, the National Gallery of Australia's Gandel Hall was buzzing with expertise, debate and energy. We were inspired by Australian and international speakers, encouraged to go forward thriving. We shared, we laughed, and we disagreed. In the end, we left the Gallery filled with ideas and validation."
---
This case study meets the following RAF criteria to a high degree:"Professional Development opportunity."
Mirndiyan Gununa Aboriginal Corporation: Participation in PAAXII International Symposium, Brisbane and Port Vila
Mirndiyan Gununa Aboriginal Corporation received RAF funding to allow their Manager John Armstrong to attend the PAAXII International Symposium in Brisbane and Port Vila, Vanuatu. The aim of John's involvement was to strengthen opportunities and connections that can be shared among remote island artists and craftspeople. John's attendance at the symposiums allowed the establishment of an artist exchange program between Vanuatu painters and weavers and artists from Far North Queensland. Issues of post-colonial development are common to both artist groups, and the program aims to foster ongoing networks of support, collaboration and cultural resilience.
---
This case study meets the following RAF criteria to a high degree: "ongoing collaboration that has extended beyond the life of the RAF project."