Five days of art in paradise! Flying Arts facilitator Scott Maxwell was excited to share the traditional Javanese technique of batik with a group of local artists on the remote and stunning Thursday Island, thanks to the Torres Strait Regional Authority – Arts and Cultural program.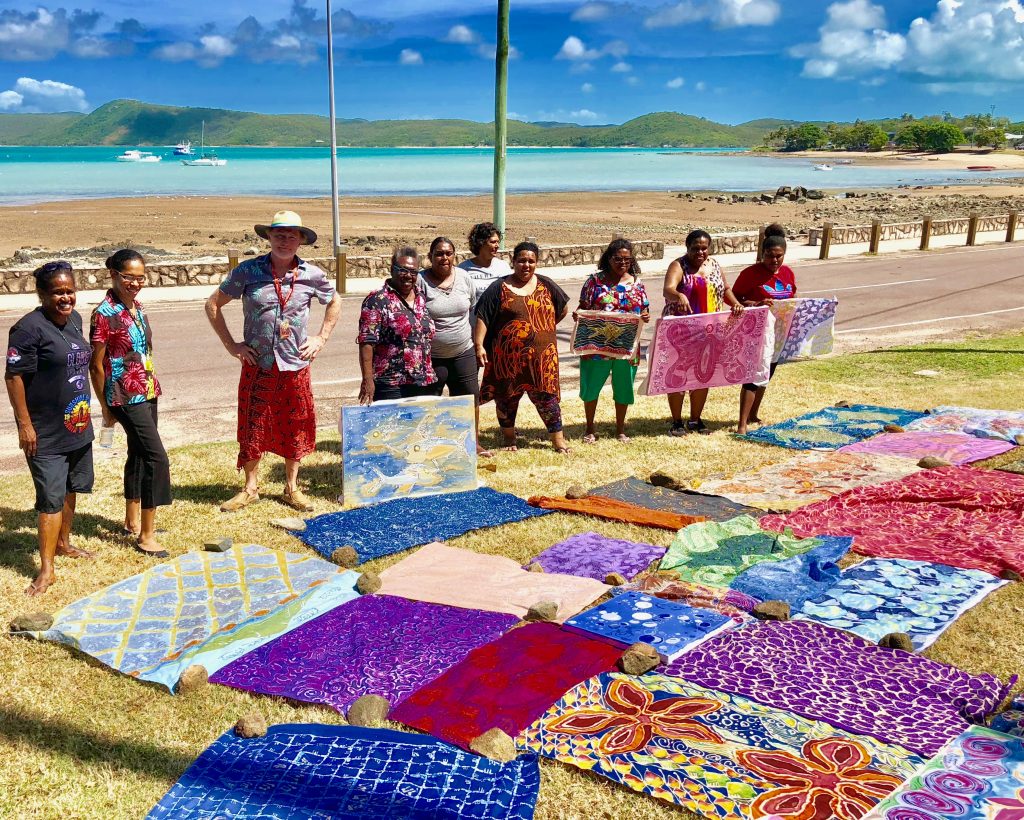 ---
"This was an extraordinary workshop experience," Scott enthused. "There was no attrition, and more people joined in as the days progressed. Participants came early and left late. Some actually took their work home for homework, keen for the next day." In teaching the technique, Scott encouraged participants not to be too hung up with detailed preliminary drawings (as the nature of batiking is much more fluid) and to go with the flow of the technique. The pen, pencil, brush or crayon is replaced by the tjanting with its own distinctive, spontaneously flowing style.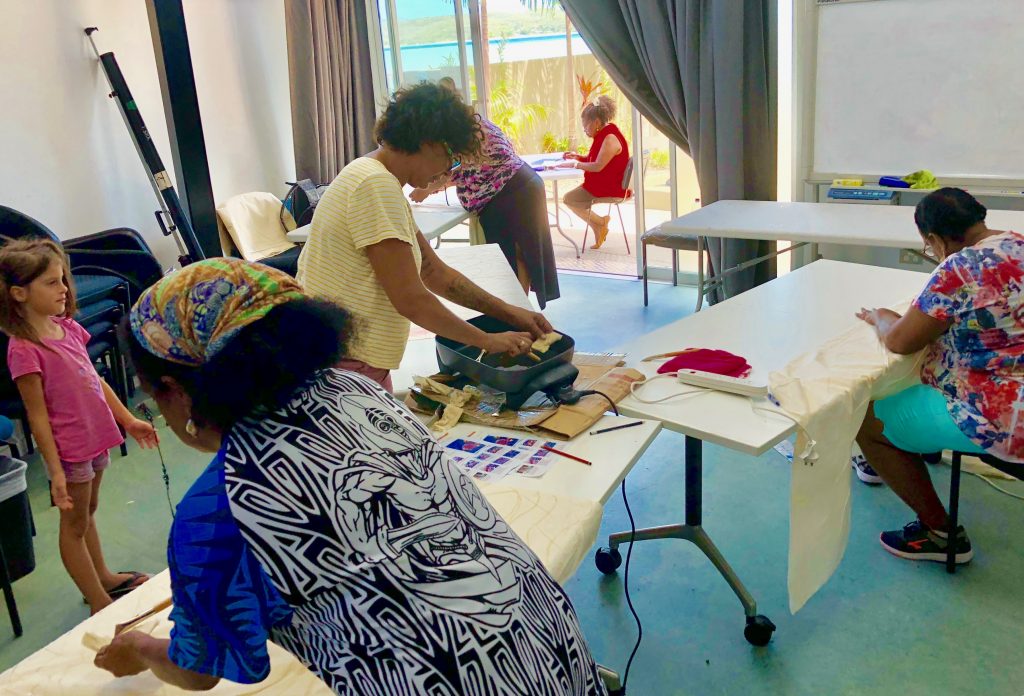 Sure enough, by the second day most students had abandoned the rigidness and constraints of the ubiquitous pencil and allowed the creative mind and dexterity of the hand to apply hot wax in fluid designs. Everybody seemed to be having fun with this new, uninhibited way to produce iconic artworks on fabric. The creative spirit was motivating – students even worked through their lunchtimes, eager to move onto the next step in the process. All the artists were very productive, and most finished with an average of four large artworks and possessing an intense desire to create more. At the end of the workshop, the participants were keen do more batik. Participant Ella from distant Erub Island, who exhibits in group exhibitions in Europe, was very taken with the technique: "I don't want to do any more paintings, linocuts or etchings, I just want to do batik from now on."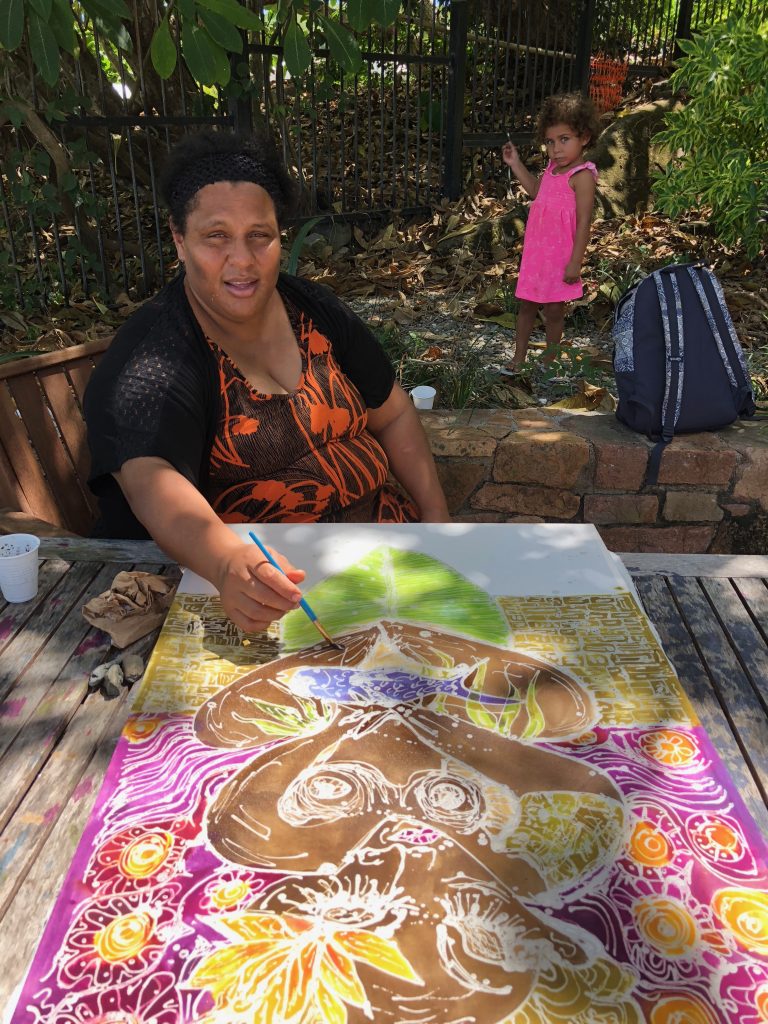 The workshop was attended by local artists from Thursday Island, plus the surrounding islands of Hammond and Badu and the far flung island of Erub as well as Bamaga on the mainland. Tina Baum, the curator from the National Gallery of Australia, also called in to see what the artists were doing. She later remarked to Scott that the participants' body of work is some of the very best fabric designs she had seen, and would be fitting to be hung in any significant public art gallery. Tina was up from Canberra for the week judging the National Indigenous Art Awards 2018 at the Gab Titui Cultural Centre. 
Emily, the host organiser, expressed interest in Scott returning to conduct a fortnight-long workshop in which the artists would work on five large pieces each, culminating in an official exhibition to be opened at the Gab Titui Cultural Centre and perhaps tour mainland galleries. "Without hesitation, my immediate response was "YES! WHEN?" Scott said.
Scott was also very pleased that participants from extremely remote areas would be able to take their new skills back to their communities – For Ella and JimmieJ of Erub Island to attend this workshop, a single flight costs $1,800 each. They are both eager to introduce the discipline of batiking to the other artists when they return to their community.
---
This workshop was booked as part of our By Request programs.
By Request programs are available on-demand, and can be booked on behalf of schools or creative communities such as groups, festivals, local government and organisations. By Request programs can be delivered by our Flying Arts Artist and Facilitator Team anywhere across Queensland.
---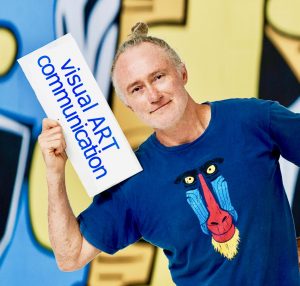 Scott Maxwell is Creative Director of ArkadianArt, a visual arts practice that has continually morphed, digressed & evolved over the past 5 decades, encompassing eclectic concepts in contemporary design & traditional processes. "I aim to foster a vital relationship between artist, viewer & artwork through creative processes that combine the visual arts and technology to communicate ideas… ideas that transcend mere words to attract, inform, educate, persuade and entertain disparate audiences. This can be achieved by controlling colour, form, texture, movement, symbols and images".   Having exhibited both nationally & internationally, Scott has won numerous awards in art, design, sculpture, community art and site specific place-making. He has also judged significant art competitions and is also immersed in non profit volunteer organisations. "I like to develop projects that aspire to positively influence the lives of culturally diverse people and give visual form to complex social dimensions. We can all contribute to the future of our visual culture."
---