Opportunities present themselves at unexpected times. Embracing them sometimes means stepping outside one's comfort zone. Some years ago I made a quiet disclosure to Flying Arts' CEO Kerryanne Farrer: I am a reluctant traveller. Layering a pandemic over the top of this reluctance was never going to help matters. I'm also old enough, however, to realise that you have to grab life with two hands if you are going to wring the juiciest bits out of it. Say 'yes' first, and worry about the mechanics later…
I was very excited to be informed by Paul Thompson (Operations Lead) several months ago, that the year-long tour of my exhibition Iterate | Elaborate was to be extended by 8 weeks, to be exhibited at the gallery at Nature's Powerhouse, Cooktown, courtesy of the Cook Shire Council. This would be the 6th and final leg of the tour. Further to this wonderful news, the Shire's Regional Arts Officer Waratah Nicholls, had also reached out to see if I would be able to make the trip up there to open the exhibition and run an artist's workshop in conjunction with it.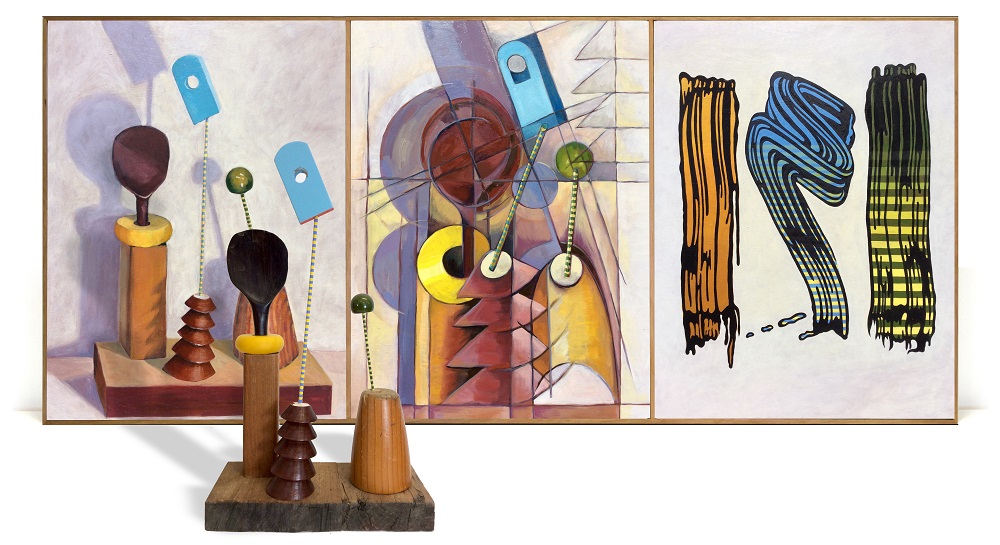 Having never travelled north of Shute Harbour (something I did nearly half a century ago) I was in theory 'up' for the adventure of making the journey to far north QLD. Even so, I was just a little hesitant about travelling anywhere during this interminable pandemic, but reason assured me that as a triple vaccinated person travelling to Regional QLD, prior to our state borders being opened up, I was unlikely to encounter any risk of catching Covid. It was more likely I'd be caught by a crocodile, than the Covid virus!!! (I'm very pleased to report that I encountered neither of those scary 'C' threats on my adventure!)
My husband and number one studio assistant Bob, didn't take much convincing to accompany me on the trip north. My itinerary was duly organised by a revolving group of very nimble 'By Request' officers at Flying Arts. That position was in flux at the time, with Madeline Brewer who had started organising the trip, shifting to a new role, and Patricia Miller (usually the Membership officer) caretaking until Madeline's replacement Leigh Lynam was on board and up and running. Thanks to the new administration software, these three diligent Flying Arts officers managed to get me up and back to Cooktown, via Cairns, a vehicle hired, and accommodation sorted – all without any hiccups.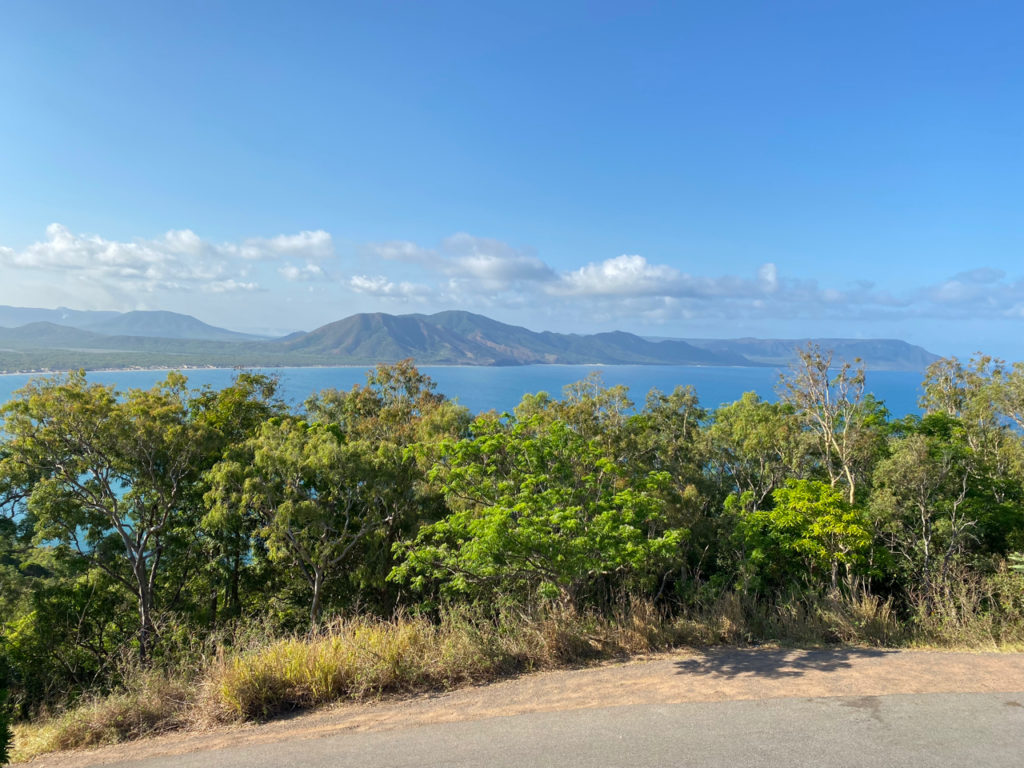 After a night in Cairns and having visited Brian Robinson's magnificent sculpture 'Reef Guardian' (Citizens Gateway to the Great Barrier Reef) down the boardwalk from the hotel, we set off on the trip to Cooktown in our hire-car, using the highway via Kuranda – the 'inland' route north.
Informed by my current work-in-progress, a complex triptych about the plight of the Richmond Birdwing Butterfly, a stop at the Kuranda Butterfly Sanctuary was an absolute 'must'. The opportunity to visit the sanctuary was just one of the incredible side-benefits of being asked to make the trip to Cooktown. There, I was incandescent with excitement to have a close encounter with the Cairns Birdwing Butterfly, an almost identical subspecies to the Richmond Birdwing. The male Birdwing butterflies are huge and beautiful, with iridescent green and black top wings; green, yellow and turquoise underwings and a spot of impossibly bright red on their thorax. (Great subject matter for a painting!) I also had a meaningful conversation with one of the lab technicians at the sanctuary, as she was transferring the birdwing caterpillars to their pupation house. I learnt a lot of valuable information during that conversation, which of course was only possible because I was there, in situ, while she was doing her work.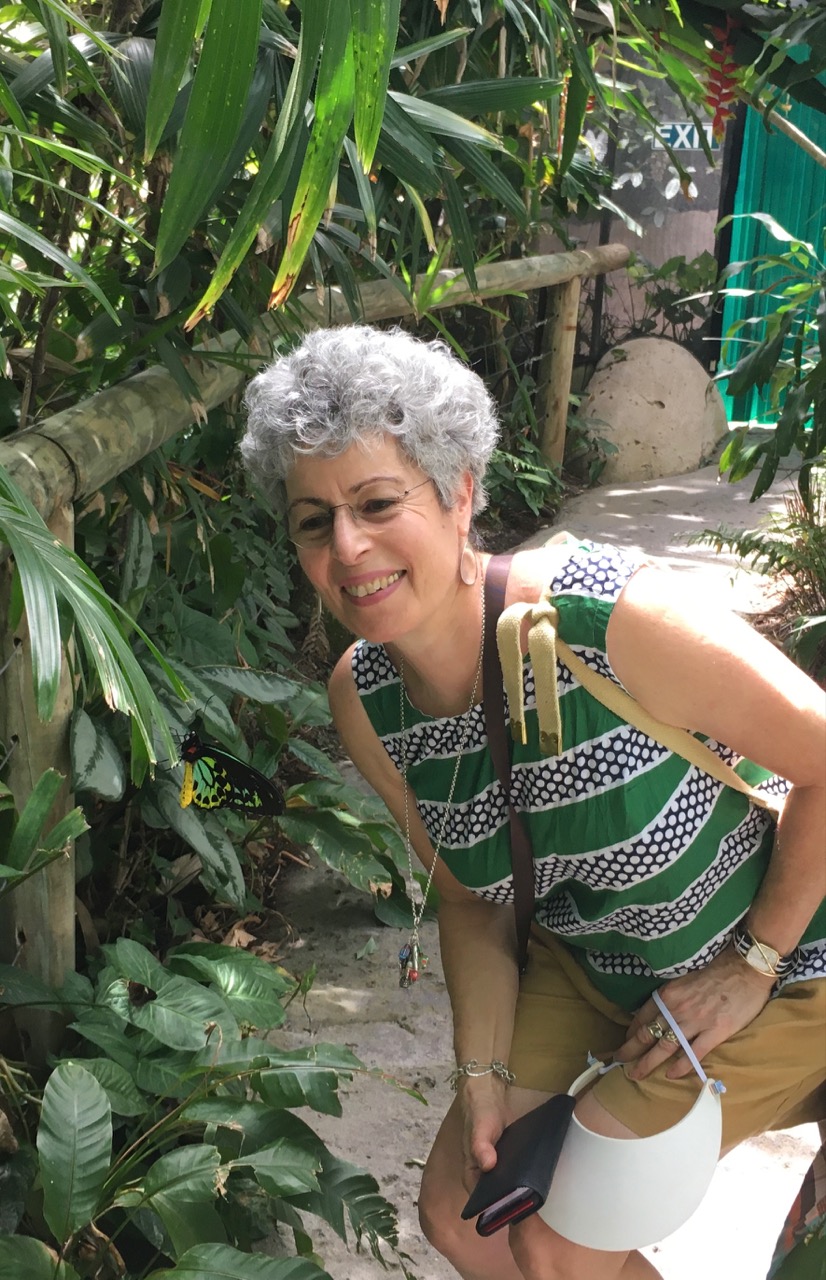 We arrived late on Friday afternoon in Cooktown, after a long drive, and were amazed to discover when having dinner at the local RSL that the place was absolutely crammed with people and a live band was playing. So much for the far north being sleepy… It transpired that our visit to Cooktown had coincided with the Sovereign Resort Cooktown Annual Barramundi Fishing Competition! There were 700 people in the area, all there to catch the biggest barra! Though the RSL was absolutely buzzing that night, we encountered barely any competitors that weekend – they were all out on their boats, in top-secret locations, quietly fishing.
On Saturday morning, after a scrumptious breakfast at the Driftwood Cafe, I joined a group of enthusiastic participants to facilitate a sculpture workshop. I'd been somewhat limited in the materials that I was able to bring up on the plane, but no matter, Waratah and the participants came in bearing scrap timber pieces, old timber toy components, random found objects and a suite of workshop tools, paint and other necessities.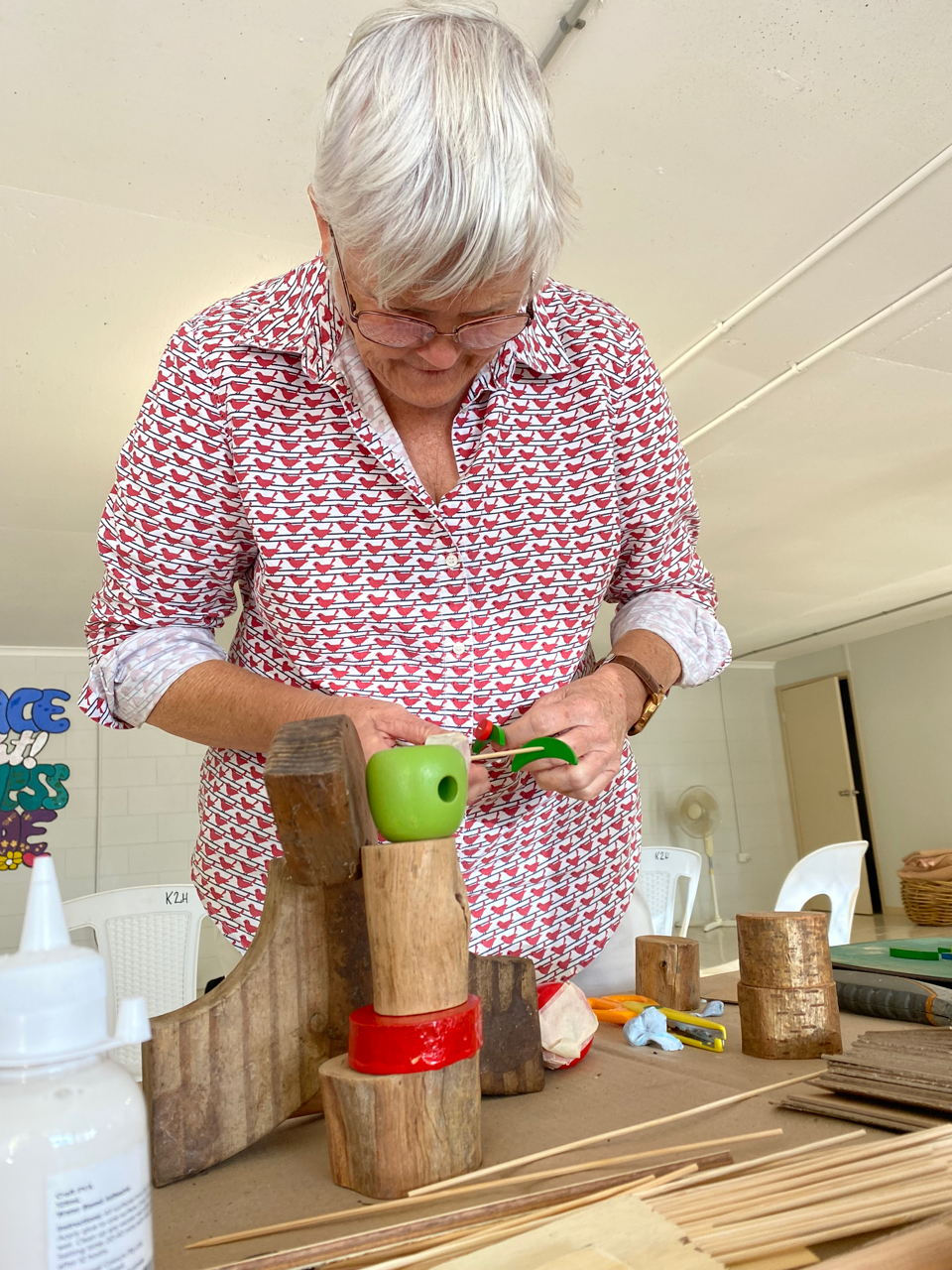 The portable projector was set up and I gave an artist's talk, accompanied by a PowerPoint. Without any further delay, the real work then began with participants selecting and organising components to construct aesthetically pleasing and physically stable assemblages. A lot of problem-solving was undertaken in the achievement of both of these goals. One great advantage of the very hot climate in FNQ was the high speed drying of the painted components, before they were dowelled and glued together. By the end of a busy 4 hour workshop, everybody was able to take a construction home with them, albeit, some of which needed to be left overnight for glued joins to fully dry.
After a short break and with some additional people in attendance, we re-convened later that afternoon at Nature's Powerhouse, the venue for the exhibition and the opening event. The gallery is located in the beautiful Cooktown Botanic Gardens, adjoining the café.
I was very impressed with the installation of the show, which had been thoughtfully considered in order to display the works to their best effect. Cooktown Shire Mayor, Cr Peter Scott and Regional Arts Officer, Waratah Nicholls officiated at the opening event and I also gave a brief talk about the works. Cr Scott is an extremely enthusiastic supporter of the arts, pointing out that the Council's plan is to stage three or four such events in the shire calendar, each year. He is convinced of the value to the Cooktown community in bringing quality exhibitions to the region, in order to offer engagement to local residents and visitors as well as professional development opportunities for local artists who might not otherwise get an opportunity to see the work of artists from further afield.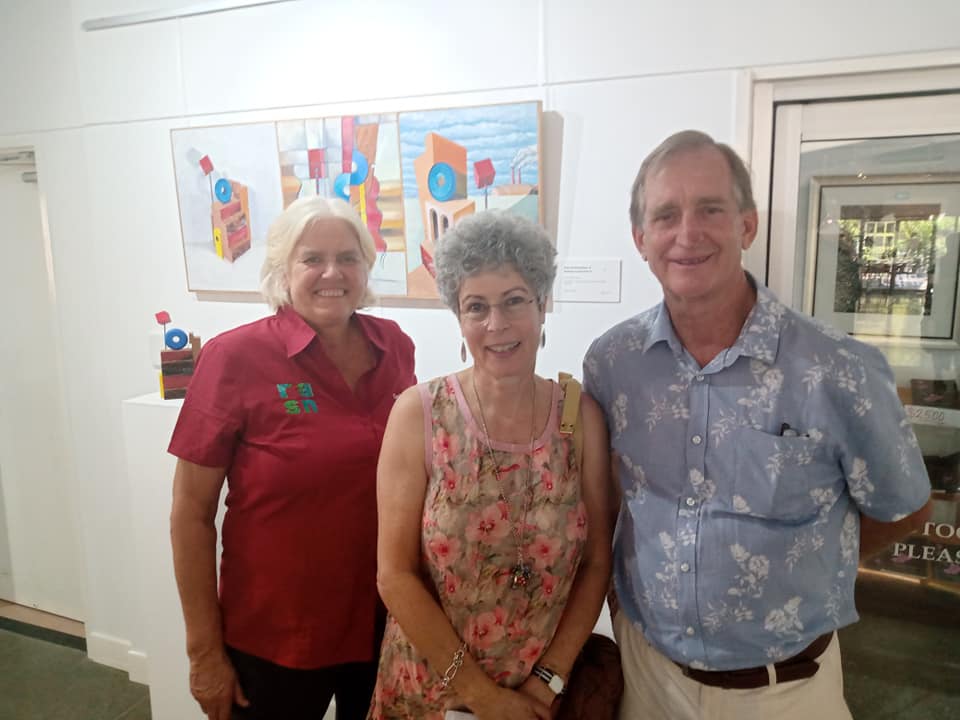 Refreshments and many conversations later, it was time to head back to the hotel. The next morning, after a third trip up to the lookout above Cooktown to take in the spectacular, 360 degree views in the morning light, we returned to Cairns via Port Douglas and Palm Cove, enjoying even more world-class coastal views along the way. It was all quite stunning.

Before returning to Brisbane, I managed to fit in a visit to the Cairns Art Gallery which featured three absolutely marvellous exhibitions, as well as the Cairns Botanic gardens where everything grows ten times bigger than you've ever seen and plants bloom in strange, alien shapes and colours. If I'd never taken on this adventure, I'd never have seen these beautiful and diverse art works, I'd never have seen those butterflies, giant plants, exotic flowers. Neither would those incredible views now be burnt into my retinal memories.
As a serendipitous footnote to my Cooktown adventure, while I was busy on my last day in Cairns at NorthSite Contemporary Arts buying a pair of beautiful Brian Robinson lino prints, Brian was in Cooktown visiting my exhibition! How GREAT is that? And so the world turns…
So many thanks to the Flying Arts Alliance, now 50 years old and still going strong, for creating a multitude of valuable opportunities for artists and communities throughout the entire state of Queensland. (Distance, no barrier.) In particular, I'm deeply indebted to Flying Arts for facilitating the tour of my solo exhibition 'Iterate | Elaborate'. This tour has brought large, new audiences to my work, enhancing my professional profile and providing me with direct opportunities for career development. I'm absolutely delighted to be a small working cog in a very important vehicle for the Arts, that of the Flying Arts.
Iterate | Elaborate is on show at Nature's Powerhouse, Cooktown until 6 December 2021. The exhibition toured as part of Flying Arts' exhibition program from 2020 – 2021.
---
About Leigh Schoenheimer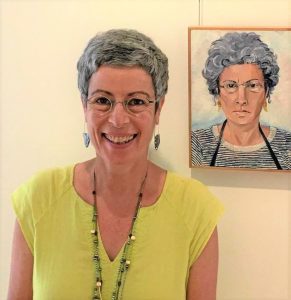 Leigh Schoenheimer is a multi-disciplinary, contemporary artist and former long-term art educator based in Brisbane, Australia. A painter and sculptor/object maker, her work investigates notions of perception and meaning. Informed by a desire to demonstrate the alternative logic of abstract and conceptual approaches to a wider audience, Schoenheimer's colourful and often whimsical work references the imagery and styles of the many 20th century artists who re-wrote the rulebook on image making.
Schoenheimer's work has been short listed in an impressive number of national art prizes for both painting and sculpture. Schoenheimer is one of several Queensland artists selected to feature as a case study in Creative Inquiry – a senior, visual arts textbook published in 2018 by Cambridge University Press.
You can follow Leigh on Instagram: @leighschoenheimer