Our two Artists in Residence, Fiona Quin and Cathy Condon were recently hosted through The World Theatre to facilitate workshops with young people in their community.
Columba College, All Souls High School, All Souls School – junior, Blackheath & Thornburgh College – junior school, Charters Towers State High School, Charters Towers Central State School, Millchester, Richmond Hill and Columba College – junior all had students participate in these workshops. These works were then on exhibition at The World Theatre alongside the Queensland Regional Art Awards.
Fiona Quin introduced the students to the 'This is Me' workshop, which allows the participants to visually explore who they are.   This workshop uses collage skills, symbolism, literacy, and visual literacy techniques to display their past, present, and future selves. 
Starting with a self-portrait silhouette on paper and through images, words, and drawings, participants create their own visual world.  The workshop develops participant's self-awareness, higher-order thinking, creativity, design, art, and literacy skills. 
'Building Connections' was the creative process that Cathy Condon took the students on. Allowing participants to build connection between students and peers through experiential art practices. Based on art therapy principles, with a hands-on approach, this workshop is fun and provides a safe forum for exploration and growth through creativity for both child and adult. Conversation is encouraged amongst participants to unpack ideas about making and discuss knowledge or feelings they have about art.
---
About the Artists
Fiona Quin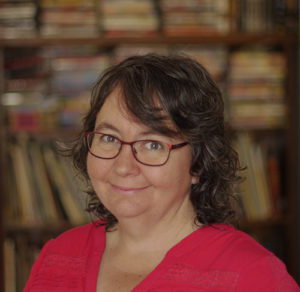 North Queensland based artist and teacher, Fiona Quin, turns the ordinary into the extraordinary.
Fiona creates unique art experiences using a variety of mediums and technologies, including digital art, interactive sculpture, collage, and multimedia story chairs.
Originally a computer programmer, she blends her creative and technical skills to make art that connects with our senses and emotions. Fiona enjoys creating, teaching, and sharing her love of art and storytelling with everyone.
Cathy Condon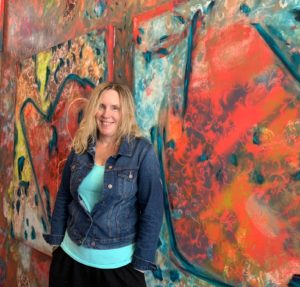 Artist, Art Therapist, Curator, Arts Manager
Cathy Condon works as a practicing visual artist, curator and is equipped with extensive arts management both in Australia and internationally.
Cathy has over 20 years' experience working with individuals and groups in professional practice, particularly in the disability sector. She has worked as an art therapist and a facilitator with groups and individuals with visual art in primary and high schools, community centres, hospitals, aged care facilities and corporate organisations.
Cathy founded and delivered the successful Life Art Worldwide Expo and subsequent Brisbane Art Prize from 2012 –2017 in South East Queensland.
Cathy has been based in Australia most of her life, however, she has lived in Europe and Asia and in 2018, she was awarded an artist residency at renowned Mana Contemporary in Jersey City, USA. Cathy fell in love with New York and lived there up until Covid19 forced a return to her hometown of Gympie in April 2020. In New York, Cathy worked as a gallery director and curator to a fashion designer and maintained her own artistic practice, painting and exhibiting.
Cathy's paintings imbue a dream like quality that is charged with emotion. Her painting processes are intuitive and draw on themes of mythology, history, personal relationships and life experiences. Cathy's artwork is bold, full of colour and reflective of her everyday life experiences, symbolized through landscape and nature and figures. With a nod to ukiyo-e, Japanese Woodblock Prints.
These paintings are affected by a lack of perspective and shadow, flat areas of strong colour, and compositional freedom. The outer edges of her work are cadenced with exactitude and nuance allowing the spectator to enter the picture plane through multiple viewpoints.
As an artist, life informs my practice at every moment, therefore, work and life are inextricably intertwined, so I am not sure if I work to live or live to work as an artist.