Professional development kicks into top-gear!
Can you believe it's February already? We've already presented our first webinar of 2018 (the video should be up soon, if you missed it). We've also received dozens of expressions of interest for our upcoming members exhibitions! We've been absolutely blown away with the quality of submissions, and are looking forward to reviewing them over the coming week.
February sees our Scheduled Program really ramp up, with a plethora of opportunities for artists, young artists and educators. Bookings are open!
Of particular note is our Where to Next…? program, presented in partnership with the National Association for the Visual Arts. Mid-career artists will have the opportunity to solidify their goals and map out their career direction to help overcome that 'mid-career hump'. Applications close February 16.
For those just starting out, our Setting Up Your Arts Business workshop will set you on the right path for professionalising your practice this year.
Educators aren't left out either. Check out our professional development opportunities below. And don't forget to register for our brand new Artiz for Educators intensive at The Edge, State Library of Queensland! If you've ever wanted to get some expert guidance on the latest and greatest in arts, science and tech, this one is for you.
Applications for the Small Schools Fund close February 28.
 Schools with 50 students or less may be able to work with a Flying Arts artist to plan and deliver a visual arts workshop or residency in their school with facilitator fees, travel and accommodation costs covered by the fund. We strongly encourage all small schools to apply!
---
Welcome to the team!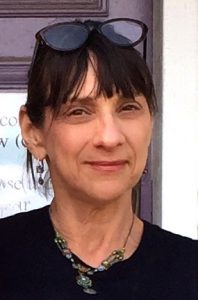 We are delighted to welcome Karen Plitt to the Flying Arts team as our new Development Lead!
Karen Plitt is a native New Yorker with over 20 years of fundraising experience for charitable causes, including documentary film education and opportunities for inner city kids, social services for vulnerable families and children, post 9/11 Lower Manhattan focused community programs,  and community mental health services.
Karen has a Bachelor of Arts with a major in cultural anthropology. In another life, she would have become a vulcanologist! 
Karen moved to Brisbane ten years ago with her Australian partner and son and is still getting used to the huntsman spiders that frequently surprise her – usually in the middle of the night. Personal passions include music, art and fitness.
Karen looks forward to growing funding streams and opportunities for Flying Arts to ensure arts programs and pursuits are accessible to all!  Please contact her if you'd like to learn more or want to get involved!
---
For Schools
---
For Artists & Artsworkers
---
For Young Artists
---
For Teachers & Educators
---
Exhibitions
---
Book a By Request Workshop
Flying Arts offers a range of By Request programs for Schools and for Creative Communities such as groups, festivals, local government and organisations. By Request workshops and projects can be delivered on-demand for all age groups and skill levels, anywhere in Queensland or online.
---
Become a Flying Arts Member
Standard Membership is available to individuals, groups or corporates. It comes with a full range of benefits including rebate vouchers, discount vouchers, and ability to submit members news.
Accredited membership confers all benefits of standard membership in addition to providing coverage under the Flying Arts General Liability and Personal Accident insurance package.