Mary Barron is the Flying Arts Artist taking part in the Sam Rit Residency and Cultural Exchange. Here she talks about how the third workshop went in this rural Thai community.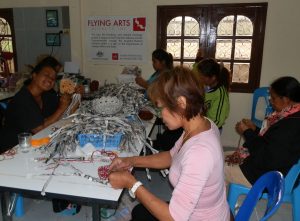 The third workshop of the Sam Rit Residency in Thailand started with great excitement as participants presented the pieces they'd finished since last time. They really are a talented group.
In this workshop we continued coiling with newspaper, with participants learning a more advanced technique. As with the first workshop, the morning was spent in preparing the paper strips. I noticed one of the participants folding and scrunching multiple strips at once. It made the preparation so much quicker! It was such a simple but great idea – I so should have thought of it before. I started doing this as well and others in the group soon noticed. We were all soon doing it that way.
I told them the woman who showed the technique was the teacher. No one in the morning group spoke English and I had no interpreter but they must have known the English word teacher, as they really enjoyed this. When On arrived at lunch they told her about the new teacher.
When you teach you learn so much. Others see what you do with new eyes and bring their own ideas and fresh perspective to it.
After lunch workshop participants started their multiple coil base baskets. It is a slow process and quite tricky to do, but everyone managed to make a base with either three or five coils. They eagerly took home thread and paper, keen to keep working on the baskets before the next workshop.
It was after 5:30pm before everyone left. Unfortunately I was unable to get photographs of what they had done during the workshop, because I was busy helping someone pack up. I am sure there will be more exciting pieces to see before the next workshop.

In January and February 2016, Queensland's Flying Arts Alliance is undertaking a cultural exchange and artist residency in Sam Rit Region in North Eastern Thailand, supported by the Australia Government through the former Australia-Thailand Institute, now merged into the Australia-ASEAN Council, and part of the Department of Foreign Affairs and Trade.