Mary Barron is the Flying Arts Artist taking part in the Sam Rit Residency and Cultural Exchange. This time around she taught some more woven designs, using demonstrations and photos to help overcome the language barrier.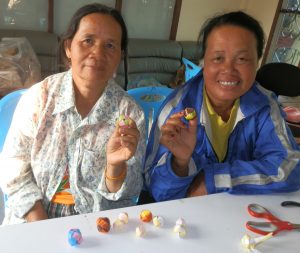 Several ladies brought in lovely baskets and a pot that had been completed at home after previous workshops. We dipped the coiled newspaper ones in Shellac. 
The workshop today was with two participants. Neither of them spoke English.  I taught them how to make a hexagon plait basket & woven balls.
It was a bit challenging without a common language, and with the design being quite a complicated technique for novices, but we got there. The balls are also quite tricky to learn. Luckily I had photographed the stages of making both and had them on my laptop. Showing the pictures and providing a demonstration meant that they understood quite well though.
They persevered through the difficulties and were all the prouder of their achievements for having done so.

In January and February 2016, Queensland's Flying Arts Alliance is undertaking a cultural exchange and artist residency in Sam Rit Region in North Eastern Thailand, supported by the Australia Government through the former Australia-Thailand Institute, now merged into the Australia-ASEAN Council, and part of the Department of Foreign Affairs and Trade.