Jan Ward is really encouraged to be included in the Flying Arts Featured Artist program. She feels it is always wonderful to have to opportunity to gain exposure to new audiences and receive feedback about her artwork.
"As a natural progression from some fish assemblages I had produced for a recent Fijian / Mackay artistic collaboration, I was interested to make more sculptural forms using similar materials. The plinth display dimensions married perfectly with the pieces. My challenge was to design and make packaging for these fragile artworks that would survive the 1000 km journey to Brisbane!
"I am having a focus on developing my printmaking skills this year. Mackay has a small but enthusiastic printmaking gouger "printbank Mackay" of which I have been a member for 6 years. I was fortunate toreceive a RADF grant to assist me to attend a multi-plate etching workshop at the APW in Melbourne during July. I plan to practice and explore the techniques learned to integrate with my art style. I am currently enjoying being the tutor at Artspace Regional Gallery for the Term 3 Kids Art Club. I am a participating member of a weekly life drawing group.
"I am looking forward to being part of a group exhibition later this year at Milton House Gallery in Mackay. I am working on a piece to submit to the National Libris Awards held at Artspace Mackay Regional Gallery next year. I have been fortunate to be a finalist on two other occasions."
Jan's work will be on display at the Judith Wright Centre from 30 August  – 22 November 2019 as part of the Seasonal Sittings of Tiny Art – Spring.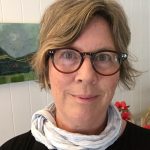 Jan Ward describes her work as mostly landscape based as "nature shows up some amazing lessons." Jan likes to choose different mediums to describe different subjects, embracing imperfections, experiments, simplicity, abstraction and intuition. She seek to represent her own interpretation of the subject, not to replicate it. Her home in Mackay, not far from Town Beach, is a large inspiration for her work. She is particularly congizent of the difference between the rhythmic low and high tides, as she uses the environmental changes to inform her work.