North Queensland artist Peta Lloyd hopes to gain further exposure for her work as part of this exhibition: "It's a wonderful feeling of accomplishment to have work accepted into an exhibition space outside of my own regional area."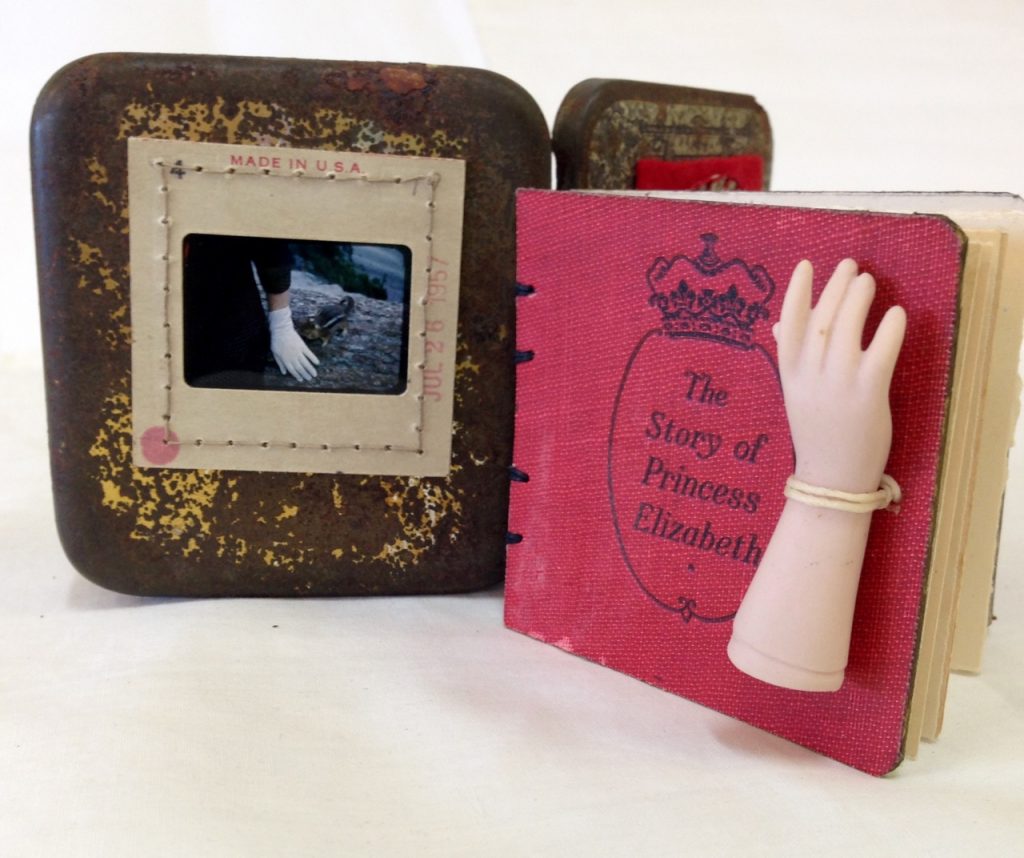 Choosing the works to submit for entry into the Judy Exhibition space was a time of reflection for Peta. "The first decision I made was to choose four works from a series of ten called the 'Time Travellers' series.  These assemblages use vintage photographs and found objects housed within balsawood cigar boxes.  The small size made them ideal for submission to the Judy space.  The Time Travellers series has previously been exhibited in a handful of artist run and regional galleries within Central Queensland during 2016 and 2017.  It's a thrill to know they will now be shown beyond my own 'backyard' so to speak!"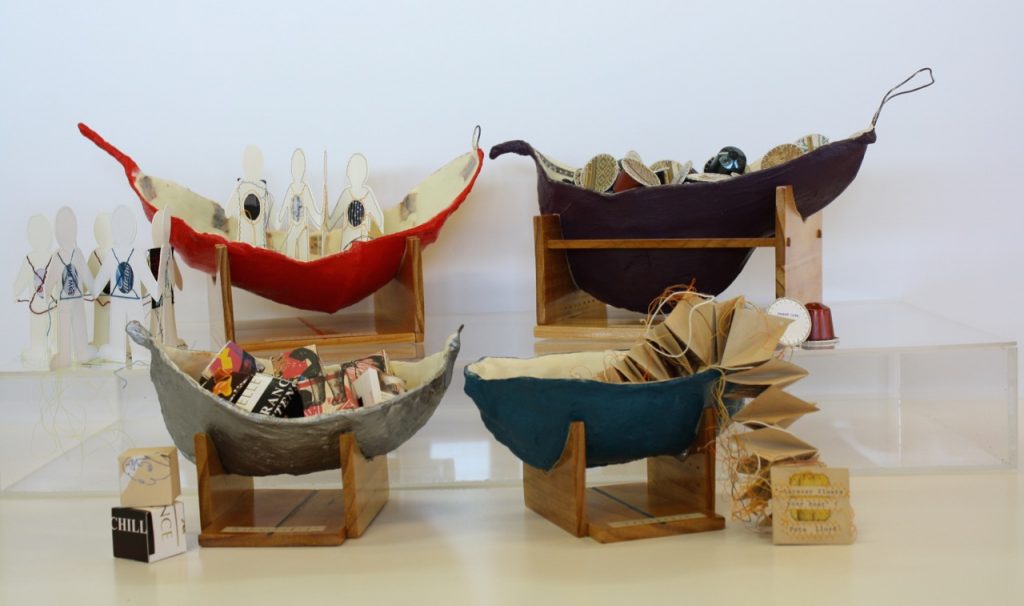 Peta hit the ground running this year with a very busy first five months – she has just completed a series of textile works for the exhibition ReCollection, which is currently on show in the Walter Reid Cultural Centre in Rockhampton.  Four other printmakers make up the ReCollection group of artists. ReCollection will also be shown at the Rockhampton Art Gallery during July and August of this year.  During March and April Peta participated in the Rockhampton Art Gallery's 'Collection Intervention' – six local artists were given the opportunity to select and curate works from a set list of the gallery's Australian artists collection and to insert up to two of their own works within those selected.  Each artist was responsible for curating one wall within the gallery, and to have a public 'conversation' with the gallery Director/Curator about their selection.  This challenging yet rewarding experience gave Peta fresh ideas and fresh eyes to explore artworks that she says she would normally have given only a cursory glance.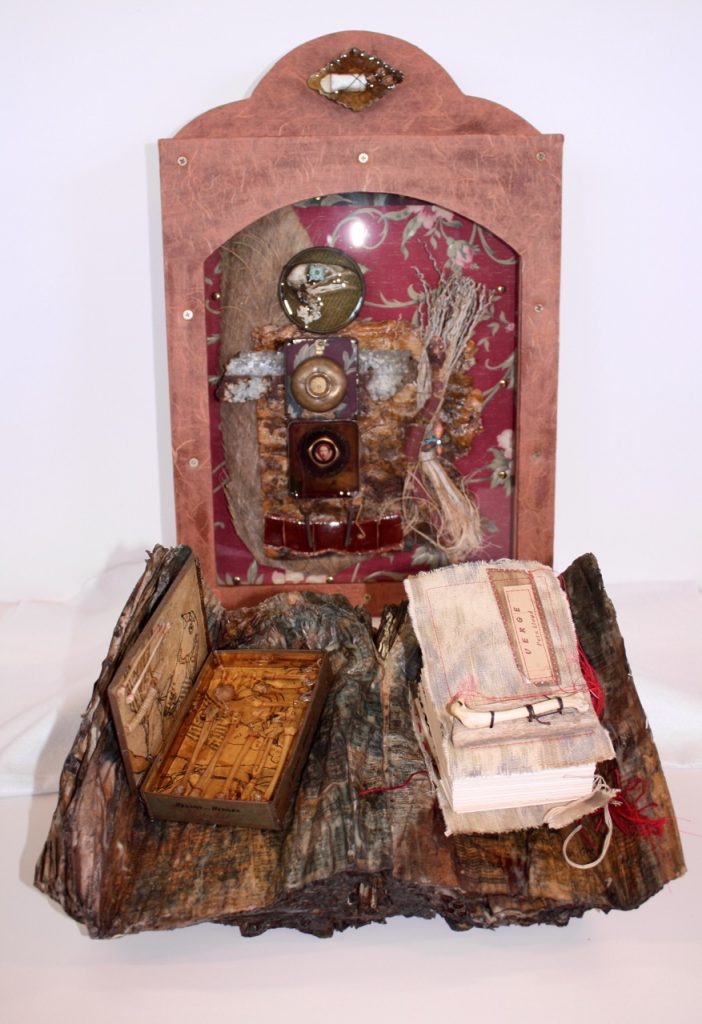 Peta is currently undertaking an eight month long 'digital reader' master class with Belgian textile artist Jette Clover. "I'm really enjoying the practical aspect of this class as well as the research component," said Peta, "It's a great opportunity to be experimental and to push my arts practice."  During the last week of April, Peta taught a three day collage and small book forms workshop with Jette Clover in Perth W.A. This provided a great opportunity for her to gain a unique experience in team teaching alongside an international artist and tutor.  Following the master class with Jette Clover, Peta will be exhibiting alongside several other master class artists at the Timeless Textiles Gallery in Newcastle between the 9th and 21st of October 2018. She will also be taking part in the Capricornia Printmakers 7th annual exhibition in Rockhampton.   Another highlight will be teaching a workshop; 'Adventuring into Artist's Books – Structures and Surfaces' at the five day Geelong Fibre Forum event organised by TAFTA Inc, from the 1st to 5th October.
Peta Lloyd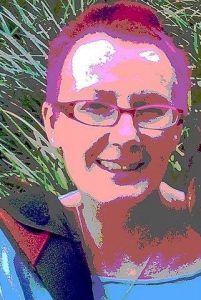 , (Coowonga, near Rockhampton) is a visual artist who incorporates printmaking, assemblage, encaustic and collage, into her shrines, artist books, assemblages, box diaries and wall narratives. Peta describes herself as a Bricoleur, creating artworks from a diverse range of treasures. Incorporating old and new materials, Peta recycles, remakes, reuses, restores and re-stories as part of her creative process. Born in Mildura, Victoria Peta grew up in the Melbourne suburbs of Heidelberg and Glen Waverley, moving to Central Victoria in the 1980s. Peta has resided in Central Queensland since 1990. Peta inspires others to unleash their creativity, through teaching printmaking techniques, book arts, assemblage and encaustic art, locally, interstate and internationally. Her artworks are held in collections of the State Library Qld, Mackay Regional Gallery, Central Queensland University and Rockhampton Art Gallery. Peta enjoys coordinating international and national collaborations of altered books, artists' books and postcards. Peta exhibits her works throughout Australia.