When Cairns artist and artsworker Jaivan Bowen travelled to Brisbane for a professional development opportunity installing State of Diversity: the touring exhibition of the 2019 Queensland Regional Art Awards, he certainly didn't expect to encounter any of his family members…
A Surprise Meeting
The chance encounter occurred when the exhibition install team were hanging the winning artwork of the Remote Artist Award — an intricate screen print on linen— and Jaivan recognised it as the work of his grandmother, Madge Bowen.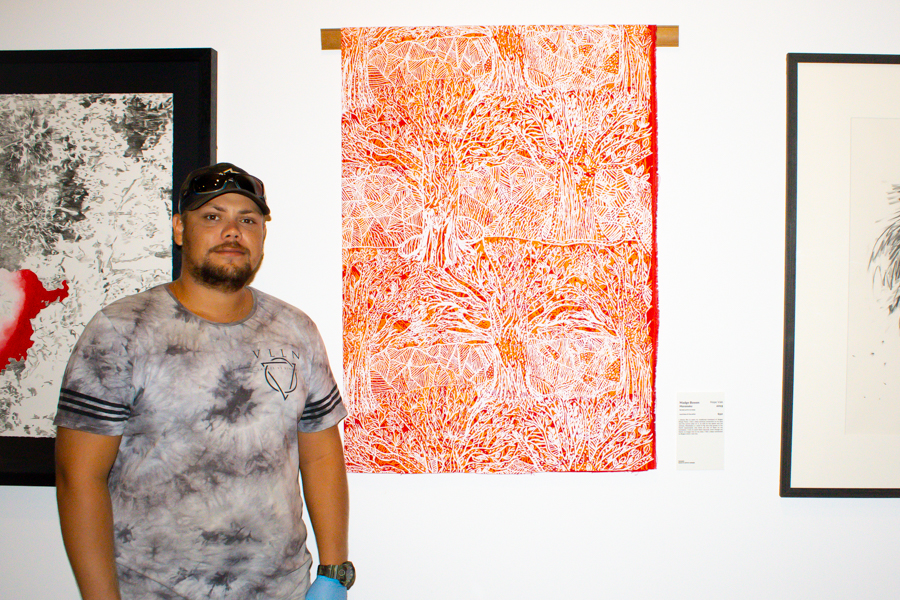 Madge Bowen, described as the matriarch of the "creative" side of Jaivan's family, is a member of the renowned Gamba Gamba arts group from the Hope Vale Arts and Culture Centre. The all-female group are grandmothers and great-grandmothers to over 100 children in the Hope Vale community and are recognised for their distinctive bold contemporary style.
The Gamba Gamba artists hold deep cultural knowledge of kinship systems, sacred rites, esoteric characters and totems of Guugu Yimmithirr Warra culture, and are passionate about preserving this knowledge through art for younger generations.*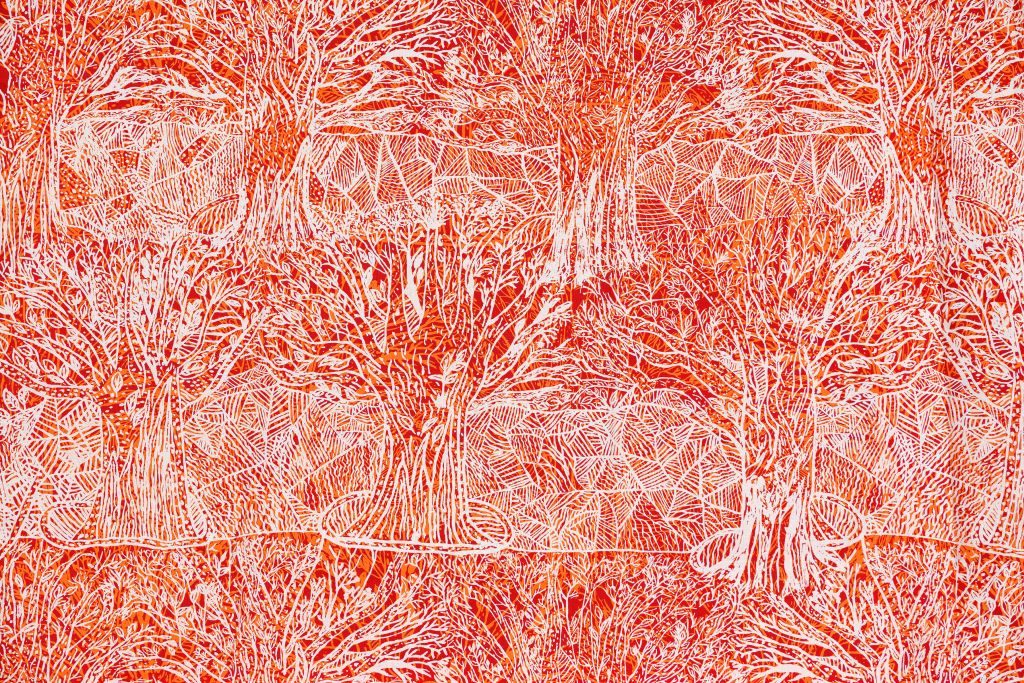 Jaivan said it was a great surprise to see Madge's artwork as he didn't know that she had entered the awards, let alone won a prize.
"I didn't know that I'd be seeing Nana's work in the exhibition. It's really cool, especially because she's here with Wanda [Gibson] and Grace [Rosendale]," Jaivan said, referring to the two other exhibiting artists from the Gamba Gamba arts group.
Jaivan describes his own art practice as reflective of the art in the Lockhart River region where he grew up, except with a greater focus on natural landscapes and wildlife.
Welcoming Jaivan to Brisbane
Flying Arts Exhibition Lead Lisa Beilby first met Jaivan in 2019 when she visited Yarrabah in Far North Queensland to install the touring exhibition Jabu Birriny (Land + Sea). Jaivan was working with Yarrabah Art and Cultural Precinct to install major exhibitions and Lisa was eager to involve him in subsequent Flying Arts events.
Jaivan was offered a professional development opportunity to travel to Brisbane install the metropolitan preview of State of Diversity. During his time he worked alongside All City Arts Services to prepare the exhibition. 
Holding Redlich is generously supporting the Queensland Regional Art Awards as an Award sponsor and Exhibition Touring Partner, allowing Flying Arts to provide installation support in each tour location.
*Hope Vale Arts and Culture Centre, see: https://www.hopevaleart.org.au/madge-bowen
---
State of Diversity exhibition is on display at QCA's POP Gallery at 381 Brunswick St, Fortitude Valley weekdays until 6 March 2020. 
A number of public programs will accompany this exhibition through our Brisbane Hotspot, including a workshop, artist consultations and multiple creative site activations by Queensland Regional Art Awards artists. Please view our Brisbane Hotspot for all events on offer during the exhibition period.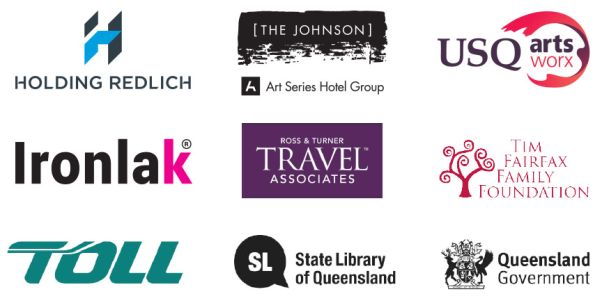 Flying Arts Alliance gratefully acknowledges The Booth Memorial Fund of Annie Tan (Yuh Siew), the Geoff Booth Foundation, David Crombie, Janet de Boer, private donors and the government, philanthropic and corporate supporters and Award sponsors who help make the Queensland Regional Art Awards possible.