We have a lot to celebrate!
Christmas has definitely arrived at the Flying Arts office. There are even presents under the tree! In the spirit of giving, we are donating a host of supplies to our friends at Art from the Margins, to assist with their art classes.
After a very full year, we're just three weeks away from our annual closure period for some well-deserved holidays.
The Flying Arts office will be closed December 22 – January 8.
Although the year is winding to a close, things are still buzzing away here behind the scenes. We're hard at work preparing the program for 2018, taking By Request bookings, processing insurance applications, preparing the touring exhibition of Iconic Queensland for the road, and much more.
A number of exhibitions are also still available to see throughout December. Check out Beautiful One Day, Fruit Salad The Next at the Judy before it closes on December 15, or see Grounded in Atherton all month.
We are on the look two superstars to join our team in 2018. Applications for By Request Program Lead and Development Lead close Monday 11 December, so do apply if you think you fit the bill!
Will you be taking some time off over Christmas and New Years? What artistic things do you have planned for the holidays? Let us know – post what you're getting up to on our Facebook!
Positions Available at Flying Arts
By Request Program Lead
The By Request Program Lead effectively and efficiently fills requests from a diverse range of clients/customers and coordinates a wide variety of visual arts workshops, professional development and projects into schools and creative communities in metropolitan, rural, remote and regional Queensland.
Development Lead
The Development Lead will support the Executive Officer to diversify income streams, with a strong focus on attracting income from philanthropic trusts and foundations, corporate partnerships, individual donors and community giving.
Applications are due 12pm (AEST), Monday 11 December.
By Request Highlight – Regional Artists Draw with Determination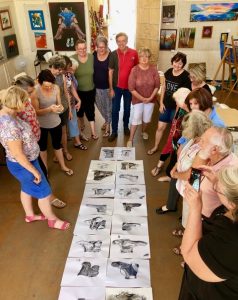 Flying Arts Artist, Scott Maxwell, recently visited Charters Towers to deliver drawing workshops for 7 days straight! Working with artists ranging from 10 months old to 83 years young, across a range of skill-levels, Scott had everyone engaged and experimenting all week.
The spontaneity of the classes changed daily – it included a field trip into the rock scape in twilight hours, a life model, detailing several inanimate objects, having another group coming in and 'documenting our creative spaces' and a meeting with the Mayor at an art exhibition opening that culminated into a class concept design for four new street roundabouts being constructed in town.
Beautiful One Day, Fruit Salad The Next! Opening Festivities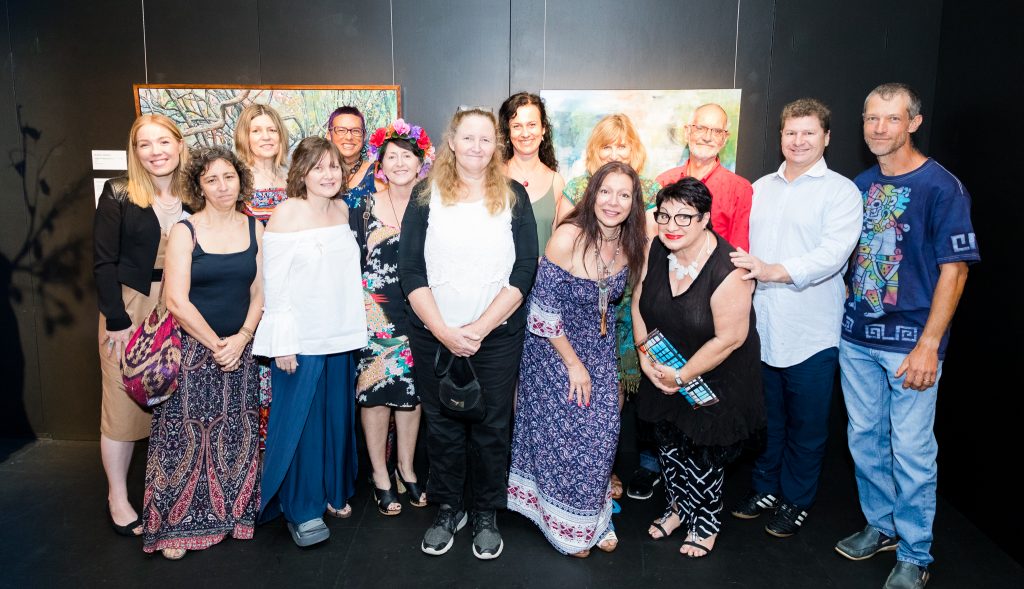 In November we celebrated the opening of Beautiful One Day, Fruit Salad The Next, an exhibition of works from past participants of the Flying Arts Exhibition Development Program. While completing the program, they discovered that there were some interesting connections between their works.
See photos from the opening and read speeches by Kerryanne Farrer, Executive Officer of Flying Arts; John Armstrong, exhibition curator; and Chrys Zantiz, one of the participating artists.
Incidentally, since the opening event, our gallery partner for the Flying Arts Exhibition Development Program, QCA Galleries, have announced that the recipient of a solo exhibition in 2019, is Chrys Zantis. Congratulations Chrys!
Beautiful One Day, Fruit Salad The Next!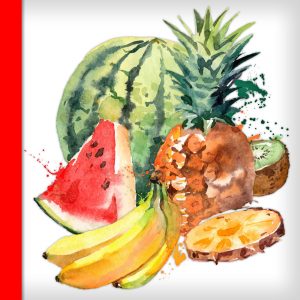 An exhibition by Queensland artists who, by happenstance, discovered some relationships between their works. Exhibiting Artists participated in Flying Arts Alliance's Exhibition Development Program in 2017.
Venue: Shopfront Gallery, Judith Wright Centre of Contemporary Arts
Gallery open: 3 Nov – 15 Dec
Cost: FREE
Schools
By Request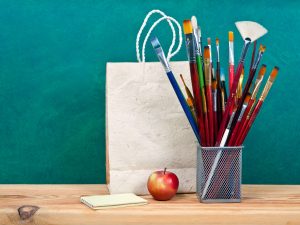 These By Request programs are available on-demand, and can be booked on behalf of your school. By Request programs can be delivered by our Flying Arts Artist and Facilitator Team anywhere across Queensland.
Offerings include:
Visual Arts Workshops and Projects
Cross-Curriculum Collaboration
Cross-Curriculum Collaboration with QMF's Youth Touring Program
Small Schools Program
Creative Communities
By Request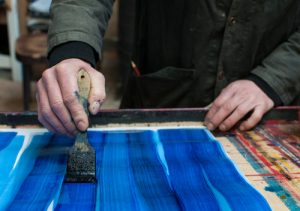 These By Request programs are available on-demand, and can be booked on behalf of creative communities such as groups, festivals, local government, galleries and organisations.
Offerings include:
Visual Arts Workshops and Projects
Arts Business and Management Workshops
Curator By Request
Exhibitions By Request
Professional Services
View all programs for Creative Communities
Exhibitions
Scheduled
[tribe_events_list category="touring-exhibitions" limit="5″]
New Flying Arts Memberships
Members are an important part of the Flying Arts family. You can join Flying Arts as a Standard Member at any time. Accredited Membership and Public Liability Insurance is available to sole traders engaged in activities related to professional practice on a pro rata annual basis.
All members are entitled to a great range of Member Benefits.